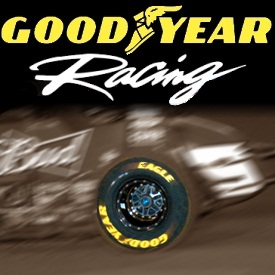 By Lee Elder
KNOXVILLE, Iowa (June 13, 2011) – Jason Sides led the first 13 laps, but then Sammy Swindell took over and won the Mediacom Shootout World of Outlaws Sprint Car Series race at Knoxville Raceway.
Swindell led the final dozen laps of the 25-lap feature race.
Goodyear is the exclusive tire provider for the rear tire positions of WoO racers and also offers tires for the front positions. The Akron, Ohio-based tiremaker also supplies the tires for the weekly 410 sprint car series at Knoxville and Goodyear is the sponsor of the Goodyear Knoxville Nationals, the most prestigious sprint car race in the world.
Swindell's win was his fourth of the 2011 season. There have been eight winners this year in 21 WoO races.
Sides finished second, followed by Jason Meyers, Donny Schatz and Brooke Tatnell. Brad Sweet had the fastest time in qualifying, averaging 118.118 mph around the half-mile dirt oval.
Schatz took the points lead, edging ahead of Joey Saldana. Schatz has 2,905 points, one up on Saldana.
More information about Goodyear Racing is available at www.racegoodyear.com. More information about the WoO is available at www.worldofoutlaws.com.