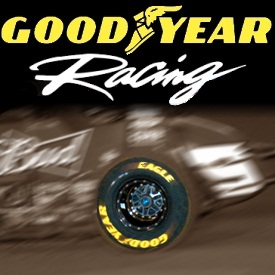 By Lee Elder
LAWTON, Ok. (June 27, 2011) – Kyle Cobb made it two straight wins at Lawton Speedway, winning his second Oil Capitol Racing Series race at the track since April.
Goodyear is the exclusive tire provider for the OCRS. The tiremaker developed a right rear tire specifically for the demands the winged sprint car series' tracks and competitors put on the tires. The results have been satisfied racers and race fans.
"The transition to our tire package has gone very well," said Justin Fantozzi, Goodyear's marketing manager for dirt track racing. "A lot of the credit for the solid reaction from the competitors has to go to David Grace of Carter Maxwell, our racing tire dealer in the region. David has worked tirelessly to help the teams learn about our tires."
The event drew 35 entrants to the Oklahoma track.
Sean McClelland finished second to Cobb. Brady Bacon was third, followed by Gary Owens and Darien Roberts.
More information about Goodyear Racing is available at www.racegoodyear.com. More information about the OCRS is available at www.ocrsracing.com.