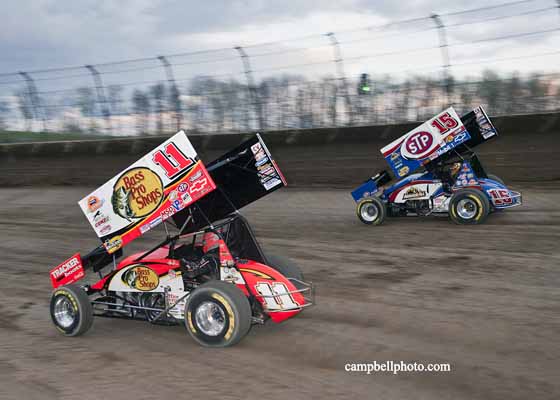 From TSR
INDIANAPOLIS (July 6, 2011) – The sports fans in Wisconsin are still beaming over their beloved Packers recapturing the trophy named for the coach that inspired so many. With the calendar turning to July, they are all hoping the National Football League's lockout can be resolved so things can return to normal in Packerland. Meanwhile, life on the World of Outlaws (WoO) Sprint Car Series tour is anything but normal, so as Tony Stewart Racing's (TSR) Steve Kinser and Donny Schatz make their only 2011 appearance in the Badger State this weekend, both former WoO champions are hoping to put on a performance Vince Lombardi would be proud of. Kinser and Schatz will compete in a pair of dirt-track battles, first on Friday night at Cedar Lake Speedway in Somerset, and then Saturday night at Beaver Dam Raceway.
Kinser has won 20 WoO championships during his illustrious career and, in his second season driving the TSR No. 11 Bass Pro Shops/J.D. Byrider/Chevrolet Maxim, he's trying to position himself for a 21st crown. The Bloomington, Ind., native started the season on a roll by winning the first two races in Florida and four of the first seven WoO A-Features in 2011. Schatz, on the other hand, had a particularly slow start. The driver of the TSR No. 15 STP/Armor All/Chevrolet J&J earned only one top-10 finish in the first five nights and found himself more than 100 points out of the championship lead. The four-time champion has rebounded from the slow start and climbed into the lead of the championship standings.
A weekend in Wisconsin may be just the right remedy for the Bass Pro Shops and STP teams of TSR. They spent last weekend in the heat of Kansas, and the results weren't quite what they were hoping for. Kinser earned a seventh- and sixth-place finish in the doubleheader at Dodge City Raceway Park, while Schatz lost an engine in the opener and finished eighth on Saturday night.
Cedar Lake Speedway has been a regular July stop for the Outlaws since 1983, and Kinser has been extremely successful at the 3/8-mile dirt oval, winning the first two Outlaws A-Features at the track and four of the first six. In 26 career WoO starts there, he has five wins and 21 top-five finishes. His most recent victory came in July 2003 after he took the lead from Schatz with seven laps remaining. Last July, he raced from 15th to ninth in the A-Feature.
After numerous close calls at Cedar Lake, Schatz finally scored his first WoO A-Feature there in July 2008. He made it two straight the following July. The Fargo, N.D., racer, who made several WISSOTA 360 Sprint car starts at the track prior to his WoO career, led the final 20 laps to capture the win in 2008 and, in 2009, he was the fastest qualifier, won the dash and led 19 of the 30 race laps to pick up the victory. He has made 14 career WoO starts at the track and has scored five top-five finishes. Last July, he finished 11th.
Saturday night's stop at Beaver Dam Raceway will be the Outlaws' 18th visit to the one-third-mile dirt oval located in central Wisconsin. Both Kinser and Schatz have competed in 17 of those events. Kinser finished third in his debut at the facility in May 1996, and he was victorious in his eighth start in June 2003. He won again in August 2008 and, last July, he finished third in the A-Feature. Schatz first raced at the track with the WoO in May 1997 and found victory lane in his fourth start at the facility in July 2002. A pair of second-place finishes in June 2006 and September 2007 has been the high-water mark since that victory. Last season, he finished sixth in the 35-lap A-Feature.
With 26 races in the books for 2011, Schatz has a seven-point lead in the 2011 WoO championship standings. He entered last weekend's Boot Hill Showdown with a 29-point advantage, but a DNF (did not finish) allowed the competition to close the gap. Schatz has posted two wins, 14 top-fives and 20 top-10s this season. Kinser has five A-Feature victories, 12 top-fives and 21 top-10s and ranks fourth in the standings, 41 points behind Schatz.
Friday at Cedar Lake Speedway, the pit gates will open at 3 p.m. CDT with the grandstands opening at 5 p.m. Racing is scheduled to begin at 7 p.m. For more details and ticket information, call the track at (866) 425-7386, or visit www.cedarlakespeedway.com. On Saturday at Beaver Dam Raceway, the pit gates will open at 2 p.m. CDT with the grandstands opening at 4 p.m. Hot laps are scheduled to begin at 6 p.m. For more details, call Beaver Dam Raceway at (920) 887-1600, or visit www.wismotorsports.net.
Race fans unable to attend this weekend's races can catch all of the action on DIRTVision.com. Fans can listen live as Johnny Gibson, "Voice of the Outlaws," calls the action. Go to www.DIRTVision.com for more information on all the site features, including updated results from each night of racing, as well as a chat room to interact with other race fans.
Steve Kinser, Driver of the No. 11 TSR/Bass Pro Shops/Chevy/J.D. Byrider Maxim:
The last five races, you haven't finished outside of the top-seven. Are you happy with where you stand right now in the season?
"As a racer, you are never happy unless you win every race. I understand that's not possible with the caliber of drivers and teams we compete against. I think we're getting better each race. We started June by getting upside-down at Belleville and then winning the next night at Lakeside. The next week, we flipped at Knoxville. A week later, we came back and ran fourth and third in Grand Forks. The Bass Pro Shops guys gave me a great car in Princeton. We just didn't have enough time to get to the front after starting 10th. Last weekend, we weren't a factor, so that kind of stays with you. We had such a good start to the season that it's going to be tough to be satisfied unless we can get on a streak like that again."
July is filled with weekend events and a total of 14 races in the month. That is similar to what the schedule was like for much of your career. Do you enjoy racing multiple times a week?
"I really like racing as often as we can. Of course, when you are winning and things are going well, you just want to race every night. It also helps you to let go of some of the things from the last race quicker. You finish one night and start looking to the next. We spent a lot of years racing more than 20 times in July. Everyone gets better the more we race. I'm looking forward to these two races this weekend, then the week in Ohio, followed by a week in Pennsylvania, and then finish the month with some races in Canada."
Donny Schatz, Driver of the No. 15 TSR/STP/Armor All/Chevrolet J&J:
The weekend ahead gives you another chance to race in the Upper Midwest. Two weeks ago, you won in Minnesota and, through the years, you have had a lot of success at Cedar Lake. Is there any added motivation for these two races in Wisconsin?
"Each week, we try to go out and win races. Last weekend, things didn't go as planned, so we need to bounce back this week. We had a good run of consistent finishes and that helped us in the big picture, but we need to be challenging for wins. This STP team is built to win and we're almost halfway through the season and sitting here with just two wins. One of them came a couple of weeks ago in Princeton, and that was a fun night. We have a lot of fans in Minnesota and, hopefully, we still have quite a few in Wisconsin. I raced at Cedar Lake quite a few times before hitting the road with the Outlaws. We won a couple of races there recently, too, so we're looking forward to having a good weekend."
Beaver Dam Raceway has hosted a number of WoO events through the years going back to your rookie year. Have you noticed a big change in the track since 1997?
"Beaver Dam has always been a fun place to race. It's a short track with some banking, so you can have two- and three-wide racing. Early in the night, you kind of work the bottom of the track to qualify, then it usually becomes a momentum track for the heats. I like it when it gets slick but, sometimes, we end up with a wet surface in the feature and that makes it tough on everyone. Even though it's been a long time since I won there (2002), we've had some good nights there. We won the ESPN2 Summer of Money championship there in 2007 despite crashing twice. Two years ago, we started 12th and drove to the lead in the first 15 laps. The people there do a good job with the track, and we're hoping we can get another win there this weekend."