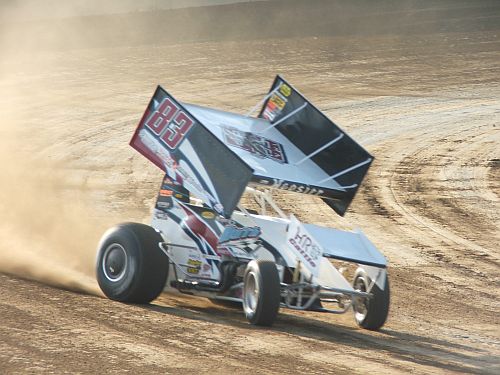 Inside Line Promotions
– KNOXVILLE, Iowa (July 12) – When Danny Lasoski looks back at last weekend, a couple of minor details stand out.
However, they were the details between winning his first World of Outlaws race of the season and picking up another victory at the famed Knoxville Raceway in Knoxville, Iowa. Instead, Lasoski recorded a pair of runner-up finishes and a trio of top fives.
"Not too bad," he said with a grin.
After winning his heat race from second and then the same in the dash, the Dover, Mo., native started on the pole of the World of Outlaws' feature last Friday at Cedar Lake Speedway in New Richmond, Wis.
"Track position was everything," he said. "The outside was better."
Jason Meyers, who started outside the front row, drove into the lead and never relinquished the top spot as Lasoski battled close behind. The track took rubber in the middle midway through the feature, which didn't help.
"We just had to hope for lapped traffic because that's really the only chance we had," said Lasoski, who won at Cedar Lake Speedway in 1999 with the Outlaws.
It didn't affect Meyers and Lasoski settled for the runner-up position, which was his ninth top five in 24 features at the 3/8-mile dirt oval.
Lasoski took that momentum to Knoxville Raceway on Saturday, where the ½-mile track hosted twin features for the 410 sprints.
After getting out of shape in qualifying, which he finished in 14th, Lasoski then drove from second to win his heat race and lock himself into both main events.
He started 12th in the first feature and finished fifth on the narrow track, which then inverted the results for the second feature. Lasoski started 13th and placed second. However, he took the lead late in the race.
"We ran down Kevin Swindell and then he jumped the cushion so we got the lead," Lasoski said. "I actually thought we pretty well had it in hand, but he came back and got me on the last lap."
Lasoski is up in the air about his plans for this weekend as he's monitoring the radar daily.
The veteran has a 168-point lead in the 410 standings at Knoxville Raceway, which has a race on Saturday. However, the two-day Kings Royal – one of the most prestigious and best-paying races – is Friday and Saturday at Eldora Speedway in Rossburg, Ohio.
"It's tough to turn down a chance to race for $50,000," Lasoski said. "But right now we're playing the weather game."
QUICK RESULTS –
July 8 – Cedar Lake Speedway in New Richmond, Wis. – Qualifying: 9; Heat race: 1 (2); Dash: 1 (2); Feature: 2 (1).
July 9 – Knoxville Raceway in Knoxville, Iowa – Qualifying: 14; Heat race: 1 (2); Feature #1: 5 (12); Feature #2: 2 (13).
SEASON STATS –
33 races, 32 features, 7 wins, 22 top fives, 26 top 10s, 29 top 15s, 31 top 20s
UP NEXT –
Friday and Saturday at Eldora Speedway in Rossburg, Ohio, with the World of Outlaws for the Kings Royal or Saturday at Knoxville Raceway in Knoxville, Iowa
FAVORITE NUMBER –
9: Top-five finishes in 24 career World of Outlaw features at Cedar Lake Speedway in New Richmond, Wis., including a second place last Friday.
SOCIAL MEDIA LINKS –
Website: www.dannylasoski.com
ON THE AIR –
Lasoski was a featured guest on the ASCS Show by Racinboys on April 12. Click on the link below to listen to Lasoski's interview, which begins around the 22-minute mark.
http://www.meridix.com/mbp/general/index.php?liveid=Racinboys&recordid=18548
SPONSOR SPOTLIGHT – Hoosier
Based in Lakeville, Ind., Hoosier is the largest manufacturer of racing tires in the world. It was started in 1957 when creators Bob and Joyce Newton began retreading street tires with softer compounds. Hoosier now produces more than 1,000 types of racing tires. For more information, visit www.hoosiertire.com.
"I took the leap and said I'm going to try their tires," Lasoski said. "I was the very first one to switch, which was probably in the late 1990s. Hoosier has way more grip."
Lasoski would also like to thank the Creason Pipeline Services, The Michael Ross Foundation, Eagle Motorsports, Wertz Designs, Kistler Engines and Ditzfeld Transfer, Inc. for their continued support.