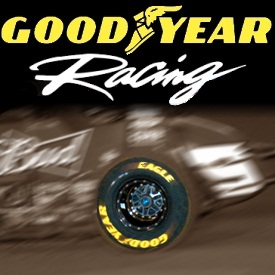 By Lee Elder
MECHANICSBURG, Penn. (July 25, 2011) – Jason Meyers overcame the home-standing Pennsylvania Posse to win the World of Outlaws Sprint Car race at Williams Grove Speedway and put an exclamation mark on a rich week for the race winner.
A few days earlier Meyers clinched the lion's share of Goodyear mid-season prize money by finishing the first half of the season atop the standings. Meyers won $10,000 in Goodyear bonus cash.
Goodyear is the Official Tire Company for the World of Outlaws Sprint Car Series. The mid-season bonus plan releases $55,000 to drivers and teams, helping teams get through the long WoO season.
Meyers won the Saturday race at Williams Grove, his first victory at the famed track. He led every lap. Stevie Smith finished second, followed by Donny Schatz, Greg Hodnett and Sammy Swindell.
Hodnett won the Friday race at the track, his seventh career win there.
Friday was an eventful night. Jason Sides won the special Morgan Cup Challenge race, a 12-lapper, pitting five WoO regulars against five members of the Pennsylvania Posse. Earlier, during a heat race, NASCAR star Kasey Kahne's car touched wheels with another car and flipped over the retaining wall. Kahne was not hurt.
Craig Dollansky finished the weekend by winning his sixth race of the season when he finished first at Lebanon Valley Speedway on Sunday. Meyers remained atop the standings at the end of the weekend's events.
More information about Goodyear Racing is available at www.racegoodyear.com. More information about the Outlaws is available at www.worldofoutlaws.com.