From David Sink
SALEM, Ind. – JoJo Helberg scored an emotional and exciting breakthrough win at Salem Speedway on Saturday night, surviving a late-race challenge to capture the 52nd annual Joe James/Pat O'Connor Memorial. The event was the first career Xtreme Sprint Series (XSS) victory for the 21-year-old driver.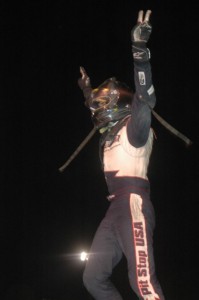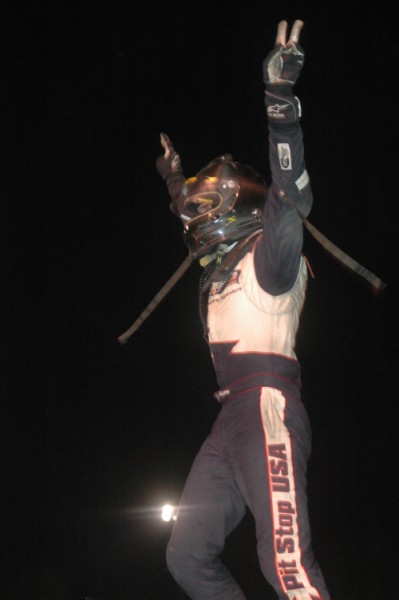 Helberg, hailing from Santa Rosa, Calif., roared from the fifth starting position to chase down race leader Mike Larrison in the early stages of the 30-lap feature, taking the lead when he caught Larrison in dense traffic. Helberg began to pull away from the field when Larrison cut a tire and spun on lap 13, triggering a multi-car melee that left Jimmy McCune parked on his side. McCune was okay but unable to rejoin the field.
Brian Gerster, seeking to score his third consecutive XSS victory, began closing on Helberg in the waning laps. The race was interrupted by a caution with less than 10 laps remaining for Jerry Caryer's stalled machine, and on the ensuing restart Aaron Pierce asserted himself into the mix when he passed Gerster to take second.
Pierce waged a torrid chase to close on Helberg, but fell just a car length short at the finish. At the flag it was Helberg, Pierce, and Gerster, with Jason Cox slipping past Ryan Litt in the closing laps to take fourth.
"To stand here in the victory circle, it means everything," said an elated Helberg. "My dad was here with me, my uncle was here, they came from California this weekend and their being here makes this all the more special. We've worked really hard to continue to improve and to win here at Salem at such a prestigious and historic race, I can't describe how good this feels."
The second five consisted of Larrison, Kyle Flint, Tom Tolbert, Brian Olson, and Sondi Eden. Heats were won by McCune, Olson, and Eden. Gerster shattered the existing track record with a clocking of 14.169-seconds during time trials.
The Xtreme Sprint Series now gears up for a double-header weekend that begins on Saturday night Aug. 20 at Anderson (Ind.) Speedway, followed by a visit to the historic Winchester Speedway on Sunday afternoon, Aug. 21.
30-lap Joe James/Pat O'Connor Memorial Feature Event: 1) JoJo Helberg; 2) Aaron Pierce; 3) Brian Gerster; 4) Jason Cox; 5) Ryan Litt; 6) Mike Larrison; 7) Kyle Flint; 8) Tom Tolbert; 9) Brian Olson; 10) Sondi Eden; 11) Ryan Meyers; 12) Hank Lower; 13) Tim Cox; 14) Jerry Caryer; 15) Jimmy McCune; 16) Troy DeCaire; 17) Chris Neuenschwander; 18) Jason Blonde; 19) Ron Koehler; 20) Jeff Bloom.
For more information visit www.mustseeracing.com.
Photo Gallery