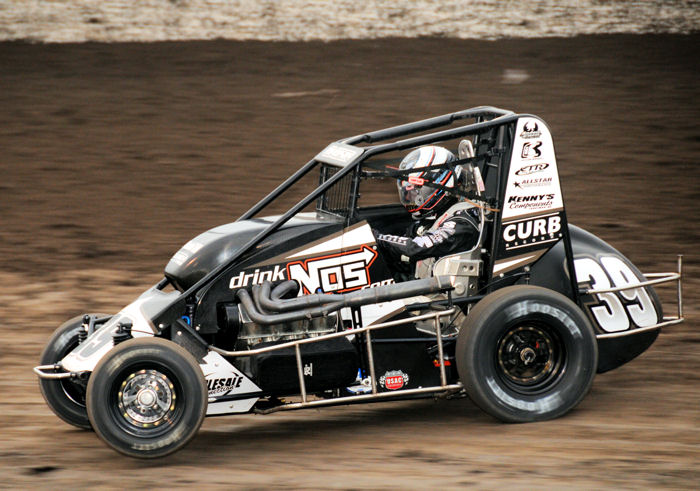 From Tim Tuttle
Lincoln, IL  — (Aug. 20, 2011)—Bryan Clauson led all 30 laps to win the feature in the POWRi Lucas Oil National Midget Series and Trent Beckinger led only the final lap for his second straight victory in the POWRi Speedway Motors 600cc Outlaw Micro Series on Saturday night at Lincoln Speedway.
It was the second triumph in five starts this season in POWRi events for Clauson, the National Midget Driver of the Year the past two years. The 22-year-old from Noblesville, Ind., was driving for the first time on Lincoln's ¼-mile track.
"We had the advantage of starting on the pole," Clauson said. "Jerry (Coons Jr.) made some runs at me and I moved my line and went up top. The top seemed like the place to be. It seems like lately just getting to the last laps has been the biggest challenge for us. Luck runs in cycles and we've had our share of bad luck lately, but tonight we ran 30."
Coons kept the pressure on Clauson from the first through the 26th lap, but slid into the fence at the exit of Turn Four on the next lap. Brad Kuhn, running a couple of car lengths behind Coons in third, just missed Coons' Spike-Toyota.
"It was pretty close," Kuhn said. "Jerry tried to spin his car to keep it from the fence and that made it twice as wide. We were caught up in lapped traffic and Jerry was trying to make a move to get in front of it."
The 30-year-old from Avon, Ind., held off Brad Loyet to take second.
Loyet passed Kuhn on the restart in Turns One and Two and Kuhn overtook Loyet on the next lap in the same place.
"I never had a clear track to race Bryan," Kuhn said. "Brad Loyet got by me for a lap, slid me in Turn One, and I did the same thing to him on the next lap. By then, Bryan had built up an advantage. We were better than he was in (Turns) Three and Four, but as good as we were, he was way better in One and Two.
"I wanted to win, but it was a good rebound race (from seventh at Macon on Friday)."
Loyet climbed from seventh starting position to finish third.
"Overall, it was a good night for us," the 22-year-old from Sunset Hills, Mo., said. "The track was tacky at the beginning and difficult to pass on and we picked up a spot when we could get it. We used the bottom for the first half of the race and then went up top.
"I knew I had to make a move on the restart against Brad Kuhn and got past him. He kind of had help passing us back, he tapped us."
Jacob Patton of Bethalto, Ill., started on pole in the Outlaw Micros and led the opening 19 laps. But he didn't complete the 20th and final lap, falling out with a broken master link on the chain of his car.
"I saw him slowing down and I know I couldn't be that lucky, but I was," Beckinger said. "We got lucky and it made it a heck of a weekend."
It was the fourth victory of the season in POWRi for the 20-year-old from Evansville, Ind. Beckinger had started on the outside of the second row and passed Ryan Guyett in the closing laps for second to position himself for Patton's misfortune.
"The track was tacky at the start, but as it wore down, we were able to start moving forward," Beckinger said.
Guyett, of Springfield, Ill., was second, his best finish of the season.
"It's a big boost at the end of the season," Guyett said.
Joe B. Miller, of Millersville, Mo., finished third.
"It's another good run, so we'll take it," Miller said.
POWRi Lucas Oil National Midget Series results (30 laps): 1. Bryan Clauson, 2. Brad Kuhn, 3. Brad Loyet, 4. Tracy Hines, 5. Austin Brown, 6. Nick Knepper, 7. Mario Clouser, 8. Zach Daum, 9. Chett Gehrke, 10. Jake Blackhurst, 11. Jerry Coons Jr., 12. Dave Camfield Jr., 13. Tim Siner, 14. Travis Berryhill, 15. Austin Burke, 16. Andrew Felker, 17. Mike Hess, 18. John Campbell, 19. Derrick Myers, 20. Rich Camfield, 21. Tyler Robbins, 22. Davey Ray.
POWRi Speedway Motors 600cc Outlaw Micro Series results (20 laps): 1. Trent Beckinger, 2. Ryan Guyett, 3. Joe B. Miller, 4. Paul Nienhiser, 5. Natasha Cox, 6. Max Pozsgai, 7. Jeremy Camp, 8. Spencer Montgomery, 9. Levi Curry, 10. Casey Swift, 11. Shelby Boise, 12. J.B. Gilbert, 13. Derek LeMaster, 14. Derek Schuett, 15. Jacob Patton, 16. Chad Elliott, 17. Kyle Schuett, 18. Mike Smallwood II, 19. Sean Kirkpatrick, 20. Andrew Felker, 21. Zach Hampton, 22. Will Harvey, 23. Jordan Campbell, 24. Alec Long.
For more information on POWRi Racing, go to www.POWRi.com.