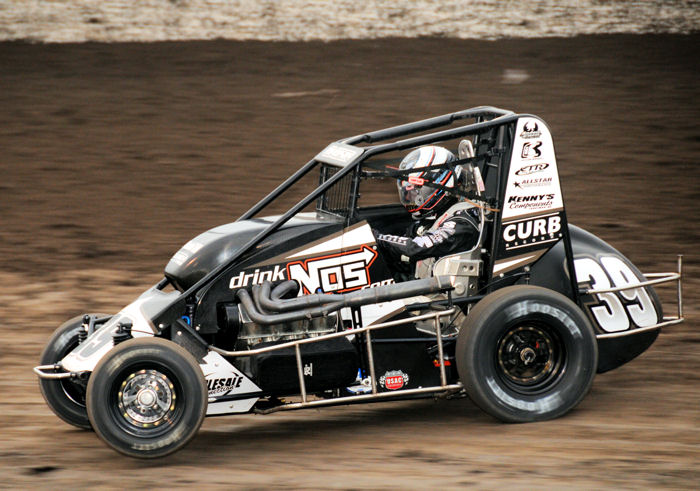 From USAC
From Dick Jordan and Bryan Gapinski
Sun Prarie, WI — Bryan Clauson captured the 30-lap Miller Lite Cornfest Midget Classic, Sunday Night at Angell Park Speedway. The event was co-sanctioned by the USAC Mopar National Midget Series and the Stark Automotive Group/Mid-State Equipment Badger Midget Series.
Bubba Altig, and David Budres flipped on the opening lap of the feature, causing a complete restart. Caleb Armstrong jumped into the lead at the start followed by Clauson. Clauson took the lead exiting Turn 2 on the second lap. By the completion of Lap 5, the top four Clauson, Kyle Larson, fast qualifier Jerry Coons Jr. and Armstrong pulled to a slight advantage over the rest of the field. Clauson began lapping the tail of the field on Lap 10 and held a 1.2 second advantage. At the midway Clauson's lead was cut in half to just over a half second.
Clauson continued his march through lapped traffic, and held a two second lead over Coons, when the caution was displayed for a stalled car, with nine laps remaining. On the restart fourth place running Armstrong spun, and on the ensuing restart Mario Clouser flipped escaping injury.
Clauson opened up an advantage over Coons each lap after the restart. On the final lap Clauson jumped the cushion, allowing Coons to close to within two-car lengths at the finish. Clauson driving the Corey Tucker-BCI-Curb-Agajanian owned Spike/Ford-Esslinger No. 19 finished ahead of Coons, Kuhn, Kyle Larson and USAC points leader Darren Hagen. "The bobble on the final lap didn't cost us since we had a big lead, its a great tuneup for the upcoming Pepsi Nationals" commented Clauson afterwards.
Kuhn has put a virtual lock on his third Badger Drivers Champion, and now leads Altig by 114-points, with 116-points possible, heading into the season finale 30th annual Pepsi Midget Nationals on Saturday Night Sept. 3. Badger and the USAC National Midget Series will co-sanction the event.
For the third straight event, twelve year-old Robbie Resch was the class of the Badger 600 Micro Series field capturing the feature, heat race and trophy dash. Resch finished ahead of series points leader Chad Bogar, and Bobby Ollerman in the feature.
USAC MOPAR NATIONAL MIDGET RACE RESULTS: August 21, 2011 – Sun Prairie, Wisconsin – Angell Park Speedway – (Co-Sanctioned by BMARA)
QUALIFICATIONS: 1. Jerry Coons Jr., 5, Wilke-Pak-15.391; 2. Brad Kuhn, 17, RW-15.644; 3. Tracy Hines, 24, Parker-15.679; 4. Bryan Clauson, 39, Tucker/BCI/Curb-Agajanian-15.740; 5. Kyle Larson, 67, Kunz-15.751; 6. Tanner Swanson, 19, Team 6R/TK-15.942; 7. Davey Ray, 2, Ray-26.029; 8. Caleb Armstrong, 71, Kunz-16.027; 9. Levi Jones, 56, RW56-16.035; 10. Robbie Ray, 3R, Ray-16.071; 11. Scott Hatton, 15, Huston-16.107; 12. Kody Swanson, 11, Wilke-Pak-16.229; 13. Bubba Altig, 19A, Imhoff-16.340; 14. Zach Daum, 5, Daum-16.386; 15. Darren Hagen, 3, RFMS-16.423; 16. Brandon Waelti, 41, Jones-16.432; 17. Daniel Robinson, 57, RAB-16.459; 18. Kurt Mayhew, 21k, Mayhew-16.468; 19. Eric Johnson, 82, Johnson-16.516; 20. Chris Gurley, 12, Gurley-16.525; 21. David Budres, 31, Manic-16.620; 22. Bryon Walters, 5w, Walters-16.628; 23. Mike Hess, 1, Hardy-16.653; 24. Jim Fuerst, 28, Fuerst-16.657; 25. Dakoda Armstrong, 71k, Kunz-16.780; 26. Mario Clouser, 06, MCM-16.809; 27. Bobby East, 4x, Klatt-NT. (Bobby East, 4, Klatt-NT-withdrawn).
FIRST HEAT: (10 laps) 1. Larson, 2. Coons, 3. Budres, 4.. D.Armstrong. 5. Robinson, 6. Jones. 7. Altig. NT
SECOND HEAT: (10 laps) 1. Kuhn, 2. Daum, 3. Mayhew, 4. Clouser, 5. T.Swanson, 6. R.Ray, 7. Walters. NT
THIRD HEAT: (10 laps) 1. Hagen, 2. Hatton, 3. Hess, 4. East (#4x), 5. Hines, 6. D.Ray, 7. Johnson. 2:33.07
FOURTH HEAT: (10 laps) 1. Clauson, 2. C.Armstrong, 3. Gurley, 4. Waelti, 5. Fuerst, 6. K.Swanson. NT
SEMI: (15 laps) 1. Hines, 2. T.Swanson, 3. D.Ray, 4. Altig, 5. R.Ray, 6. Jones, 7. Fuerst, 8. Johnson, 9. Robinson, K.Swanson, 11. Walters. NT
FEATURE: (30 laps) 1. Bryan Clauson, 2. Jerry Coons Jr., 3. Brad Kuhn, 4. Kyle Larson, 5. Darren Hagen, 6. Tracy Hines, 7. Tanner Swanson, 8. Caleb Armstrong, 9. Davey Ray, 10. Mario Clouser, 11. Levi Jones, 12. Dalton Armstrong, 13. Kurt Mayhew, 14. Mike Hess, 15. Scott Hatton, 16. Brandon Waelti, 17. Chris Gurley, 18. Zach Daum, 19. Robbie Ray, 20. Bobby East (#4x), 21. Bubba Altig, 22. David Budres. NT
————————————-
**Altig and Budres flipped on lap 1 of the feature. Clouser flipped on lap 23 of the feature.
FEATURE LAP LEADERS: Laps 1-2 C.Armstrong, Laps 3-30 Clauson.
NEW MOPAR USAC NATIONAL MIDGET POINTS: 1-Hagen-826; 2-Clauson-816; 3-Larson-802; 4-Hines-706; 5-East-660; 6-C.Armstrong-582; 7-Daum-542; 8-Kuhn-499; 9-T.Swanson-491; 10-Coons-439.
NEXT MOPAR USAC NATIONAL MIDGET RACE: September 2 – Lasalle, IL – LaSalle Speedway