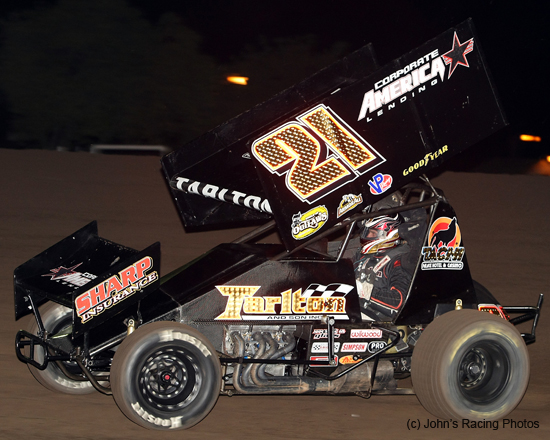 Inside Line Promotions
– EASTON, Calif. (Sept. 4) – By simply showing up and unloading on Saturday, Tommy Tarlton will clinch the inaugural ASCS Southern California Region.
The Easton, Calif., veteran has a 262-point advantage with two races remaining heading into this weekend's race at Giant Chevrolet Kings Speedway in Hanford, Calif. – a track he is more than familiar with.
"I really like the ASCS and its format, so we've had this championship on our list of goals all year," he said. "We've had great success this year in the series and I'm excited to return to Hanford.
"We're not just there to wrap up a championship. I want to win the race."
Odds are, Tarlton will. He's won three of the four ASCS Southern California races at the 3/8-mile, semi-banked dirt oval. He also charged from 22nd to finish third with the ASCS National Tour on Feb. 12 at the track.
"I seem to get around that place pretty well," Tarlton said. "I cut my teeth racing there and it's close to home. So I have a lot of laps there and a lot of confidence whenever I hit the track."
This will be the seventh ASCS Southern California event and fifth at Giant Chevrolet Kings Speedway. Tarlton recorded a top-two finish in each of the other two races, including a victory at Thunderbowl Raceway in Tulare, Calif., on April 30 and a runner-up performance on May 7 at Santa Maria Speedway in Santa Maria, Calif.
Tarlton, the two-time defending Ocean Sprints champion, is also in contention for another title with the Ocean Sprints this year. He trails by only seven points with three races remaining.
"As much as I would like to be the first ASCS Southern California champion, I want a third consecutive Ocean Sprints title," Tarlton said. "But it would be something special to accomplish both this year. That's our goal."
SEASON STATS –
33 races, 33 features, 8 wins, 24 top fives, 25 top 10s, 28 top 15s, 31 top 20s
UP NEXT –
Saturday at Giant Chevrolet Kings Speedway in Hanford, Calif., with the ASCS Southern California Region
FAVORITE NUMBER –
4: Tarlton has finished in the top four in each of his five 360 races at Giant Chevrolet Kings Speedway in Hanford, Calif., this season.
SOCIAL MEDIA LINKS –
Website: www.tommytarlton.com
Twitter: https://twitter.com/#!/tommytarlton21
Facebook: http://www.facebook.com/#!/profile.php?id=100001286852863
APPAREL –
Tarlton has black t-shirts, sweatshirts and hats, and white women's shirts available for purchase at every race he attends. For information on where you can get them, visit http://www.tarltonandson.com/tarlton-racing-schedule.
ON THE AIR –
Tarlton was a guest on the Lucas Oil ASCS Show by Racinboys on May 3. Click on the link below to listen. Tarlton's interview begins around the 32-minute mark.
http://www.meridix.com/mbp/general/index.php?liveid=Racinboys&recordid=18831
He was also a featured guest on the Dirt Cast podcast on June 29. The link is below:
http://dirtcast.com/2011/06/29/tommy-tarlton-ascs-sprint-cars-ocean-sprints-6-29-11/
Check out the link below to see highlights of Tarlton's King of the West Sprint Car Series' win at Thunderbowl Raceway in Tulare, Calif., on May 14.
Here are a couple of videos from Tarlton's victory and runner-up performance with the King of the West Sprint Car Series at the Howard Kaeding Classic at Ocean Speedway in Watsonville, Calif., on July 1-2:
http://vimeo.com/25952465 and http://vimeo.com/25950506
Here is a link to Tarlton spinning around on the back of his car during a heat race at Ocean Speedway on July 8:
Check out this link to an in-car video of Tarlton winning the B Main at the Cottage Grove Speedway in Cottage Grove, Ore., on July 13:
SPONSOR SPOTLIGHT – Tarlton and Son, Inc.
Established in 1977, Tarlton and Son, Inc., is a service labor company that specializes in lath, plaster, drywall, scaffold, metal studs and EIFS. Tarlton and Son, Inc., is headquartered in Fresno, Calif., with a second building in Arroyo Grande, Calif. For more information, visit www.tarltonandson.com.
"My dad, Tom, owns Tarlton and Son, Inc.," Tommy said. "I drive for him and I work for him full time. It's so fun being able to go race with my dad. It's turning into a sport that the whole family can enjoy. It's just a great sport that can involve lots of entities, including our family, friends and business partners."
Tarlton would like to thank his sponsors, including Corporate America Lending, Tachi Palace Hotel and Casino, Bandy & Associates, Sharp Insurance & Bonding, Simpson and BG Products for their continued support.