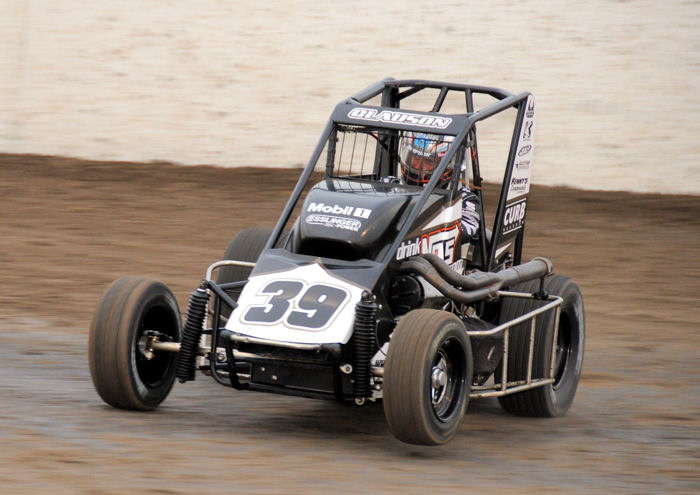 By Tim Tuttle
JACKSONVILLE, Ill. (Sept 16, 2011)—Bryan Clauson won his third feature race of the season in the POWRi Lucas Oil National Midget Series and Aaron Andruskevitch took his second in the POWRi Speedway Motors 600cc Outlaw Micro Series Friday at Jacksonville Speedway.
Clauson led all 30 laps on the ¼-mile track, but had to hold off Brad Loyet on a pair of restarts in the final five laps. The 22-year-old from Noblesville, Ind., had a straightaway lead wiped out by a caution 20 laps into the race. Loyet took advantage of three subsequent cautions to move up to second. The two-time POWRi Midget champion from Sunset Hills, Mo., had started 13th.
"We had an awesome car and a great start," Clauson said. "We got out to a big lead and I got a little comfortable. Loyet showed his nose on the first restart and it got me back up on the seat for the final laps."
Clauson, the National Midget Driver of the Year the past two seasons, has driven in six POWRi events this season in his Nos Energy/Curb Records Spike-Ford/Essingler. It Clauson's second win in two career starts at Jacksonville. He also won the POWRi Midget feature in 2009.
"We have a great package and we continue to fine tune it," Clauson said.
Loyet was fifth with 10 laps remaining and passed Austin Brown, Dereck King and Thomas Messeraul on three consecutive restarts to move up to second, but wasn't able to overtake Clauson on the last two restarts and finished second by a couple of car lengths.
"We had a really good car and a good run, but we just couldn't get past Clauson," Loyet said. "From where we started, we had to find a place where we worked and nobody else was and we were able to do that. We had a good night."
Austin Brown of Millstadt, Ill., finished third, his fourth top-five in the past seven features and sixth of the season.
"I'm happy to be third out of 41 cars (entered)," Brown said.
Andruskevitch passed Joe B. Miller on the 19th of 20 laps for his second triumph in eight POWRi events this season. Miller led the opening 18 laps.
"We were neck and neck, wide open down the straights, but when we got into lapped traffic, I was able to work it better and get around him," Andruskevitch said. "I was able to drive around him in Turns Three and Four and lead for the last lap and a half."
Andruskevitch lives in nearby Riverton, Ill., and considers Jacksonville his home track. He has a pair of Micro championships at it.
"I have so many laps at Jacksonville, I can run it blindfolded," Andruskevitch said. "It's nice to win in POWRi here."
Miller, of Millersville, Mo., was very disappointed with second.
"Lapped traffic definitely played into it," he said "The lapped cars were running three wide. It doesn't feel good to finish second especially after you lead 18 laps."
Jacob Patton of Bethalto, Ill., drove from 14th starting position to finish third.
"It's just like getting a win to get a win coming from 14th on a track like this," Patton said. "The track was very rough and physical and hard to drive."
POWRi's National Midgets race Saturday (Sept. 17) at Spoon River Speedway in
Canton, Ill.
POWRi Lucas Oil National Midget Series feature results (30 laps): 1. Bryan Clauson, 2. Brad Loyet, 3. Austin Brown, 4. Davey Ray, 5. Thomas Messeraul, 6. Nick Knepper, 7. Robby Stanridge, 8. Dereck King, 9. Daniel Adler, 10. Tim Siner, 11. Jake Blackhurst, 12. Danny Stratton, 13. Mike Hess, 14. Bubba Altig, 15. Tyler Robbins, 16. Joey Moughan, 17. Dave Camfield Jr., 18. Brad Kuhn, 19. Brent Beauchamp, 20. Chett Gehrke, 21. Daniel Robinson, 22. Chris Bell. Note: Tyler Thomas' car failed post-race inspection and was disqualified from third place.
POWRi Speedway Motors 600cc Outlaw Micro Series feature results (20 laps): 1. Aaron Andruskevitch, 2. Joe B. Miller, 3. Jacob Patton, 4. Billy Lawhead, 5. Trent Beckinger, 6. J.B. Gilbert, 7. Spencer Montgomery, 8. Shelby Boise, 9. Casey Swift, 10. Max Pozsgai, 11. Jake Neuman, 12. Natasha Cox, 13. Jordan Campbell, 14. Alec Long, 15. Jimmy Wells, 16. Noah Branson, 17. Greg Northrop, 18. Jason Harms, 19. Andrew Felker, 20. Jeremy Camp, 21. Ryan Guyett, 22. Paul Nienhiser.
For more information on POWRi Racing, go to www.POWRi.com.