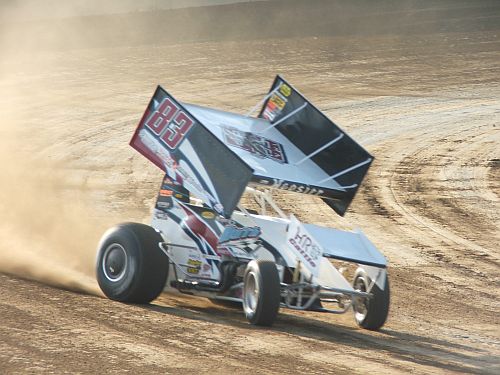 Inside Line Promotions
– GREENWOOD, Neb. (Sept. 20) – It started out as bad as you can get.
Danny Lasoski pulled a "72" in the pill draw last Friday at I-80 Speedway in Greenwood, Neb. – site of the ASCS Midwest Region vs. NCRA event. His number was the highest and placed him last in his heat race.
"The race track was pretty narrow at that time," he said. "So we didn't want to start ninth, but it was the situation we were given."
Driving for Mark Burch Motorsports, the Dover, Mo., native drove his way out of the tough situation, charging from ninth to finish third with a last-lap pass in the 10-lap heat race. That earned him a position in the redraw and in the $500-to-win dash.
"You couldn't ask for the car to be any better in that heat race," he said. "I could pass on the inside or the outside. The car would stick and move forward."
Lasoski pulled the No. 3 in the redraw, which lined him up on the inside of the second row for the rare dash. However, the team tightened the car too much and he lost a couple of positions in the dash, which he finished fifth.
"We just had it too tight for a 360," Lasoski said. "I had to free my car up to get it stuck on the bottom."
He started on the inside of the third row for the 25-lap feature. On the initial start, Lasoski gained a couple of positions before a crash reverted to the original order. The second start didn't go as well and Lasoski stayed in fifth. He worked by Ryan Roberts approximately five laps into the race for fourth place.
"We just fell in there at fourth and stayed there," Lasoski said. "All four of us were right there together. There wasn't much passing up front."
Lasoski again was battling a tight car, which the team fixed during a red flag with eight laps remaining. However, because of the severity of the injury to the crashed driver who brought out the red flag and impending weather, the race was called and Lasoski finished fourth.
"We think we made the right decisions on some adjustments to free up the car during that red flag," Lasoski said. "I'm not saying we would have won the race, but I think we would have had a chance. But I totally understand why they called the race. That was a tough deal for the guy who crashed.
"I've really got to thank Mark Burch and his team as well as the crew guys for everything last weekend. I really wanted to get a win out there. I'm thankful for the opportunity to drive for Mark."
QUICK RESULTS –
Sept. 16 – I-80 Speedway in Greenwood, Neb. – Heat race: 3 (9); Dash: 5 (3); Feature: 4 (5).
SEASON STATS –
50 races, 47 features, 9 wins, 31 top fives, 38 top 10s, 42 top 15s, 44 top 20s
FAVORITE NUMBER –
65.96: Percentage of features this season when Lasoski has recorded a top five, including last Friday at I-80 Speedway in Greenwood, Neb.
SOCIAL MEDIA LINKS –
Website: www.dannylasoski.com
ON THE AIR –
Lasoski was a featured guest on the ASCS Show by Racinboys on April 12. Click on the link below to listen to Lasoski's interview, which begins around the 22-minute mark.
http://www.meridix.com/mbp/general/index.php?liveid=Racinboys&recordid=18548
Here is video of Lasoski's 96th career feature victory at Knoxville Raceway in Knoxville, Iowa, on July 16:
Here are a couple of highlight videos of Lasoski's win at the inaugural event for the Midwest Open Wheel Association – on April 23 at 34 Raceway in Burlington, Iowa.
Check out this video of Lasoski's victory at Valley Speedway in Grain Valley, Mo., on Aug. 19, when he charged from 16th:
SPONSOR SPOTLIGHT – Eagle Motorsports
Eagle Motorsports, formerly known as Eagle Chassis, has fabricated sprint car chassis since 1998. Eagle chassis have been a part of winning four Knoxville Nationals. For more information, visit www.eaglechassis.com.
"All the Knoxville Nationals I've won have been in Eagle cars," Lasoski said. "I've had a very good relationship with Eagle and have been very happy with its performance."
Lasoski would also like to thank Creason Pipeline Services, the Michael Ross Foundation, Hoosier, Wertz Designs, Kistler Engines and Ditzfeld Transfer, Inc. for their continued support.