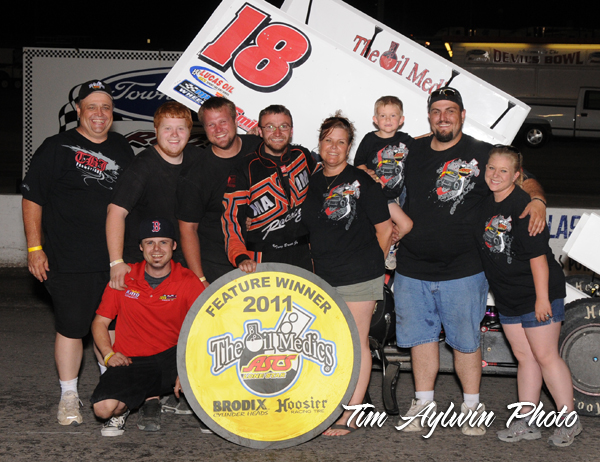 Inside Line Promotions
– WHEATLAND, Mo. (Sept. 27) – In what has been arguably the most challenging season of his career, Tony Bruce Jr. thinks he has finally turned the corner.
A pair of top-15 finishes in two of the toughest ASCS National Tour events last weekend might have done the trick. Bruce Jr. put together a complete weekend and wasn't hampered by parts failures to place 13th and ninth, respectively, at Lucas Oil Speedway in Wheatland, Mo., during the Jesse Hockett/Daniel McMillin Memorial.
"With the way this year has been going, it was a nice little momentum builder," he said. "It's the first time we've had two days in a row where we haven't had any mechanical failures or tire failures. I'd hate to say it's our best weekend, but by how this year has been, I guess you can say it was."
The Liberal, Kan., native started the weekend by finishing second in his heat race on a narrow track. After starting on the outside of the front row, Bruce Jr. failed to earn enough points to automatically advance to the feature.
"Not very many times do you finish second in the heat race and not make the feature," he said. "Honestly, in that heat race we really expected to win starting on the front row. Normally when you run second in a heat race it gets you in the A Main. But with 65 cars there, we needed to win."
Bruce Jr. tightened the car up for his B Main, which he started on the pole. He led all 15 laps to claim his eighth consolation victory of the season and earn a transfer to the feature, which he started 17th.
He then drove to 13th in the main event, lacking grip on the slick track. It was his 10th top 15 of the season with the ASCS National Tour.
"In the B Main, I felt like we made the proper adjustments," he said. "As far as where the night started and where it ended, we were headed in the right direction.
"I just needed to make the car a little bit tighter and gain a little more forward grip off the center of the corners. I could get in the corner really well. Anytime I gave it a little throttle, I'd just spin the tires."
Bruce Jr. continued the momentum on Saturday, except he had to start further back. After pulling a 79 in the pill draw, he was forced to start on the inside of the final row – seventh – in his heat race.
"We knew that we were going to pretty much go for the win," he said. "That's what we were shooting for."
Mission accomplished. Bruce Jr. drove into the top three within three laps and he rocketed from third to first in turns three and four on the fourth lap to take the lead midway through the heat race.
He claimed the win, which locked him into the feature. It also gave him enough points to be one of two drivers to make the redraw, which determined the first three rows of the feature with the four locked-in drivers from Friday's main event.
Bruce Jr. pulled the No. 6, which started him on the outside of the third row.
"We tightened the car up a lot from the heat race," he said. "To be honest, I just didn't go tight enough. That's probably the least amount of stagger I've ever had at a track. I thought it was going to be the right call. We needed to have a bigger left rear tire on there."
Bruce Jr. was in a three-way battle for fifth place most of the first 20 laps before he faded to ninth in the final 10 circuits.
"The first 20 laps or so I think we had a top-five car," he said. "Toward the end, I just completely lost all grip. It didn't matter which line I ran or what I did, I just couldn't build up the speed we needed."
Bruce Jr. is ninth in the ASCS National Tour standings.
He will race for Clifford and Don Young at Riverside International Speedway in West Memphis, Ark., on Saturday.
QUICK RESULTS –
Sept. 23 – Lucas Oil Speedway in Wheatland, Mo. – Heat race: 2 (2); B Main: 1 (1); Feature: 13 (17).
Sept. 24 – Lucas Oil Speedway in Wheatland, Mo. – Heat race: 1 (7); Feature: 9 (6).
SEASON STATS –
46 races, 40 features, 1 win, 5 top fives, 18 top 10s, 28 top 15s, 37 top 20s
UP NEXT –
Saturday at Riverside International Speedway in West Memphis, Ark.
FAVORITE NUMBER –
8: B Main victories this season, including last Friday at Lucas Oil Speedway in Wheatland, Mo., with the ASCS National Tour.
SOCIAL MEDIA LINKS –
Website: www.tonybrucejr.com
Twitter: www.twitter.com/tonybrucejr
ON THE AIR –
Bruce Jr. was a featured guest on the ASCS Show by Racinboys on May 24. Check out the link below for his interview, which starts at approximately 44:20 into the show.
http://www.meridix.com/mbp/general/index.php?liveid=Racinboys&recordid=19159
He was also on the April 26 edition. Click on the link below to listen to Bruce Jr.'s interview, which begins around the 52:25 mark.
http://www.meridix.com/mbp/general/index.php?liveid=Racinboys&recordid=18733
SPONSOR SPOTLIGHT – Ticketmob.com
Ticketmob.com is a website devoted to providing tickets to any event, ranging from concerts to sporting events. Co-owned by Tony Bruce Jr., Ticketmob.com is also one of the few websites that can buy tickets. For more information, visit www.ticketmob.com.
"The cool thing about Ticketmob.com is that even if it's a sold-out show, we've got a place you can sell tickets as well," Bruce Jr. said. "You can still get tickets on Ticketmob.com. We sell tickets and we buy tickets. We're one of the few websites that offers the ability to buy tickets to a sold-out show."
Bruce Jr. would like to thank his sponsors, including The Oil Medics, TBJ Promotions, Travelwizer.com, LRB Manufacturing, Hoosier and Smiley's Racing Products for their continued support.