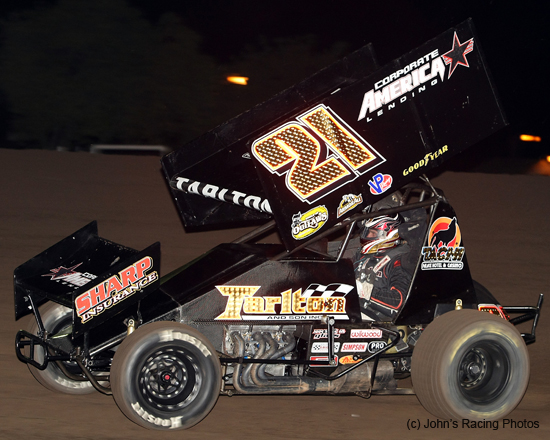 Inside Line Promotions
– EASTON, Calif. (Oct. 2) – It's been seven weeks since Tommy Tarlton has raced twice in a weekend.
The Easton, Calif., resident won those races in dominant fashion, claiming his second straight Ocean Sprints feature at Ocean Speedway in Watsonville, Calif., on Aug. 19 and sweeping the ASCS Southern California Region event at Giant Chevrolet Kings Speedway in Hanford, Calif., on Aug. 20.
This Friday and Saturday he'll be back in the cockpit and looking for similar success after a challenging last month. Since mid-August, Tarlton has competed only three times. While he won an ASCS Southern California event on Sept. 10 to wrap up that championship, his other two races ended in crashes during Ocean Sprints competition.
"I had two straight wins to take the point's lead in the Ocean Sprints during the summer, but the last two races have gone so bad that I'm pretty much eliminated from the championship," Tarlton said. "I can't wait to get back out there on Friday night and hopefully survive the night, put together a solid race and see what happens."
After leading the Ocean Sprints series in mid-August, Tarlton's crashes have dropped him to 32 points behind Ronnie Day for the lead. After this Friday's event at Ocean Speedway, only one race remains in Tarlton's quest for a third consecutive Ocean Sprints championship.
He will conclude this weekend on Saturday at Thunderbowl Raceway in Tulare, Calif., for the final ASCS Southern California race of its inaugural season. Tarlton has won five of the seven events, including the lone race at Thunderbowl Raceway – April 30.
"I've done well in the ASCS Southern California races this year and it would mean a lot if I could go out with another good finish," he said. "I've locked up the championship and now I'm aiming for another win."
Tarlton has a 412-point advantage. If he gains 58 points in the finale, he will tie Jack Dover – the 2011 ASCS Midwest Region – for the biggest ASCS regional margin of victory.
In five races at Thunderbowl Raceway this season, Tarlton has picked up two victories and four top-five finishes. He's won his last two races at the semi-banked, 1/3-mile oval.
SEASON STATS –
35 races, 34 features, 9 wins, 25 top fives, 27 top 10s, 29 top 15s, 32 top 20s
UP NEXT –
Friday at Ocean Speedway in Watsonville, Calif., with the Ocean Sprints and Saturday at Thunderbowl Raceway in Tulare, Calif., with the ASCS Southern California Region
FAVORITE NUMBER –
5: Of Tarlton's nine victories this season have been at Ocean Speedway in Watsonville, Calif., and Thunderbowl Raceway in Tulare, Calif. – both tracks he will race at this weekend.
SOCIAL MEDIA LINKS –
Website: www.tommytarlton.com
Twitter: https://twitter.com/#!/tommytarlton21
Facebook: http://www.facebook.com/#!/profile.php?id=100001286852863
APPAREL –
Tarlton has black t-shirts, sweatshirts and hats, and white women's shirts available for purchase at every race he attends. For information on where you can get them, visit http://www.tarltonandson.com/tarlton-racing-schedule.
ON THE AIR –
Tarlton was a guest on the Lucas Oil ASCS Show by Racinboys on May 3. Click on the link below to listen. Tarlton's interview begins around the 32-minute mark.
http://www.meridix.com/mbp/general/index.php?liveid=Racinboys&recordid=18831
He was also a featured guest on the Dirt Cast podcast on June 29. The link is below:
http://dirtcast.com/2011/06/29/tommy-tarlton-ascs-sprint-cars-ocean-sprints-6-29-11/
Check out the link below to see highlights of Tarlton's King of the West Sprint Car Series' win at Thunderbowl Raceway in Tulare, Calif., on May 14.
Here are a couple of videos from Tarlton's victory and runner-up performance with the King of the West Sprint Car Series at the Howard Kaeding Classic at Ocean Speedway in Watsonville, Calif., on July 1-2:
http://vimeo.com/25952465 and http://vimeo.com/25950506
Here is a link to Tarlton spinning around on the back of his car during a heat race at Ocean Speedway on July 8:
Check out this link to an in-car video of Tarlton winning the B Main at the Cottage Grove Speedway in Cottage Grove, Ore., on July 13:
SPONSOR SPOTLIGHT – (Name)
Established in 1977, Sharp Insurance & Bonding is a full-service insurance agency located in Visalia, Calif. Sharp Insurance & Bonding specializes in commercial insurance, contractors insurance, contractor bonding and personal lines. For more information, visit www.sharpinsurance.com.
"We've been doing business with Sharp Insurance & Bonding since 1995 and it has been a sponsor since 1997," Tarlton said. "We've got a great relationship. He supports a lot of race teams, and has been a great support of me both on and off the track."
Tarlton would like to thank his sponsors, including Tarlton and Son, Inc., Corporate America Lending, Tachi Palace Hotel and Casino, Bandy & Associates, Simpson and BG Products for their continued support.