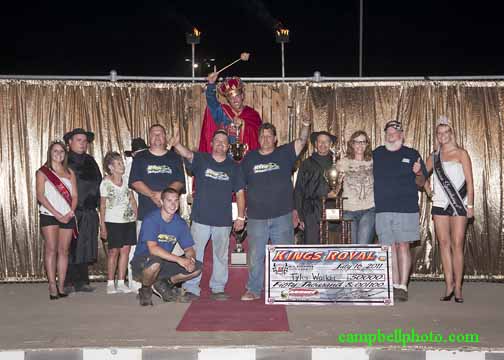 From Eldora Speedway
ROSSBURG, OH (Oct. 4) – Even though the final checkered flag of the 2011 season hasn't fallen over Eldora Speedway yet, track owner Tony Stewart has met with his staff to confirm and release the dates and pricing information of the tradition laden events for 2012 as the historic one-half mile clay speed plant.
Kicking off the lucrative slate will be the 8th annual Prelude to the Dream on Wednesday, June 6, followed by 18th annual Dirt Late Model Dream that same weekend, Friday and Saturday, June 8 & 9.
The 29th annual Kings Royal weekend will fill its traditional timeslot of Friday and Saturday, July 13 and 14, with the 42nd annual World 100 completing the run of major events over the weekend of September 7 & 8.
In conjunction with the revelation of the dates, Stewart announced that he is holding firm on the general admission pricing for these high profile events; with ticket sales to begin Saturday – December 3, 2011 at 10:00 AM (EST).
As in previous years, notices will be submitted to persons who bought tickets online for the Dirt Late Model Dream, Kings Royal weekend and World 100, with the option to renew those seats for 2012, prior to the December 3 general public sale date.
The December 3 kick-off will also mark the earliest sale date for the Prelude to the Dream. By popular demand, Stewart has announced that persons purchasing tickets for the 2012 Prelude will also be placed into the renewal program and receive the option to purchase the same seats in 2013 as those procured in 2012.
Tickets may be purchased online at www.eldoraspeedway.com around the clock starting December 3, and track officials emphasize this is the quickest method. Walk-up and telephone sales will also be accepted December 3 from 10:00 – 4:00, followed by traditional office hours after that.