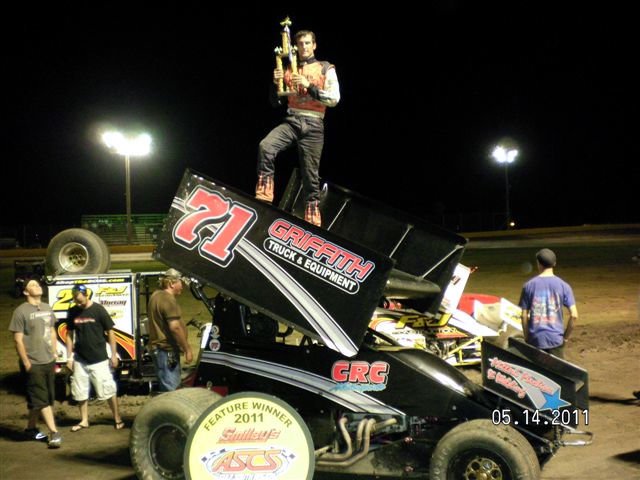 Inside Line Promotions
– HIGHLANDS, Texas (Oct. 3) – It was a fitting end to an arduous ASCS Gulf South Region season for Channin Tankersley.
The 20-year-old was forced to the pits midway through the B Main he was leading when a power steering line broke last Saturday at his hometown track of Battleground Speedway in Highlands, Texas. He finished 10th in the B Main at the ASCS Gulf South finale, which dropped him to seventh in the final standings.
"I've never had a year like this," he said. "It's been a heck of a lot of highs and a heck of a lot of lows. And not much in the middle.
"We had a lot more DNFs than I would have liked. There's all kinds of stuff that can happen every week. I guess it could have been a lot worse. I think only one of the DNFs was from a wreck."
Tankersley said his car was one of the fastest in hot laps, but his pill draw started him deep in the heat race. After starting last – seventh – Tankersley's bleeder on his right rear tire stuck two laps into the race and he was only able to pass one car.
"It was way too tight, which made it too hard to really drive," he said.
That put him on the pole of the 12-lap B Main, which began well.
"Right from the get-go, we took off," he said. "The car was handling good and we were moving. But about five laps into it the power steering line busted open. I tried hustling it and made about a lap.
"The problem was all that oil went all over my shoes, gloves, steering wheel, visor and everything. I couldn't see so I just kicked it out of gear and pulled into the pits."
Tankersley is likely taking this weekend off before finishing the season on the ASCS National Tour, which resumes Oct. 13-15 at Lone Star Speedway in Kilgore, Texas.
For live updates of Tankersley and the rest of the races that weekend, check out www.insidelinepromotions.com.
QUICK RESULTS –
Oct. 1 – Battleground Speedway in Highlands, Texas – Heat race: 6 (7); B Main: 10 (1).
SEASON STATS –
26 races, 20 features, 2 wins, 8 top fives, 11 top 10s, 12 top 15s, 17 top 20s
UP NEXT –
Oct. 13-15 at Lone Star Speedway in Kilgore, Texas, with the ASCS National Tour
FAVORITE NUMBER –
7: Finish in the ASCS Gulf South Region standings.
SOCIAL MEDIA LINKS –
Twitter: www.twitter.com/Tankersley71
SPONSOR SPOTLIGHT – Custom Vinyl Designs
Custom Vinyl Designs creates and prints various vinyl options for race teams. From the race car to the trailer, and even parts, Custom Vinyl Designs can produce what any race team needs.
"Custom Vinyl Designs has been with me since I started racing sprint cars," Tankersley said. "They've been really good friends and really good sponsors."
Tankersley would like to thank his sponsors, including Griffith Truck & Equipment and Miller's Machine & Welding for their continued support.