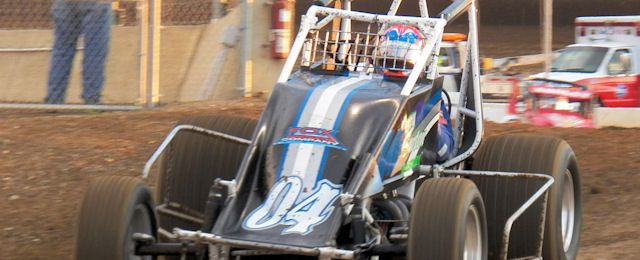 From Bob
Dave Darland proved his adaptability again by winning the Sprint Car portion of the "Kokomo Klash" in a car he had never sat in, let alone seen until Friday. Darland did start outside of the front row but he had to earn the win in a barn burner.
A good crowd came out on a very cold and windy evening to get their last sprint car fix of the season. And they weren't disappointed as the racing was excellent all night from heats until features.
As the green dropped on the 25 lap feature Darland jumped out front and led the first circuit with Casey Shuman in the 21x running almost side by side with the 04 of Darland as the 68x of Brady Short and 68 of Jonathan Hendrick were both nipping at the heels of the leaders. Yellow appeared on lap three for Jerry Coons Jr who stopped on the backstretch. Coons was done for the night.
Shuman moved into the lead on lap six but Darland had begun to swap the top spot with Shuman several times each lap with Short, Hendrick, Ballou and Shane Cottle all coming into the mix. Short passed Darland for 2nd but on lap eight the yellow came out for Jon Stanbrough who spun in turn four. On the restart the 22w of Matt Westfall was caught up in a turn four melee and flipped hard. Westfall was ok.
Running order on lap 10 was Shuman, Short, Darland, Hendrick, Cottle and Ballou and the action was becoming intense as Darland once again drove to the front using his experience running the cushion at both ends now running side by side with Shuman as "Shu" ran the low side. Lap 20 saw Darland on the point with Shuman, Short, Hendrick, Casey Riggs, Cottle, Robert Ballou and Justin Grant following with the outcome still very much in doubt.
Jonathan Hendrick brought out a lap 22 red after he jumped the cushion in turn four and flipped. He was ok. As green reappeared Darland returned to his high side run with Short passing Shuman for 2nd. At the checkers it was Darland, Short, Ballaou nipping Shuman, Casey Riggs and Shane Cottle.
Heats for the 40 cars were won by Casey Shuman, Dave Darland, Shane Cottle, Robert Ballou and Jonathan Hendrick. Coleman Gullick and Scotty Weir took the B main victories.
Tracy Hines won an outstanding midget feature with some torrid late race action between Hines, Brad Kuhn, Mario Clouser, Jerry Coons Jr. Davey Ray and Casey Shuman.
USAC MOPAR D1 MIDGET "Special Event" RACE RESULTS: October 14, 2011 – Kokomo, Indiana – Kokomo Speedway
FIRST HEAT: (8 laps) 1. Brad Kuhn (#17B RW), 2. Zach Daum (#5 Daum), 3. Levi Roberts (#39 Tucker/BCI/Curb-Agajanian), 4. Jerry Coons Jr. (#3nz JCJ), 5. Davey Ray (#2 Ray), 6. Chris Gurley (#12g Gurley), 7. Matt Westfall (#14w Bordner), 8. Kurt Maynew (#21k Mayhew), 9. Justin Grant (#35 Gardner), 10. Shane Cottle (#5c Cottle). NT
SECOND HEAT: (8 laps) 1. Tracy Hines (#24 Parker), 2. Casey Shuman (#10 Moore), 3. Mario Clouser (#06 MCM), 4. Taylor Ferns (#55F Ferns), 5. David Budres (#31 Manic), 6. Jake Blackhurst (#39x Tucker/BCI/Curb-Agajanian), 7. Brent Beauchamp (#16 Sandy), 8. John Heydenreich (#57 Heydenreich), 9. Isaac Chapple (#52 Chapple), 10. Bill Kriegbaum (#12 Kriegbaum), 11. Gary Bradley (#4 Bradley). NT
ALSO AT THE TRACK: Michael Koontz (#17 Koontz).
FEATURE: (25 laps) 1. Tracy Hines, 2. Brad Kuhn, 3. Mario Clouser, 4. Jerry Coons Jr., 5. Casey Shuman, 6. Davey Ray, 7. Zach Daum, 8. Taylor Ferns, 9. Brent Beauchamp, 10. Jake Blackhurst, 11. Chris Gurley, 12. Shane Cottle, 13. Levi Roberts, 14. David Budres, 15. Justin Grant, 16. Isaac Chapple, 17. John Heydenreich, 18. Matt Westfall, 19. Bill Kriegbaum, 20. Gary Bradley. NT
————————————-
FEATURE LAP LEADERS: Lap 1 Daum, Lap 2 Hines, Laps 3 Coons, Laps 4-9 Hines, Laps 10-17 Daum, Lap 18 Coons, Laps 19-25 Hines.
NEXT USAC MOPAR D1 MIDGET RACE: October 15 – Toledo (OH) Speedway
Photo Gallery