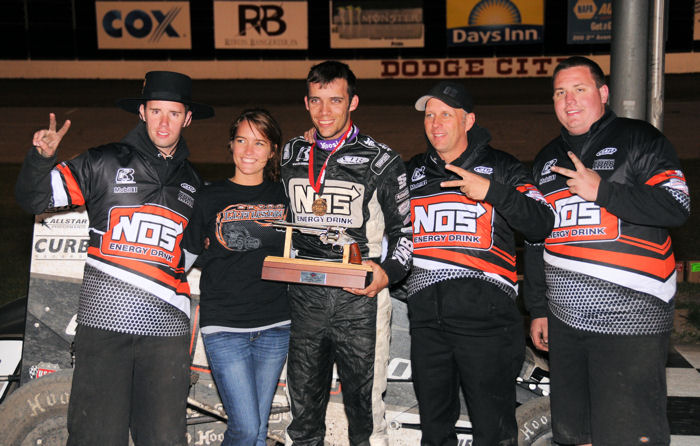 From Dick Jordan
Bryan Clauson of Noblesville, Ind. is two races away from earning his second consecutive USAC National Drivers Championship. Despite failing to increase his point total with finishes of sixth, eighth and 28th in last weekend's "Budweiser Oval Nationals" at Perris, Calif., he takes a 32-point lead over Chris Windom into this Saturday's AMSOIL USAC National/CRA Sprint race at Hanford, Calif. The NDC point race concludes November 24 in the "Turkey Night Grand Prix" Mopar USAC National/Western Midget race at Irwindale, Calif.
Windom, of Canton, Ill., bolted past Kyle Larson into the runner-up point spot in the NDC standings with his victory, fifth and eighth-place finishes at Perris. Larson had a disappointing 13th-place finish in the Perris finale after missing the first two Perris features and has slipped to third in the new standings.
The best 25 National feature finishes count toward a driver's seasonal NDC total and Clauson could mathematically eliminate his challengers at Hanford.
The National Drivers Champion will be presented a cash bonus of $40,000 and a ride in all of the 2012 Firestone Indy Lights oval-track races when USAC's 2011 champions are honored December 9 in Indianapolis, Ind.
USAC NATIONAL DRIVERS CHAMPIONSHIP STANDINGS AND PROJECTED PAYOUT, BASED ON CURRENT STANDING:
1-Bryan Clauson-1,056 ($40,000); 2-Chris Windom-1,024 ($20,000); 3-Kyle Larson-1,016 ($15,000); 4-Levi Jones-1,007 ($12,500); 5-Tracy Hines-989 ($10,000); 6-Bobby East-942 ($7,500); 7-Jerry Coons Jr.-921 ($5,000); 8-Hunter Schuerenberg-864 ($3,000); 9-Jon Stanbrough-834 ($2,000); 10-Darren Hagen-824 ($1,000).