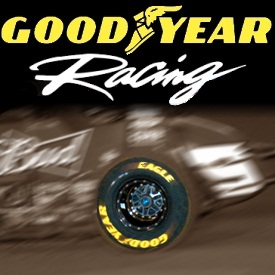 By Lee Elder
CONCORD, N.C. (Nov. 7, 2011) – Donny Schatz won the final two races of the World of Outlaws 2011 Sprint Car season but Jason Meyers won the championship in the Lowes Foods World Finals at The Dirt Track at Charlotte.
Schatz collected his seventh and eighth WoO victories of the year but Meyers had nine wins and more top five finishes over the course of the long Outlaws season. Meyers completed the season with 41 top fives and 8,929 points. Schatz completed the campaign with 33 top fives and 8,681 points.
Goodyear is the Official Tiremaker of the WoO Sprint Car Series and the exclusive tire supplier for the rear wheel positions. The Akron, Ohio-based company supplies various traveling winged sprint car series and weekly sprint car programs at weekly tracks all over the United States. Goodyear also serves as the title sponsor of the Goodyear Knoxville Nationals, the most prestigious sprint car event on the calendar each year.
Sam Hafertepe posted the fastest time in qualifying on the first night at Charlotte. Schatz won the feature race, followed by Sammy Swindell, Meyers, Craig Dollansky and Joey Saldana.
Steve Kinser followed Schatz across the finish line in the feature race on the second night. Dollansky took third, followed by Cody Darrah and Greg Hodnett.
The 2012 WoO season begins at Florida's Volusia Speedway Park in February.
More information about Goodyear Racing is available at www.racegoodyear.com. More information about the World of Outlaws is available at www.worldofoutlaws.com.