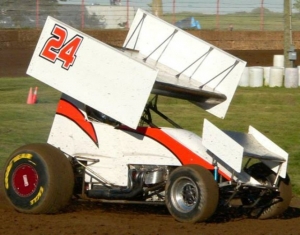 By Bill W
February 28, 2011 – Terry McCarl makes his way from the "Sunshine State" of Florida to the "Grand Canyon State" this week as he continues to campaign the TMAC Motorsports #24. Three solid finishes at East Bay Raceway Park near Tampa occurred last weekend, and he will take in the Lucas Oil ASCS National Series opener at Canyon Speedway Park in Peoria, Arizona this Friday and Saturday night.
TMAC has many big wins at East Bay. "I love East Bay," he says. "It's the best racetrack in Florida by far. I've always liked the track and I've seemed to do well there. It is a demanding racetrack. You have to keep an eye on the tide coming in and bringing moisture, and you have to be prepared for rubber down. I like that you have to pay attention and drive it."
The Altoona, Iowa driver drew inside row five for last Thursday's heat in a prelim for Saturday's Ronald Laney Memorial "King of the 360's". He would finish fourth. "You hate to draw bad and be in the first heat," says TMAC. "We had a good car and the motor was really running well. I'm actually driving Carson's car with the Rider 360 that we have. We had struggled at Volusia, but this car really worked well. It was the same car that Daryn Pittman had won with us at Kilgore, and the same one Austin ran well last Fall."
Starting in row two, TMAC ran second for much of the race, and that's where he would checker. "We were running second behind Lou Kennedy early and a lapped car got sideways in front of him," he says. "We both kind of ducked underneath and checked up. Shane (Stewart) was able to get around both of us and set sail. Eventually, I got by Lou and ran Shane down. I thought we had a shot with about three laps to go in traffic, but a yellow came out and we settled for second. We were happy with that for the first night."
On Friday, TMAC drew the stoutest heat of the night and drove from third to second. "That's what is tough about the ASCS (draw) format," he says. "We had five of the top seven finishers from the night before in our heat. It was nerve-wracking and I had to make something happen. We got to second, and got on (Tim) Crawley for the lead. It was about all we could do."
Starting 11th in the main event, TMAC clawed his way to a fourth place finish. "It was a slick racetrack," he says. "We tried a few things for (Saturday) night, and we were tight early on. We got really fast late in the race. There was a yellow with about six laps to go and we were really fast. We got to fourth, and challenged Crawley for third. We were pretty happy with that, because we thought we had one of the fastest cars. We tied for second in the points with Crawley."
Doing well both nights meant TMAC would start inside row two for Saturday night's finale. "We started third," he says. "I knew better than to not put a hard tire on, and I talked to Jason Johnson and Shane Stewart. They don't like the hard tire. They didn't run it, and I decided not to either."
There would be a price paid for that decision. "I felt like I was driving a smart race," says TMAC. "The car was getting around there perfect. I let Shane and Crawley battle it out a bit. I think Crawley was the first one to have a tire go down, and he had a hard tire on…maybe there was a hole in it. I got around Shane on a restart and conserved my tires as best I could."
TMAC took the lead for a time, but in the late going, his tire would give way as well. He would come from the rear after changing it for a seventh place run. "There was a red with six laps to go and I knew we were in trouble," he says. "The cords were showing on the tire and the Florida sand just got to it. I think we did about as well as anyone with the softer tire. We came in, changed it and did well. We got up through there to seventh. It was disappointing because I think we had one of the two or three cars to beat. We did the best we could, and that's all we can ask."
As is always the case when the popular driver visits Florida, there are plenty of friends and partners to lend a hand. "I have to thank the help we have down there from Morgan Farms, Burnett's Rock & Landscaping and this year, Myers International Midways," says TMAC. "I just have a lot of friends and relationships down there. We've been going down there for almost 20 years, and I love the atmosphere. Chub from C n' B Mushroom Farms has been helping us too the last few years."
This weekend's event at Canyon will see TMAC return to a place where he ran the Slick 50 series back in the early '90's. "It was kind of a last minute decision to run this weekend," he says. "I have Dan Olson out here from Westside Radiator Service in Phoenix. I've known him since the Slick 50 days in the early '90's out here. That's what is great. I love that about racing. When you go to different parts of the country, you always have some good friends, and Dan's been sponsoring me since 1992."
To check out opportunities to partner with TMAC Motorsports on a nightly basis, visit www.TerryMcCarl.com or call 515 957-0020!
Websites for the McCarl Gang!
Driverwebsites.com develops the websites for the McCarl boys. Check out www.TerryMcCarl.com, as well as www.AustinMcCarl.com and www.CarsonMcCarl.com!
In"Terry"gation
Darren Herbert asks: What are your thoughts on the new Friday format at the Nationals?
TMAC Answers: If I'm 17th in points, I'm going to hate it. If I'm 16th or better, I'll be just fine. I don't blame them for trying to mix things up. We're doing the same at the Front Row and Ultimate Challenges. I just hope if it doesn't work, they try something different. The hard part about changing things at the Nationals is that it is historic, and you hate to change something like that. We'll see how it goes.
Got a question for TMAC? Send it to us at sprntcar@iowatelecom.net , and we may answer it in this section! Put "? for TMAC" in your subject line.
This Month in TMAC History!
TMAC won the $10,000 2006 East Bay Winternationals aboard his #24. With seven laps to go in the 40-lapper, he passed leader Chad Kemenah to recored the win ahead of Kemenah, Danny Lasoski, Greg Hodnett and Jason Sides. He also cashed in a $5,000 bonus for winning 2 of the 3 features contested at East Bay.
"Tuesdays with TMAC"!
"Tuesdays with TMAC" is an up close and personal look at colorful sprint car veteran Terry McCarl. To receive "Tuesdays with TMAC", send an e-mail to sprntcar@iowatelecom.net with "TMAC" in the subject line.
TMAC Motorsports would like to thank sponsors Deanfield Farms, Bosma Poultry, Eagle Chassis, DeBerg Concrete, AmeriCashAdvance.com, RFG, Phil and Vivian, Ryan Yager Trucking, 212 The Boiling Point Bar & Grill, Vortex Racing, Hoosier Tire, Chris Spaulding – Attorney at Law, Schoenfeld Headers, K&N Filters, Don Ott Engines, HRP, All Pro Cylinder Heads, Bob and Beulah Elder, Country Builders Construction, Engler Injection, Superflow Technologies, T&P Brothers, Larry Fleck Trucking, Winters, DriverWebsites.com, CM Rock, Jocko's Sprint Parts, Sander, Brown and Miller, Chase Graphics, Pro Shocks, Ben Cook, Bell Helmets, Burnett's Rock and Landscaping, Fatheadz Eyewear, Morgan Strawberry Farms, Bulldog Pest Control, Aurora Rod Ends, Crow Safety, Justice Brothers, KSE Steering, Strange Performance, Saldana Racing Products, Scribner Plastics, Waterman Fuel Pumps, Weiland Racing, Butlerbuilt, PBS Bushings.