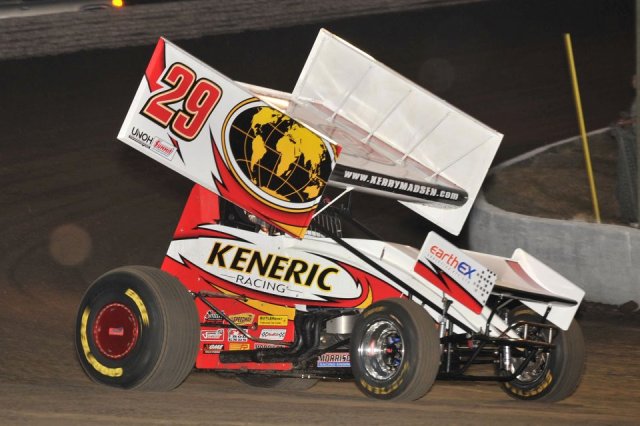 By Bill W
March 7, 2012 – A strong run at the "Krikke Boys Shootout" in Bunbury, Western Australia has driver Kerry Madsen motivated to join back up with the World of Outlaws in Las Vegas and Perris, California this weekend. The St. Mary's, NSW native finished in the runner-up position in both the prelim and finale at Western Australia's most prestigious race.
Kerry is always happy to run the Krikke Boys Shootout. This year, he was again aboard the Geoff Kendrick #W92. "The Krikke Boys race, for the Western Australian people, is the biggest race they have," he says. "It's a great race, because the atmosphere is really great. (Co-promoters Ron and John Krikke) have done a fantastic job of promoting it. It's important that you have a good run at that race."
The event is held at the Coates Hire Bunbury City Speedway. Kerry felt he had a shot at winning for the second year in a row on Saturday. "We've always been good at Bunbury," he says. "We had a fair shot to win it. At one time, we did get by Shane (Stewart) to win it, but we were going down the backstretch and the caution came out. Later on, we were close in traffic and we had a fuel stop. It was pretty much 'Game Over' for us then. We were able to win it last year, and to do well again was great."
The focus changes to the American team, the Keneric Racing #29. Plans are to run the World of Outlaws tour, and things get back going tonight at the Dirt Track in Las Vegas. "The main thing for us right now, is getting things going," says Kerry. "We have a new crew chief in Rob Hart. We struggled a bit in Florida (Volusia), but we've made some corrective changes. To be honest, I'm just looking forward to getting off on a good note and getting some solid finishes going. We want to get the communication going well between Rob and me and build that infrastructure."
The combination of Madsen and Hart holds a lot of experience, and Kerry is confident things will start to click. "We're taking it one race at a time right now, and it's important on this Western Swing that we start doing that," he says. "We're working to speak the same language where what I'm feeling, and what he's watching on the track the same. I know we'll get there and I'm looking forward to it."
The last time the World of Outlaws visited Perris Auto Speedway, Kerry sat in Victory Lane. At the time, he was driving the Helm #11H. The series returns for the first time in five years this Saturday night. "It was 2007, and obviously, I'm really positive about going there," says Kerry. "It is an Outlaw race though, which is tough to win. We'd be happy with a good result there and getting on down the road. I would definitely like to leave Perris as the only (Outlaw) driver to have won there in the last five years though!"
Follow Kerry Madsen on his Website and on MySpace, Facebook and Twitter!
Follow Kerry Madsen at his website located at www.KenericRacing.com! Also keep up with him on Facebook and Twitter (which also can be accessed at the website) at the following links…
Facebook link = http://www.facebook.com/#!/pages/Official-Fan-Page-for-Kerry-Madsen/101145169933686
Twitter link = http://twitter.com/#!/kmr29
Kerry's Releases
To receive Kerry's Releases, send an e-mail to sprntcar@hotmail.com with "Madsen" in the subject line!
Kerry and Keneric Racing (Bob & Peter Gavranich) would like to thank the following sponsors for all their help: EarthEX Logistics Pty Ltd, CXC Simulations, KPC Chassis and Morrison Racing Engines.