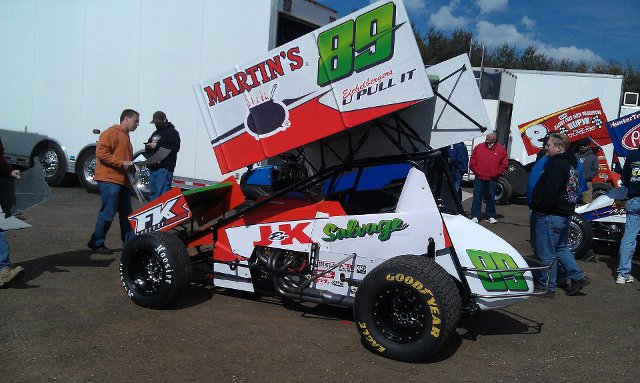 PETERSEN MEDIA
– Getting back in action with the World of Outlaws over the weekend, Cody Darrah and his Kasey Kahne Racing team had their share of bad luck on both Thursday and Saturday night as the youngster was scored 21st and 13th place finishes.
Darrah's West Coast swing got underway at the Dirt Track at Las Vegas Motor Speedway on Thursday night.
Timing in 13th fastest, Darrah lined his Schroth Racing/Sage Fruit/Team ASE Maxim up 13th for to 30-lap feature on the tricky ½ mile track.
For the first 20-laps of the event Darrah remained at bay back in the 13th spot, but as the final ten-laps began clicking off, the Red Lion, PA native had utilized a pair of double file restarts to work into the top five.
With three laps remaining, Darrah began battling Chad Kemmenah for the fourth spot, but he made contact with a infield tire, and spun his machine out, and ended up in the 21st spot.
Saturday night, Darrah made his first trip to the Perris Auto Speedway in Lake Perris, CA and he started his evening off by clocking in eighth fastest.
By way of a third place heat finish, and his time, Darrah had qualified for the 10-car dash, but after getting a flat tire in qualifying and being forced to change tires, by rule he was forced to start the dash in the 10th spot.
Tallying a ninth place finish, Darrah would line up in the fifth row for the 30-lap slugfest.
The narrow ½ mile track saw the field utilize the high side of the speedway, and Darrah ran in the 10th spot during the duration of the event until a late caution bunched the field back up with just eight markers remaining.
Darrah got shuffled back on the ensuing restart, and would hang on to 13th spot at the stripe.
ON TAP- Cody Darrah and his Kasey Kahne Racing team will now head west for the entire month of March, as they are next in action March 16 and 17 at the Thunderbowl in Tulare, CA.
STAY CONNECTED- Check in to www.codydarrah.com or visit his facebook page, http://www.facebook.com/pages/Cody-Darrah/164513250262145?ref=ts for the latest news on Cody.
PETERSEN MEDIA- Petersen Media specializes in motorsports media constructing news releases, both pre and post race, as well as constructing email lists to keep sponsors, and fans up to date. Petersen media also utilizes today's Social Media networks to provide trackside updates to fans and sponsors, and can customize packages to fit your team's needs.
For more information contact Sales@petersenmediainc.com, 916-342-3424, visit www.petersenmediainc.com, www.facebook.com/PetersenMedia or follow @Petersen_Media on twitter.