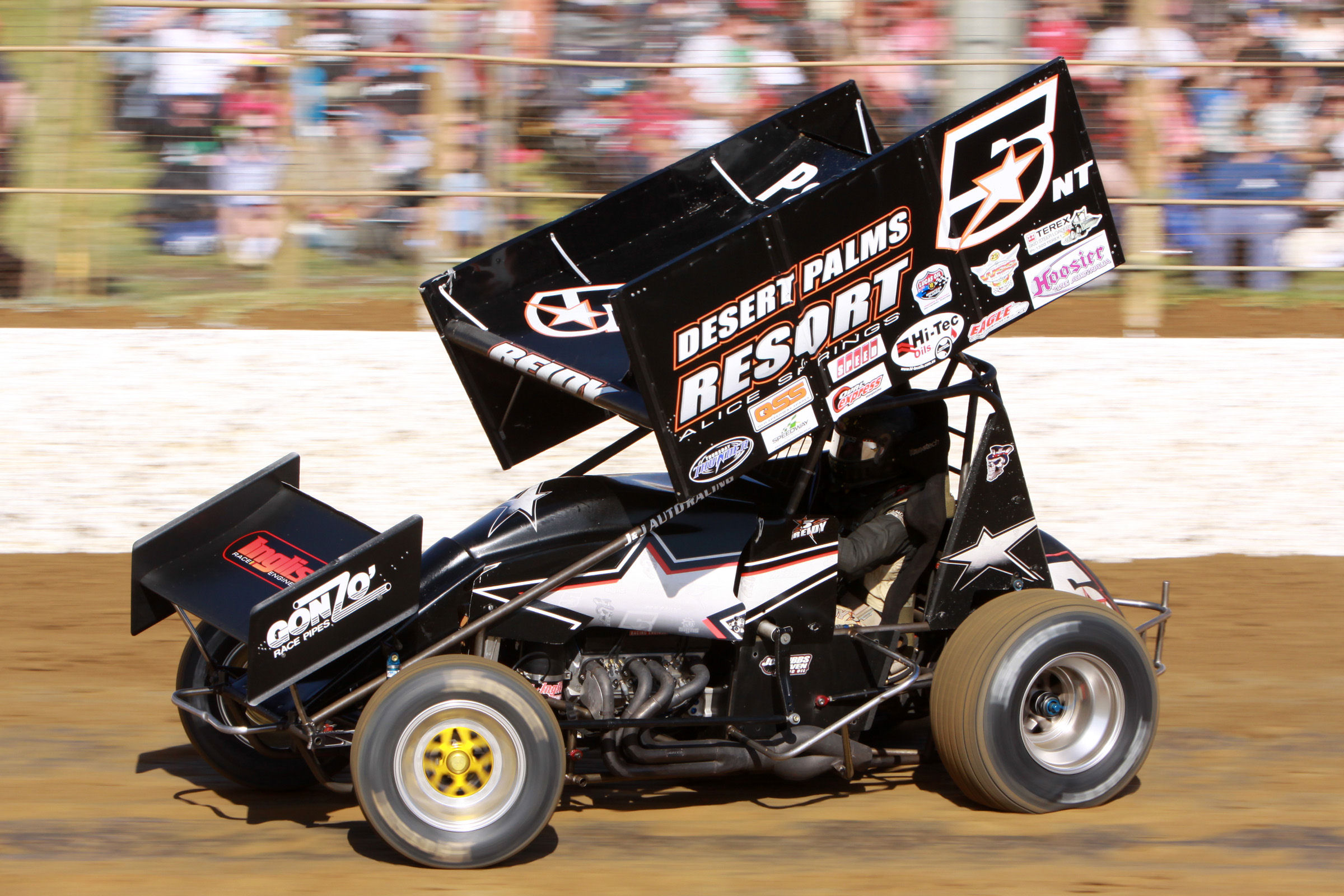 By Daniel Powell, photo Corey Gibson
The carrot was dangled for Danny Reidy during last Saturday night's latest round of the KRE Sprintcar Series at Archerfield Speedway, but he unfortunately fell short of achieving it.
After going into the feature race as the highest point scorer by virtue of winning the dash, following qualifying second in time trials and placing fifth in both of his heat races, Reidy was offered the incentive of a bonus $1,000 if he started out of position 14 and ended up winning. Never one to shy away from a challenge, Reidy took it up.
Reidy looked good to get to the front up until it all turned pear shaped, while placed sixth, on the 21st lap when another competitor spun out directly in front of him. Left with nowhere to go, Reidy was forced to spin and consequently stopped. Due to being forced to stop Reidy was sent to the rear for the restart. He then fought his way back through the field to finish just one spot shy of the podium in fourth at the fall of the chequered flag.
"I gave it a good crack," commented the NT # 5 Desert Palms Resorts – Alice Springs supported J&J driver. "I felt that I would've got pretty close if I hadn't got caught up in someone else's spin, but that's just the way things go."
This Friday and Saturday night (March 16 and 17) Reidy will contest the Scott Darley $50,000 Challenge at Sydney Speedway (Sydney, NSW). For Reidy, this will be his first Sydney Speedway appearance of the 2011/12 season.
As part of their end of season merchandise clearance sale, Reidy is offering the Reidy Racing Team hoodies for just $25. All sizes are available, which includes youth. Aside from hoodies, the Reidy Racing Team is also offering their flexfit caps for just $15. The sizes remaining are small and medium. The small/medium flexfit caps, 56 to 58cm, are also suitable for kids and youths.
All prices do not include postage and handling. To purchase your Reidy Racing Team merchandise, visit the team website's online store: www.dannyreidy.com or contact Danny direct via email: dannyreidy@dannyreidy.com
You can also pick up your merchandise from the team's race truck at the track.
Reidy would like to thank, Desert Palms Resort – Alice Springs, Camden Neon Signs, P&M Motor Body Repairs, Gonzo's Race Pipes and Inglis Race Engines, for all of their 2011/12 season support.