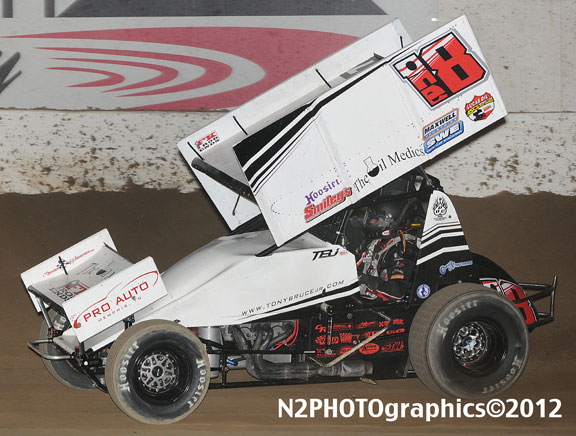 From Peterson Media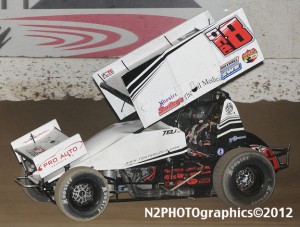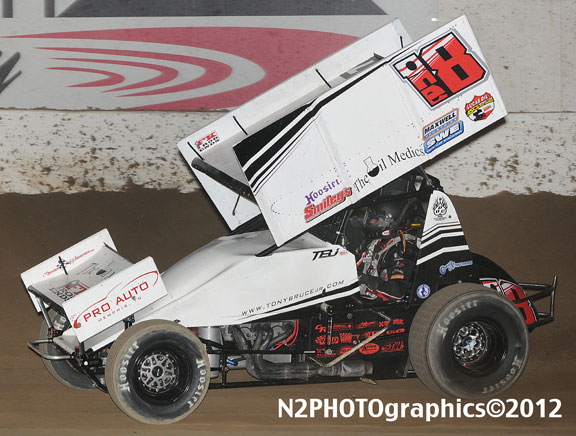 Tony Bruce, Jr had a less then desirable weekend at the Cocopah Speedway, but the Owasso, OK driver was able to overcome some bad luck and charge forward to 14th and 9th place finishes.
Friday night, TBJ's weekend got off to a bad start, as the Hinchman Racewear/Pro Auto/Oil Medic backed entry battled a right rear tire going down in his, heat and ultimately was relegated to run the B main event, after fighting it to the finish.
Bruce would score a third place finish in the semi, and ultimately find his SWE/Maxwell Industries/FK Rod ends machine in the 19th spot for the feature event.
Marred in traffic most of the night, TBJ was able to work around the Cocopah Speedway, and move up to a 14th place finish at the stripe.
"It was a rough night, especially with cutting a tire in our heat, and not getting any points," explained TBJ. "We got through the B, and we were just a little free in the A and salvaged a 14th place finish."
Saturday night, bad luck still hung around the one8 Motorsports camp, as the team noticed an issue with their Gaerte power-plant after firing it off to get heat in it.
The one8 Motorsports crew worked through their hot-lap session to get a fresh bullet in the car, and were able to do so, and make the call for their heat race.
After a third place run in his heat, TBJ lined up again in the back of the pack, as he started in the 16th spot.
Early in the feature, Bruce, Jr was able to move up into the 12th spot, where he continued to hound Matt Covington and Mitch Olson.
After clearing the duo, Bruce was up to the 10th spot by the halfway point, he hooked up in a heated battle with Seth Bergman.
Finally getting the better half of Bergman late in the feature, Bruce would hold on to the ninth spot at the stripe.
"Saturday was a busy night," said TBJ. "We lost a motor early, and my guys did a great job getting us ready for the heat. Fortunately we got through the heat and into the A, but starting in the back of one of these races is tough to get to the front, but we'll take the ninth and move on."
Bruce would like to thank all of his sponsors, Hinchman Racewear, Pro Auto, The Oil Medics, Smileys, SWE, Maxwell Industries, FK Rod Ends, Butlerbuilt, Factory Kahne Shocks, Randy's Racing Filters, DriversWebsites.com, Racinboys.com, Wilwood, Zemco Headers, Hoosier Tires, Gaerte Engines, Pro Powder Coating, Fuel Safe, Bell, Weld Wheels, and ISC Racer's Tape for their support through the 2012 season.
ON TAP: The one8 Motorsports team will now head to Devils Bowl Speedway in Mesquite, TX on March 23 and 24th with the Lucas Oil ASCS National Tour.
STAY CONNECTED: Stay updated with TBJ by visiting his website at
www.tonybrucejr.com, or by following him on twitter @tonybrucejr
SPONSOR SHOUT OUT: Pro Auto
Located in Memphis, TN, Pro Auto Sales is a friendly family ran, state-of-the-art full service auto repair shop. Owned by Clifford Young, Pro Auto has been a supporter of sprint car racing for several years, and is a quality business in the Memphis Area.
"Clifford Young let me drive his race car last year when I didn't have National Events to race with my car, but with the increased schedule this year it really left me no time to drive the #7," said Bruce. "Thankfully Clifford believes in me enough to come on board to our team for the 2012 campaign. I feel lucky to have met and got the opportunity to call him and his family part of mine."
PETERSEN MEDIA: Petersen Media specializes in motorsports media constructing news releases, both pre and post race, as well as constructing email lists to keep sponsors, and fans up to date. Petersen Media also utilizes today's Social Media networks to provide trackside updates to fans and sponsors, and can customize packages to fit your teams needs.