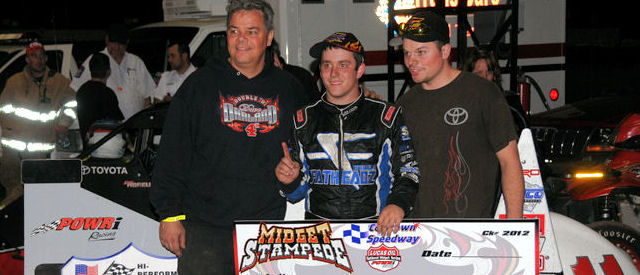 By Tim Tuttle
KENNEDALE, Texas (March 16, 2012)—Brady Bacon led all 30 laps to win the Midget Stampede on Friday at quarter-mile Cowtown Speedway, earning $3,000 in the season-opening event for the POWRi Lucas Oil National Midget Series.
Bacon, who started on pole, fended off several determined challenges from Tyler Courtney, who was never more than a few car lengths behind from the opening lap to the middle of the 29th. Courtney tried to pass with a slide job that began in Turn 1 but went in too fast and was forced to lift exiting Turn 2 to avoid the wall. The 17-year-old from Indianapolis regained control of his Spike-Esslinger to finish fourth.
"He (Courtney) made a really bold move at the end," Bacon said. "I was cruising at the start, but we got tight at the end. He slid us a couple of times. I felt the longer we ran, the better we ran."
Bacon, driving a Toyota-powered Spike for famed Wilke-PAK Racing, won in a field of 66 drivers, which was pared to 24 starters in the feature by seven heat races, a C main and two B mains.
"That kind of field is a lot for a Midget race," the 22-year-old from Broken Arrow, Okla., said. "It's good to see. Midgets have been having trouble the past couple of years attracting cars."
Casey Shuman of Tempe, Ariz., finished second in a Spike-Esslinger. He started on the inside of the third row and was up to second by a second-lap restart.
"We were a third-place car," Shuman said. "The right rear tire started losing air early in the race and at that point all I was trying to do is finish and playing defense. It stayed up to the end and we got a good finish."
Rico Abreu climbed from 12th starting position to take third in the second Midget race of his five-year career. The 20-year-old from Rutherford, Calif., was sixth at halfway and fourth with 10 laps remaining. He drove a Bullet-Toyota for Keith Kunz Motorsports.
"We got going in the middle of the track and let everyone make mistakes and started picking them off," Abreu said. "We got better and better as the race went on."
Courtney risked second by taking his shot to win, but had no regrets.
"We were good enough to win if we got by him (Bacon)," Courtney said. "We had a run and we took it and it didn't happen. It was all-or-nothing. We didn't want to be first loser. It was my sixth race in a Midget and one of my stronger performances."
Shuman had the best view in the house of Courtney challenging Bacon.
"He (Courtney) was probably faster, but he's younger and less experienced," Shuman said. "He was really good. He's going to win races this year."
The Midget Sampede at Cowtown, which is co-sactioned by the Rocky Mountain Midget Racing Association, concludes tonight (Saturday) with a first-place purse of $5,000 and $500 to start the feature.
POWRi Lucas Oil National Midget Series feature results (30 laps): 1. Brady Bacon, 2. Casey Shuman, 3. Rico Abreu, 4. Tyler Courtney, 5. Danny Stratton, 6. Dave Darland, 7. Darren Hagen, 8. Caleb Armstrong, 9. Kevin Ramey, 10. Chris Bell, 11. Jerry Coons Jr., 12. Jonathan Beason, 13. Chett Gehrke, 14. Brad Kuhn, 15. Mike Hess, 16. Andrew Deal, 17. Matt Sherrell, 18. Don Droud Jr., 19. Austin Brown, 20. Zach Daum, 21. Luke Icke, 22. Tyler Thomas, 23. Andrew Felker, 24. Colton Cottle.