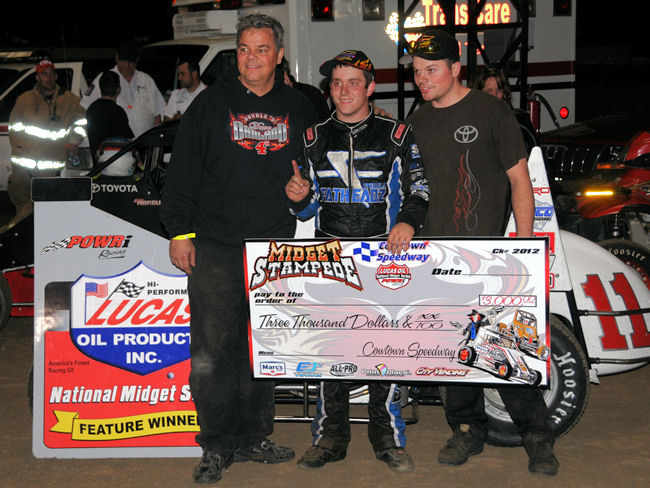 By Bill W
March 19, 2012 – Armed with arguably the fastest midget of the 60+ assembled at Cowtown Speedway near Kennedale, Texas last weekend, Brady Bacon was able to capture the $3,000 POWRi Midget Stampede prelim on Friday night. Driving the Wilke-Pak #11 midget, the Broken Arrow, Oklahoma pilot was armed again for Saturday's finale, but an accident and brake malfunction sidelined him.
After drawing in the back row of his heat in Friday's prelim, Brady charged to the front for the win and a starting spot on the pole of the feature. "The Wilke-Pak team provided a fast car all weekend long and I can't thank them enough," he says. "We were able to miss one wreck. We were good. Without the red, I think we could have run second or third. That wreck set us up close to the front and we were able to win it."
Brady led from the start. "We were really good the first five or ten laps," he says. "The track started laying a bit of rubber coming out of turn two. The car was getting a little tight, and Tyler Courtney was able to get up in the ruts in turn one and come off turn two better than I was."
Courtney's pursuit continued, though Brady was able to stay out front. "He was probably a little better than us the last half of the race," he says. "There were several cautions towards the end, and I needed longer runs. I wasn't able to get the tires heated up. (Courtney) kind of showed me his nose, and I had been cruising up to that point. I picked it up a little bit."
Brady was able to stave off Courtney and grab the $3,000 win. "He was able to slide me a couple times, and I was able to get back by him or squeak outside of him," he says. "With two to go, he slid me going into one and went over the bank. We were able to stay in front and win it then."
Saturday's finale began with a draw inside of row two for the heat race. Brady repeated his Friday feat of a heat win. "There must have been quite a few good cars starting in the back of the heats (Saturday)," he says. "We only had enough points to start eighth in the feature."
Things got off to a bump start in the $5,000 to win finale. "We had a really good car," says Brady. "The track had been heavy in the heats. The Toyota motor they have is really running good now. There were still some holes in turn one and Brad Kuhn got into one. Jerry Coons and I ended up getting into him, so we had to go to the tail."
Brady charged from the tail of the field, but a brake issue forced him to retire. "We were working up through the pack again, and we had a brake line crack or something," he says. "We lost the brakes about five or eight laps in. I was still moving up pretty good, so I stayed out there. Once I got to seventh or eighth, it got a little dicey with guys sliding me back and stuff. I decided that I didn't want to risk tearing the car up, and the pay was about the same from eighth to last. I decided to pull in. Without brake problems, I think we had a good shot at a top three. If we wouldn't have had the first wreck, I think our chances of winning were good. We had the car to do it."
The Brady Bacon Racing #99 sprint car will be back this Friday and Saturday night with the Lucas Oil ASCS National Series at the Devil's Bowl Speedway near Mesquite, Texas. "I'm pretty excited about that," says Brady. "Devil's Bowl is one of my favorite tracks. Hopefully, we can put a good weekend together there."
Follow Brady on his Website, Twitter and Facebook!
Follow Brady at his website located at www.BradyBaconRacing.com! Also keep up with him on Facebook and Twitter (which also can be accessed at the website) at the following links…
Twitter Link – http://twitter.com/BradyBacon
Facebook Link – www.facebook.com/pages/Brady-Bacon-Racing/278125555137
Marketing Partner of the Week – Smiley's Race Products
Smileys Racing Products and Hoosier Tire Southwest have been in the racing business for 30 years in the Dallas, Fort Worth area. Visit Smiley's, either in Kennedale, at the showroom store in Mesquite, or at the racetracks. All employees at Smiley's Racing Products and Hoosier Tire Southwest are directly involved with race teams either as owners, drivers, pit crew members etc. What this means to you our customers is racing advice that has been tested on the track first, and then they pass their findings on to the customer. From parts and tires to complete race cars, Smiley's Racing Products and Hoosier Tire Southwest is ready to help you get to the checkered flag first. All aspects of their business can be seen at www.SmileysRacing.com. Click on catalog and put your information in and you will be sent a catalog free of charge.
Associate Marketing Partner of the Week – ButlerBuilt Professional Seat Systems
No matter the form of motorsports, ButlerBuilt's leadership makes it the most successful seat in the industry! Winners utilizing ButlerBuilt in the last two weeks span a wide range of motorsports: Kyle Busch, Bubba Pollard, Tyler Walker, Jonathan Allard, Brady Short, Jason Sides, Josh Fisher, Shannon McQueen, Wayne Johnson, Bud Kaeding, Jessica Zemken, Lynton Jeffrey, Jason Johnson, Brooke Tatnell, Levi Jones and many more! To learn more about the Butler Advantage, visit www.ButlerBuilt.net today!
If you would like to receive Brady's weekly releases, send an e-mail to sprntcar@hotmail.com with the subject "Brady".
Brady Bacon Racing would like the following sponsors for all their help: Fatheadz Eyewear, Oilfield Equipment and Manufacturing, Tel-Star Communications, PPM Titanium Products, Triple X Race Co., Infinity Shocks, Smiley's Racing Products, Heath Clips Lawn Care, Keizer Aluminum Wheels, Eaton Industrial Coatings, Pattison Precision Products, Wesmar Racing Engines, Butlerbuilt Seats, Hoosier Tire Southwest, Diversified Machine Inc., Brown and Miller Racing Solutions, Lightning Wings, Simpson, Pro Pan, CP Pistons, Schoenfeld Headers, Carrillo Rods, KSE Steering, All Star Performance, King Racing, Schroth Racing, FSR Radiators, Three-wide Clothing and Fuel Safe.