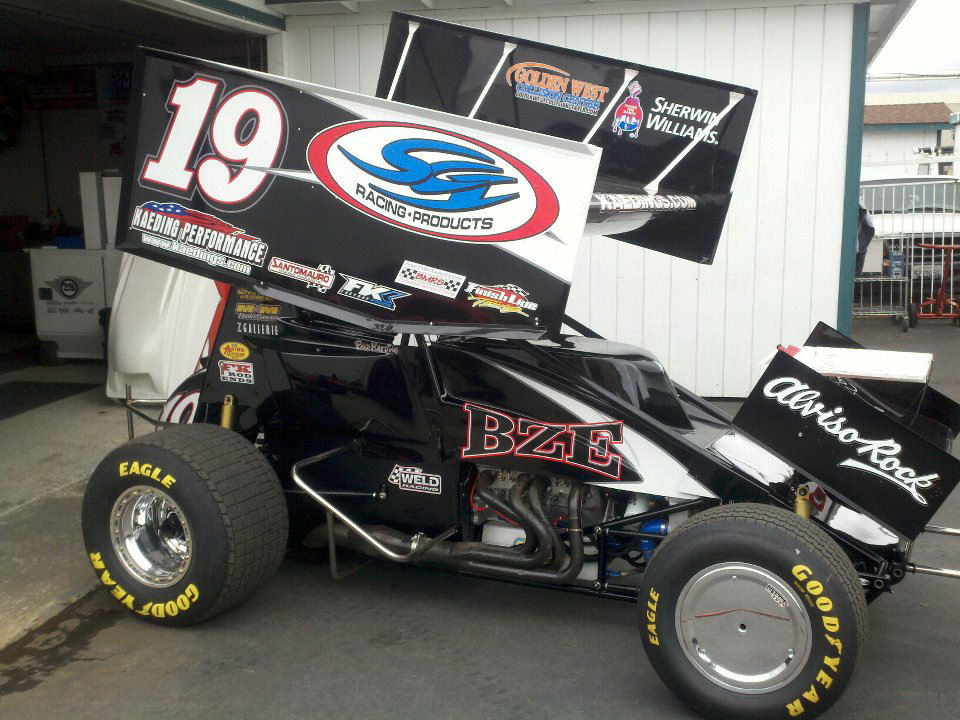 PETERSEN MEDIA
One week after an exciting feature event win, Bud Kaeding made his 2012 winged debut with the World of Outlaws on Friday and overcame an interesting night to charge from the back to a ninth place finish.
Piloting the Brian Matherly owned, Kaeding Peformance/SCI/BZE backed no. 19, Kaeding kicked his night off with the 16th quickest lap of the night, putting him sixth in the first heat.
A hooked up Thunderbowl didn't alow for much passing early, and Kaeding would finish sixth in the heat, transferring to the main, but would be in the middle of the field as he rolled off in the 16th spot.
A wild feature event which saw a hooked up, track take out several cars, and a five minute rain delay, Kaeding was able to fight through the field twice, and score a ninth place finish.
With the race getting underway, Kaeding was slowly gaining spots as he worked into the top-10 by the 13th lap when the red flag flew.
The next 13-laps went off without a hitch, until the yellow flew with Kaeding in ninth.
On the ensuing restart Kaeding brought his car to a stop, with steering issues as rain began to fall on the track.
As the field lined back up, heavy rain began falling, and the red was thrown.
Over the final nine laps, the San Jose, CA driver would get up on the high side of the track and charge his way back to a ninth place finish at the stripe.
"I can't say enough about my guys, and this car," said Bud. "We overcame a lot to out of here with a ninth place finish. Everyone worked so hard tonight, I'm excited for our next race."
Kaeding would like to thank Kaeding Performance, Sprint Car Innovations, Alviso Rock, BZE, Factory Kahne Shocks, Racing Optics, K&N Filters, Yak Graphics, ButlerBuilt, and Brown and Miller for their continued support.
ON TAP: Kaeding will now head to Bakersfield, CA on Saturday night for the opening round of the USAC West Coast 360 season.
STAY CONNECTED: Stay connected with Bud by visiting www.budkaedingracing.com, www.facebook.com/budkaedingracing or following @Bud_Kaeding on twitter.
PETERSEN MEDIA: Petersen Media specializes in motorsports media constructing news releases, both pre and post race, as well as constructing email lists to keep sponsors, and fans up to date. Petersen media also utilizes today's Social Media networks to provide trackside updates to fans and sponsors, and can customize packages to fit your team's needs.
For more information contact Sales@petersenmediainc.com, 916-342-3424, visit www.petersenmediainc.com, www.facebook.com/PetersenMedia or follow @Petersen_Media on twitter.