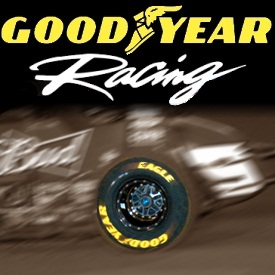 By Lee Elder
TULARE, Calif. (March 17, 2012) – Tim Kaeding is suddenly the hottest driver in the World of Outlaws Sprint Car Series.
Kaeding took his second WoO victory in three starts when he won at Tulare's Thunderbowl Raceway. His first victory of the season came two races earlier at The Dirt Track at Las Vegas Motor Speedway. Kaeding is the first driver to win two WoO races this season and the win was his eighth in Outlaws competition.
Goodyear is the exclusive tire provider for the World of Outlaws sprinters. Kaeding is the defending champion of the Cancen Oil King of the West Series presented by Goodyear, another series supplied by the Akron, Ohio-based tiremaker.
"This is my home away from home," Kaeding said after the win. "We've definitely done a lot of things at this racetrack."
Much like his win in Las Vegas, Kaeding repeatedly used strong restarts at the Thunderbowl, a banked 3/8-mile dirt oval. Kaeding started fourth but led after five laps. Kaeding beat the likes of Steve Kinser and Jason Sides with consistently good restarts during the 35-lap race. By the end of the race, Kaeding led by almost a full straightaway.
Craig Dollansky finished second, followed by Sides, Terry McCarl and Joey Saldana. Saldana posted the quickest lap during qualifying.
The race was scheduled to be the first of two during the weekend but rain forced the second day's event to be postponed until a date to be named later.
More information about Goodyear Racing is available at www.racegoodyear.com. More information about the WoO is available at www.worldofoutlaws.com. More information about the KTW is available at www.kingofthewestsprintcarseries.com.