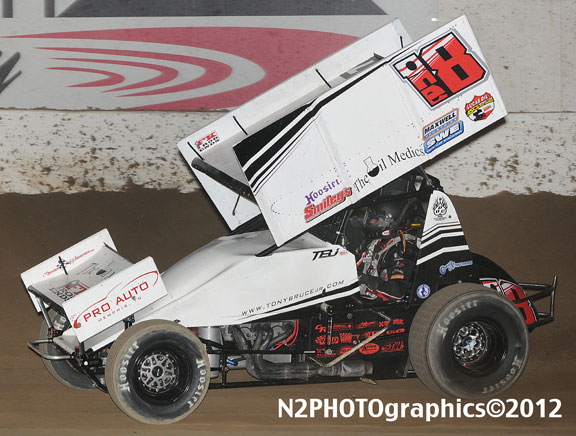 By PETERSEN MEDIA
With the Lucas Oil ASCS National Tour taking a weekend off, Tony Bruce, Jr and his one8 motorsports team, took part in the ASCS Gulf South region opener and posted a pair of top five finishes in Beaumont, and Baytown Texas.
Friday night in Beaumont, a wild start to the feature, ultimately took TBJ, who was scheduled to start ninth, and put Bruce's Hinchman Indy/Pro Auto/The Oil Medics entry on the second row of the race.
Settling in the third spot once the race got underway, the Owasoo, OK resident hooked up in an entertaining battle with Aaron Reutzel.
At the halfway point, Bruce finally got the better of Reutzel, and began chasing down race leader, Wayne Johnson.
With clean air in front of him, Johnson went on to grab the win over TBJ.
"Friday night, was wild, and I was glad we were able to keep our nose clean," said Bruce. "Waybe was good out in front, and we didn't have anything for him."
Saturday night, the series moved to Baytown, Texas, and the one8 Motorsports team continued to show speed early in the season.
Lining up in the fifth spot, TBJ began working his way to battle with the leaders utilizing the low side of the speedway.
Battling with Wayne Johnson, Travis Rilat, and Gary Wright, Bruce, Jr, had worked his way up to third spot, and was gaining on the lead duo, when he suddenly began losing, ground as he fought to work the bottom of the speedway.
Bruce, Jr had lost his breaks, and struggled to run the line of his choice, and held on to a hard fought fourth place finish to end a pretty strong weekend.
"I cannot complain about the start to our season so far," said Bruce. "I think we had a shot to win Saturday night, but had some bad luck with our brakes and ended up fourth. I can't say enough about this team and am looking forward to Devils Bowl next weekend. "
Bruce would like to thank all of his sponsors, Hinchman Racewear, Pro Auto, The Oil Medics, Smileys, SWE, Maxwell Industries, FK Rod Ends, Butlerbuilt, Factory Kahne Shocks, Randy's Racing Filters, DriversWebsites.com, Racinboys.com, Wilwood, Zemco Headers, Hoosier Tires, Gaerte Engines, Pro Powder Coating, Fuel Safe, Bell, Weld Wheels, and ISC Racer's Tape for their support through the 2012 season.
ON TAP: The one8 Motorsports team will now head to Devils Bowl Speedway in Mesquite, TX on March 23 and 24th with the Lucas Oil ASCS National Tour.
STAY CONNECTED: Stay updated with TBJ by visiting his website at
www.tonybrucejr.com, or by following him on twitter @tonybrucejr
SPONSOR SHOUT OUT: The Oil Medics
The one8 Motorsports team is proud to again be partnered up with the Oil Medics in 2012. Located in Forth Worth, Texas, the Oil Medics specialize in servicing big rigs to enhance fuel mileage they also are a full service diesel shop. On top of taking car of the rig, the Oil Medics also carry a complete line of racing lubricants to help enhance hoarse power and lead to more wins.
"We're honored to have The Oil Medics on-board for a third consecutive year! Not only do they supply performance enhancing lubricants for our race car, they are also a full service diesel shop. With fuel prices getting higher daily, make sure to take advantage of fuel-mileage savings that The Oil Medics has to offer for your diesel truck."
PETERSEN MEDIA: Petersen Media specializes in motorsports media constructing news releases, both pre and post race, as well as constructing email lists to keep sponsors, and fans up to date. Petersen Media also utilizes today's Social Media networks to provide trackside updates to fans and sponsors, and can customize packages to fit your teams needs.
_____________________________