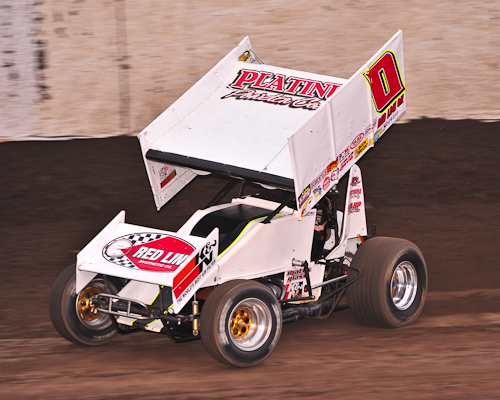 PETERSEN MEDIA
Friday night, Jonathan Allard and his Williams Motorsports team, competed with the World of Outlaws during their final night of the Spring Western Swing in Merced, CA, and Allard was credited with a 20th place finish.
"It was just a rough night on a very tricky racetrack," said Allard.
The venue is one of the smallest that Allard competes on in California, and it proved to be a tough place for many of the 29 competitors that were in the pit area.
In World of Outlaws competition much of the night revolves around qualifying, and Allard's sub par 20th quick lap set the tone for the rest of his night.
Missing the heat race inversion, Allard found himself in the fourth row of his heat race, but the Chico, CA was one of the few drivers who was able to make something happen as he worked his way up to a fourth place finish, and transferred to the 40-lap feature event.
Allard's 20th quickest qualifying lap meant the former King of California would be relegated to start in the 10th row on the slicked off Merced Speedway.
As the event got underway, Allard began searching the top of the Speedway, as many drivers utilized the bottom line.
It was apparent that both lanes were equal, and Allard struggled to go forward, like many of the field did.
Late in the race, Allard had issues in his Williams Motorsports No.0 and came to a stop, and eventually retired to the pit area, where he would be credited with a 20th place finish.
"It wasn't that night we were hoping for, but we will take it and move on," said Allard. "I'm really looking forward to kicking the King of the West season off on Saturday, so I'm hoping we have our bad luck out of the way."
ON TAP: Allard and the Williams Motorsports team will now look to getting their 2012 King of the West tour kicked off as the series goes green Saturday night at the Antioch Speedway.
STAY CONNECTED: For more information on Jonathan, including upcoming events, pictures, and news please check out www.allardmotorsports.com, or follow JA on twitter @Allard0.