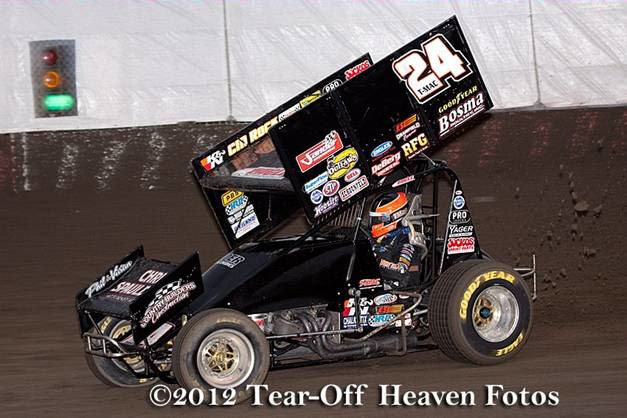 By Bill W
April 3, 2012 – For the first time in two months, Terry McCarl saw his Altoona, Iowa home this week. He's been on the road since heading for Florida in February. He'll be taking a week off the driving chores this week as son Carson will tackle the I-80 Speedway in Greenwood, Nebraska on Friday and Saturday. He finished off a west coast trip last Friday night with a tenth place finish with the World of Outlaws in Merced, California.
Friday's run started with a second quick qualifying effort in time trials at Merced. His lap temporarily set a new track record there. "I like that stuff," says TMAC. "It's funny Keith Offill's son Kyle, had two of his buddies here. They were telling me, 'Set the track record Terry! Set the track record.' I felt a little loose on the first lap, and I brought it down off the cushion the second lap and got the car stuck as tight as I could. I thought it was a decent lap, and it was. The motor has been good since we changed the mag at Tulare."
The boys were happy with the effort, but TMAC knew it may not stand. "I told them that it's never over," he says. "Sure enough, Kraig Kinser, who has been really fast lately, went out and beat me. Second quick was good. We've got one engine that has a lot of nights on it."
Starting fourth in his heat, TMAC was able to cruise into third and a transfer spot for the feature. "I had heard how heavy the track was last year," he says. "It ended up getting pretty slick from the middle up. We were able to run third there."
Being second quick, locked TMAC into the dash. "We tightened the car up for the dash," he says. "We were so loose in the heat that I didn't think we could tighten it up enough. The Goodyears are easy to get rolled up on the right rear. I've been a little leery about those things. I was feeling good and honked the car into three and four, and I spun the damn thing out. I was still loose, and hadn't tightened it up enough for the dash."
The result was a ninth place finish. "I'm really excited, and I've probably been guilty of overdriving the car at times," says TMAC. "We are fast again, and that's exciting. I got a little excited at Chico and then again in the dash at Merced. I feel bad for Lucas Wolfe, because I spun out and took him with me. I just needed to settle in and start in the second row of the feature."
Starting ninth, TMAC maintained for a tenth place finish. "I was cautious to be honest, and at this point we're money racing a little bit," he says. "I've got one engine, and after spinning out in the dash, I didn't want to do anything stupid. We wanted to leave California with a few bucks and it was $2,000 to finish in the top ten. Sometimes you are in a position to go for it and sometimes you aren't."
He ran a steady race. "We were ninth most of the race, but (Craig) Dollansky really got the top going," says TMAC. "About halfway through I moved up there to follow him, but he got by us. It was a nice solid run. It was Carson's car I was driving, so I was in it for the last night, and needed him to be able to race this weekend!"
The trip out west is always a welcome one for TMAC. "It was a great time!" he says. "We got to spend some time with some good friends out there. It's always good to be home. We haven't seen the shop in a couple of months. I'm really happy to be home, and excited to take Carson racing next week."
Carson will tackle the ASCS-Midwest series at the I-80 Speedway near Greenwood, Nebraska on Friday and Saturday in Gary Dean's #97.
To check out opportunities to partner with TMAC Motorsports on a nightly basis, visit www.TerryMcCarl.com or call 515 957-0020!
Websites for the McCarl Gang!
Driverwebsites.com develops the websites for the McCarl boys. Check out www.TerryMcCarl.com, as well as www.AustinMcCarl.com and www.CarsonMcCarl.com!
In"Terry"gation
Aaron Wenger asks: Tell us about your trip to Hollywood.
TMAC Answers: The boys came out on Spring Break, and it was cold. Fifties and Sixties on Venice Beach. It was pretty cold compared to Iowa. We saw a lot of great things and cool stuff. I have to thank my friend Mike Sweeney who works on the set of Two and a Half Men. He took us on the set, and we got to take pictures, and had a lot of fun. It was really cool to see how they did things. We almost got to meet Ashton Kutcher from Iowa. It was fun, and something most people don't get to see.
Got a question for TMAC? Send it to us at sprntcar@iowatelecom.net , and we may answer it in this section! Put "? for TMAC" in your subject line.
This Month in TMAC History!
On April 11, 2003, TMAC was victorious in the Sprint Invaders Association feature at the Lee County Speedway in Donnellson, Iowa. He bested Mike Trent, Kurt Davis, Tyson Hart and Matt Rogerson. Despite competing in limited action with the series, TMAC set what was then a record with five wins that year. He is still tied for fourth on the all-time series win list with six.
"Tuesdays with TMAC"!
"Tuesdays with TMAC" is an up close and personal look at colorful sprint car veteran Terry McCarl. To receive "Tuesdays with TMAC", send an e-mail to sprntcar@iowatelecom.net with "TMAC" in the subject line.
TMAC Motorsports would like to thank sponsors Deanfield Farms, Bosma Poultry, Eagle Chassis, DeBerg Concrete, AmeriCashAdvance.com, RFG, Phil and Vivian, Ryan Yager Trucking, 212 The Boiling Point Bar & Grill, Vortex Racing, Hoosier Tire, Chris Spaulding – Attorney at Law, Schoenfeld Headers, K&N Filters, Don Ott Engines, HRP, All Pro Cylinder Heads, Bob and Beulah Elder, Country Builders Construction, Engler Injection, Superflow Technologies, T&P Brothers, Larry Fleck Trucking, Winters, DriverWebsites.com, CM Rock, Jocko's Sprint Parts, Sander, Brown and Miller, Chase Graphics, Pro Shocks, Ben Cook, Bell Helmets, Burnett's Rock and Landscaping, Fatheadz Eyewear, Morgan Strawberry Farms, Bulldog Pest Control, Aurora Rod Ends, Crow Safety, Justice Brothers, KSE Steering, Strange Performance, Saldana Racing Products, Scribner Plastics, Waterman Fuel Pumps, Weiland Racing, Butlerbuilt, PBS Bushings.