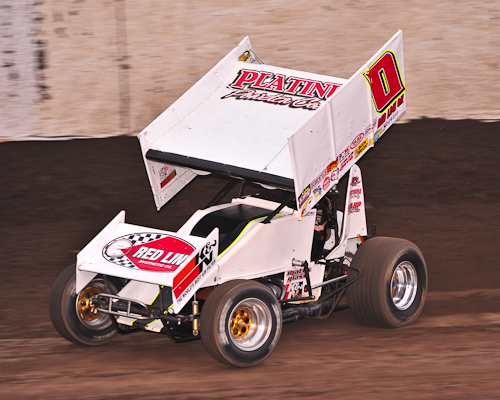 PETERSEN MEDIA:
Saturday night in Antioch, CA, Jonathan Allard had a brilliant night going, but came up just short of picking off the opening round on the 2012 King of the West season as he settled for silver, a second place finish.
The KWS season got off to a great start for Allard and his Williams Motorsports No.0 team, as the Chico, CA driver bested the 25 cars in the pit area during qualifications and earned quick time- the same feat he accomplished during the 2011 opener.
Starting in the second row of his heat, Allard was able to work into the second spot behind Peter Murphy on what was a tacky, narrow Antioch Speedway early in the event.
By way of his qualifying time, and transferring through his heat, Allard transferred into the dash, where he ended up with the number two pill, putting him on the outside of the front row.
Getting the jump over Murphy, JA quickly got a sizeable lead on the field, as the pack did what they could to catch him, and try for the ever-important front row position.
JA would fend off a charging Tim Kaeding to win the dash, and put himself on the pole for the 30-lap feature.
The initial start was negated due to a spin, and the ensuing restart saw Allard fall to second behind fellow front row starter, Tim Kaeding.
Kaeding seemed to be untouchable on this night, as Allard did what he could to keep Kaeding's No.83 machine in sights, but the Chico, CA driver fought through traffic, and held on to his car to score the second place finish.
"We had a great night going, but we were just a little tight in the feature," explained Allard. "Congrats to Timmy (Kaeding) and his guys on the win, and I can't thank my guys enough for working hard all night, and hopefully we can be one spot better next week in Tulare."
ON TAP: Allard will now set his sights on the Thunderbowl in Tulare, CA on April , 14th for round two of the KWS season.
STAY CONNECTED: For more information on Jonathan, including upcoming events, pictures, and news please check out www.allardmotorsports.com, or follow JA on twitter @Allard0.