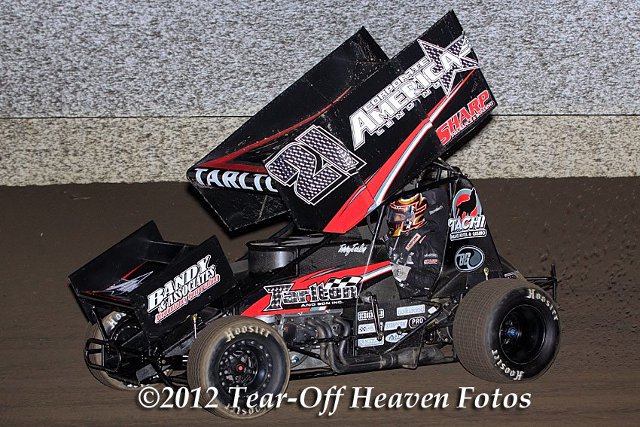 PETERSEN MEDIA
– Fresh off of a frustrating weekend, Tommy Tarlton and his Tarlton and Son team headed back to the Giant Chevrolet Kings Speedway in Hanford, CA for round two of the Rebel Sprints Series, and Tarlton's night went a whole lot better as he tallied a second place finish.
Rolling off in the fifth position for the feature event that was shortened to 20-laps, Tarlton's Corporate Lending America/Tachi Palace and Casino/Sharp Insurance entry took advantage of two early wrecks.
Getting through a wild wreck in front of him on the start, Tarlton would move up a row, as the race experienced it's second stoppage with no laps complete.
One the race got going, Trey Starks got the best of Tarlton and shot out to the early lead, as the Easton, CA driver stayed hot on his tail.
In a battle that was reminiscent of the 2011 Cotton Classic and the same track, Starks seemed to of learned from his mistakes as he held Tarlton at bay.
Unable to do anything with Starks on three restarts, Tarlton worked the youngster in traffic, but progress was halted due to multiple cautions and he held on to the second spot at the stripe as he chased young Trey Starks across.
"It was definitely a better weekend then last weekend, but I can't be satisfied with second," said Tarlton. "My guys worked their butts off all week to make sure we wouldn't have any issues tonight, and I thank them for that. I also need to thank all my awesome sponsors for sticking with me and letting this team get out here and have some fun."
With 19 cars in the pit area, Tommy started off his night by timing in fourth quick. In heat race action Tarlton scored a second place finish, which put him in the inversion of the feature event.
Tommy would like to thank Corporate Lending America, Tachi Palace and Casino, Sharp Insurance, Bandy and Associates, Pro Signs BG Lubricants, Pro Shocks and Astro Titanium for their continued support.
VIDEO: Check out some behind the scenes action as well as some of the racing action from Tommy's opening night of action at the Marysville Raceway Park at http://vimeo.com/37919846
STAY CONNECTED: Stay connected with Tommy by visiting www.tommytarlton.com or follow @Tarlton_Racing on Twitter.