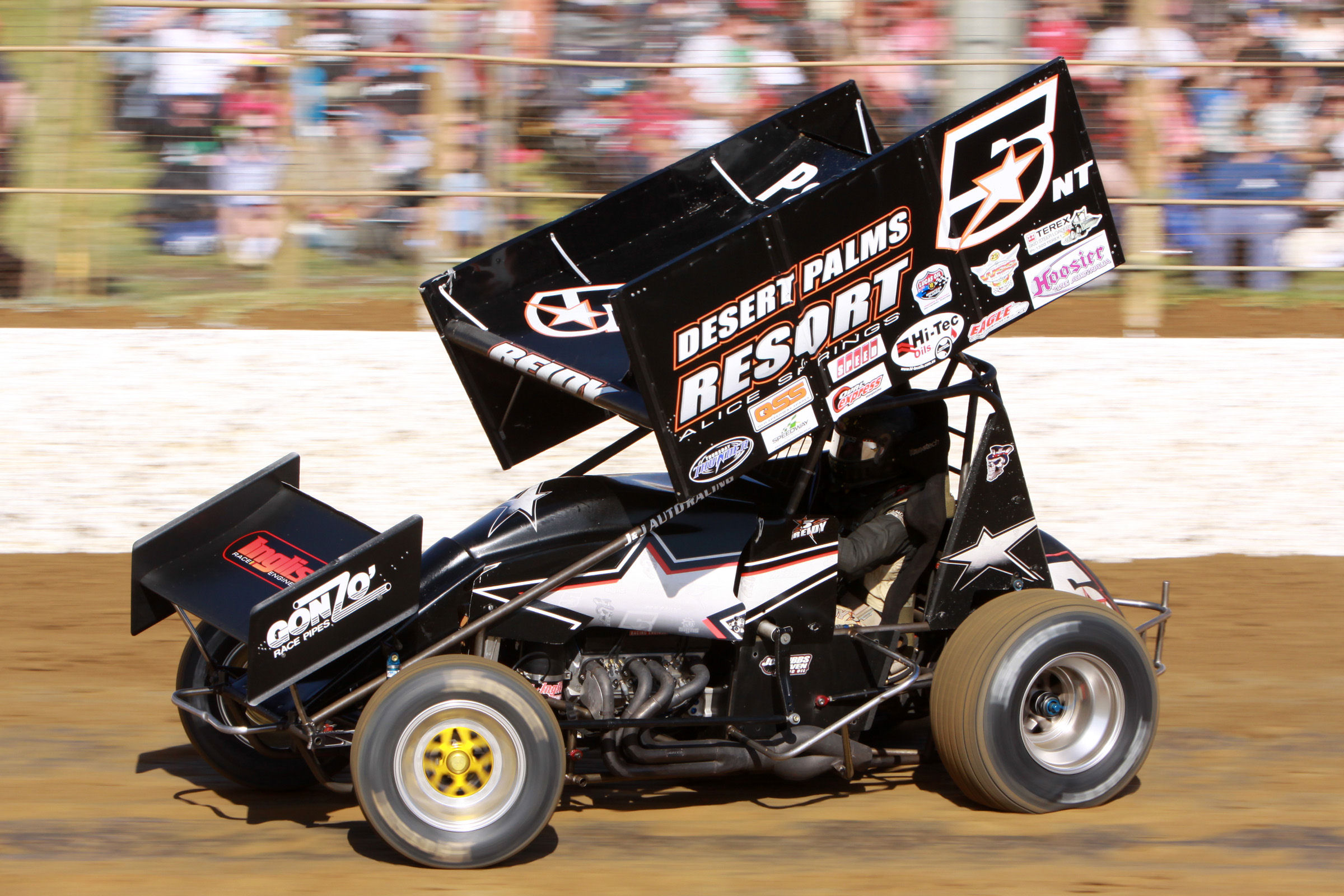 By Daniel Powell
It's been something that Danny Reidy has been chasing all season, but over the Easter Long Weekend he managed to finish on the podium in two of the three rounds of the Tri City Shootout Sprintcar Series.
In the lead up to the Tri City Shootout Series, Reidy had been close to finishing on the podium, but always fallen short. The most recent occasion was the previous weekend at Sydney Speedway.
The NT # 5 Desert Palms Resort – Alice Springs supported J&J driver finished the opening two rounds of the Tri City Shootout Series at Maryborough Speedway and Archerfield Speedway, and was unlucky not to have taken out the winning spoils at the third and final round at Charlton Raceway due to a flat tyre while impressively leading. He was luckily able to change during a red light stoppage, which forced him to start at the rear of the field for the restart, and went on to finish in 10th spot.
"We had a really solid run, but it was disappointing to have a flat tyre [discovered to be a damaged valve] spoil our run while in the lead," commented Reidy, who, despite the 10th spot finish in the final round, ended up third overall in the final Tri City Shootout Series point standings for the second season in succession. "We were right up in contention for the Tri City Shootout Series honours but our flat tyre in the final round ruined our chances. On the positive side of things, it's great that we are enjoying a consistent finish to what has been a tough season on the road."
Reidy and the Reidy Racing team head back to Sydney Speedway for the final round of their track championship this Saturday night (April 14). After a strong run throughout the Tri City Shootout Series and a fourth place finish at the previous Sydney Speedway Track Championship round a fortnight ago, Reidy is confident of once again challenging for a podium result.
As part of their end of season merchandise clearance sale, Reidy is offering the Reidy Racing team hoodies for just $25. All sizes are available, which includes youth. Aside from hoodies, the Reidy Racing team is also offering their flexfit caps for just $15. The sizes remaining are small and medium. The small / medium flexfit caps, 56 to 58cm, are also suitable for kids and youths. All prices do not include postage and handling. To purchase your Reidy Racing team merchandise, visit the team website's online store www.dannyreidy.com or contact Danny direct via email dannyreidy@dannyreidy.com You can also pick up your merchandise from the team's race truck at the track.