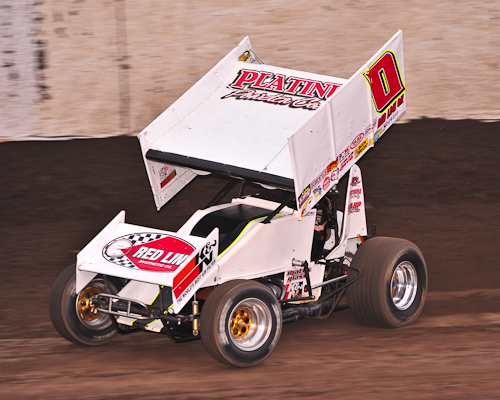 PETERSEN MEDIA
One night after taking a nasty tumble at the Silver Dollar Speedway in Chico, CA, Jonathan Allard thrilled the overflowing Marysville Raceway Park crowd with a charge from fifth on the lightening fast track, and scored his first win in the states in 2012.
"Man it feels great to be standing here in victory lane," said JA. "After last night (Friday) my guys worked their tails off fixing this thing after our wreck, and we were awesome all night."
Benefitting from a late qualifying draw, Allard timed his Williams Motorsports/K&N Filters No.0 machine with third quick with 29 cars checked in the pits.
Starting in the second row of his heat race, a hooked up MRP provided single file heats, and JA settled for a third place finish, transferring to the A, and to the dash based on his time.
During the dash draw, JA opened his envelope, and was horrified with the number eight, but the Chico, CA driver strapped in his Ashley Smith prepared machine, and proceeded to charge up to the fifth spot in the dash, putting him in the third row of the feature event.
As the 30-lap feature got underway, the track was still in very god shape, but JA was able to make some exciting early moves.
After getting past Brent Kaeding on the 10th lap, JA made a bold move on another Hall of Famer, Jimmy Sills on the 14th lap to grab the second spot, as the lone caution of the night flew on the 15th lap.
With leader, Bobby McMahan picking the high side on the double file restart, Allard was able to get under him on the 16th lap exiting turn four, and set sail over the field.
Getting into lapped traffic, JA had to make some evasive moves and then felt pressure from Tim Kaeding.
JA was able to fend off Kaeding and grab his first win back on his home soil of 2012.
"I'm just thrilled to get a win for my guys, and Morrie and Katie Williams," Allard continued. "We plan on giving Tim (Kaeding) a run for his money this year and tonight helps."
ON TAP: JA will now return to the Placerville Speedway for round three of KWS action as 410ci sprint cars return to the speedway Saturday April 28th after last visiting the speedway in 2010.
STAY CONNECTED: For more information on Jonathan, including upcoming events, pictures, and news please check out www.allardmotorsports.com, or follow JA on twitter @Allard0.