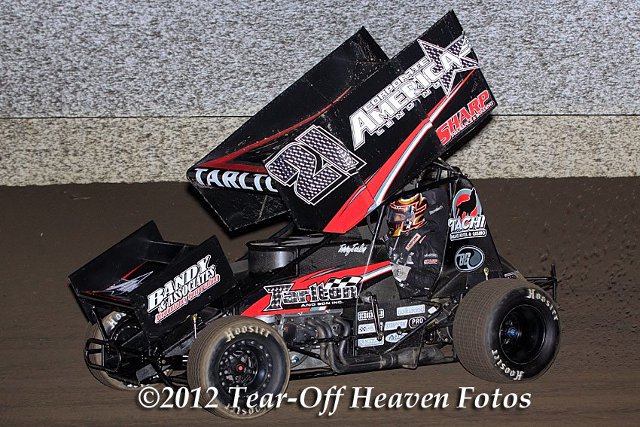 PETERSEN MEDIA
Filling in for Tommy Tarlton Saturday night, Jason Meyers gave race winner, Steven Tiner, all he could handle, as Meyers narrowly missed out on the top spot and scored a second place finish.
"This track was hooked up, and Paul Baines and the guys gave me a great car," said Meyers.
With 15 cars on hand for the third round of the 2012 Rebel Cup Series, Meyers and the aforementioned Tiner shared the second row.
As the race got underway, Meyers and his Tarlton and Son/Corporate Lending America/Tachi Palace and Casino entry fell back to the seventh spot as the field completed their first lap.
Now mid pack, Meyers quickly went to work on the lighting fast Giant Chevrolet Kings Speedway, as he drove back around Shawn Wright, and Carson Macedo to put himself in third behind Steven Tiner.
On the 16th lap, Meyers got around early leader, Nick Green, and set his sites on Tiner as laps were winding down.
In traffic, Meyers was able to get a run on TIner, but was unable to get around him to over take the lead.
As the white flag flew, Meyers made one final monster move, to snag the lead, but came up just a nose short, and settled for second."
"What fun night," said Meyers. "I can't thank Tommy and all of his amazing sponsors for letting us get out here and truly have some fun. Paul and all the guys worked hard and gave me a great car, and who knows, maybe we'll get to run with them again soon."
Tommy would like to thank Corporate Lending America, Tachi Palace and Casino, Sharp Insurance, Bandy and Associates, Pro Signs BG Lubricants, Pro Shocks and Astro Titanium for their continued support.
VIDEO: Check out some behind the scenes action as well as some of the racing action from Tommy's opening night of action at the Marysville Raceway Park at http://vimeo.com/37919846
STAY CONNECTED: Stay connected with Tommy by visiting www.tommytarlton.com or follow @Tarlton_Racing on Twitter.