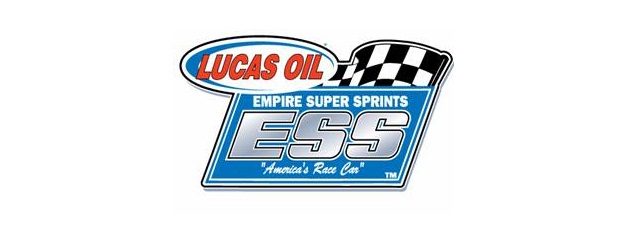 By MIKE MALLETT
LAFARGEVILLE, NY – Sammy Reakes IV has only a handful of sprint car starts in his career but on Saturday night in the Lucas Oil Empire Super Sprint opener at the Can-Am Motorsports Park the Fulton, N.Y., driver looked like a veteran as he held off a star-studded field of 35 drivers for his first ever victory in a sprint car.
"That was only our fourth race in one of these things," said Reakes after the event. "This was a blast. This place was awesome tonight. It was smooth and it was fast and it really helped me being out in the clean air. I can't complain."
Reakes, a former sportsman driver, decided to make the switch at the end of the 2011 season and he never dreamed that he would be able to get to Victory Lane so soon especially considering the drivers in the field. In the closing laps Reakes was stalked by the defending series champion Chuck Hebing.
"This is awesome," said Reakes. "This is right up there with winning Syracuse. It is an amazing feeling. I never thought we'd win this early. I thought it would be at least a year long process; I kind of feel like we are dreaming right now."
Reakes started on the outside of the front row of the 25-lap Universal American Stars and Stripes Tour/SUNY Canton Series A-Main event on a blustery night in the North Country with Dylan Swiernik on the pole. Before a lap could be complete a red flag was displayed as Mike Stelter and Kevin Ward Jr. came together in the middle of the track. As they slowed up everyone behind them was forced to check up including Steve Collins who ended up getting upside down in the fourth turn. He was uninjured in the crash but done for the event.
Once the green was displayed again it was Reakes grabbing the early lead away from Swiernik in a event that then went non-stop. He got the jump coming off of turn four and beat Swiernik into the first corner to take the early advantage.
With five laps complete in the A-Main event, Reakes jumped out to a three-quarters of a straightaway lead with Hebing advancing to the runner-up position. Those two remained in the top two positions when slower traffic became an issue with just 10 laps showing on the lap counter.
Just past the halfway point, Hebing began to mount his charge on Reakes. He started moving around the speedway searching for a better line and it paid off as he slowly closed on Reakes. With only five laps remaining Hebing pulled to Reakes' back bumper.
With Hebing close, Reakes kept his Town Mechanical #1 car on the bottom of the track never allowing Hebing an open door. Several times Hebing was able to pull alongside but he was never able to get the lead away. With two laps remaining, Hebing bobbled in the first corner giving Reakes some breathing room and eventually his first series win.
"I knew Chuck (Hebing) was back there," stated Reakes. "I didn't know where he was but I knew he had to be close. He pulled up beside me and I said to myself that I better turn up the wick a little bit. I picked up the pace a little and I saw him again and thought if I drifted up a little bit in the corner I could take his line away. I don't know how close we were at the end but it was a lot of fun."
Hebing, from Ontario, N.Y., threw everything at the rookie sprint car campaigner but he was unable to get by. He was missing just a little bit in the setup and as a result was forced to settle for the second place finish.
"We had a decent car tonight but we were a little too tight," stated Hebing afterwards. "He (Reakes) did a good job. He kept the car straight and kept it on the bottom. I got a run on him the one time but I didn't have the car to win tonight."
Shawn Donath, driving for Mucci Motorsports, earned a solid third place effort is his first outing with his new team. He got to third early in the event and was never seriously challenged over the course of the 25 laps.
"I'm very happy for the Ron Mucci Motorsports team," stated Donath afterward. "This is our first race with the Empire Super Sprints and the car was really good . The car worked really well but we still got a few things to figure out. I'm very happy with where we finished tonight."
Former three-time series champion Steve Poirier advanced from the seventh starting position to finish in fourth whiled Montrose, N.Y., driver, Justin Barger, completed the top five.
Rounding out the top ten were last years opening night victor, Alain Bergeron, Lance Yonge, who earned the Lee's Repair Auto and Truck hard charger bonus advancing 10 spots, local favorite Jeff Cook, last years Lane's Yamaha rookie of the year Matt Tanner and Patrick Vigneault.
ESS/Can-Am Notes: A very stout field of 35 sprints on hand at the Tiger Chapman owned facility…making first ever ESS starts were Etienne Girard, Steve Hutchinson, 14 year old Joe Trenca and crate late model star Greg Belyea with the former Brian McDonald mount…Kyle Dutcher has drive line troubles and never answered the call of the heats…The night for Collins was even worse as he spun around during warm-ups and tipped his mount over. Only wing damage was found…the 30th season for the Lucas Oil Tour will make its return to Can-Am on Sat. July 7th…next up is the two day Can-Am Challenge at Autodrome Granby on May 11 and 12.
Lucas Oil Empire Super Sprints – Can-Am Motorsports Park – 35 Entries.
Universal American Stars and Stripes Tour/SUNY Canton Series.
Lucas Oil A-Main – Sam Reakes IV ($1,725), Chuck Hebing, Shawn Donath, Steve Poirier, Justin Barger, Alain Bergeron, Lance Yonge, Jeff Cook, Matt Tanner, Patrick Vigneault, Michael Parent, Larry Wight, Cory Sparks, Paul Kinney, Tommy Wickham, Rick Wilson, Dylan Swiernik, Kevin Ward Jr., Lee Ladouceur, Paul Pekkonen, Jason Barney, Mike Stelter, Steve Collins.
Lap Leader – Reakes 1-25.
Did Not Qualify – Anthony Cain, April Wilson, Etienne Girard, James Hanson, Kory Gurney, Kyle Dutcher, Steve Hutchinson, Greg Belyea, Chris Jones, Paul Habeck, Joe Trenca, Devin Caron.
Car Mate Trailers Heat 1 – Barger, Swiernik, Vigneault, Donath, Wickham, Wight.
Car Mate Trailers Heat 2 – Poirier, Tanner, Cook, Stelter, Ward Jr., Yonge.
Car Mate Trailers Heat 3 – Reakes IV, Hebing, Ladouceur, Bergeron, Collins, Parent.
Grampa's Garage Appraisals/Cobra Coaches Dash – Hebing
B-Main – Kinney, Pekkonen, R. Wilson, Barney.
Provisional Starter – Sparks.
Bonuses:
Westward Painting Corp. Halfway – Reakes IV $100
Ohsweken Speedway Winners Bonus – Reakes $50
North Eastern Pool and Spa Power Pick – Kinney, Parent $50
Lee's Repair Auto and Truck Hard Charger – Yonge (10 pos.) $50
Fondations 55 Pick 5 – Barger $50
Car Mate Trailers – Reakes IV, Poirier, Barger $25
HG Associates Fast Time – Cook (17.958) $25
The Lucas Oil Empire Super Sprints are brought to you by: Lucas Oil, Le Groupe Ultra, SUNY Canton, Universal American, Hoosier Racing Tires, Fondations 4 Saisons, Cobra Coaches, Westward Painting Company, Mach 1 Chassis, Lee's Repair Auto and Truck, Fondations 55, Eric Varin Roofing, North Eastern Pool and Spa, Car Mate Trailers, Brodix Cylinder Heads, Ohsweken Speedway, Northwood 2 Construction/Lasalle Motorsports, AKS Firearms, Jasmin Peloquin Sport, 730 Truck Stop, Riverside Bar and Grill, FX Chevy and many, many associate sponsors.