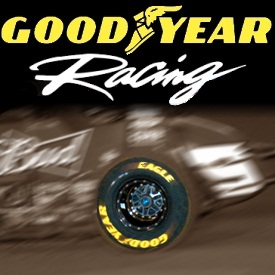 By Lee Elder
PLACERVILLE, Calif. (April 30, 2012) – Tim Kaeding's torrid pace at the start of the 2012 racing season continued when he won the Cancen Oil King of the West Series presented by Goodyear at Placerville Speedway.
All he had to do was beat his dad.
Goodyear is the exclusive tire provider for the King of the West Series. The tiremaker supplies the western states circuit with the same line of tires the company provides for the World of Outlaws and other touring programs. The same tires are used by competitors in weekly short track divisions at short tracks around the nation such as Knoxville Speedway in Iowa.
The younger Kaeding led all 30 laps on his way to winning his second series race in three starts this year. He also has two WoO wins this year. Brent Kaeding, whose career includes 13 championships, finished second to his son. Willie Croft finished third, followed by Shane Golobic and Jason Statler.
Tim Kaeding is the defending champion of the Cancen Oil King of the West Series presented by Goodyear. His latest victory was his third straight at Placerville.
More information about Goodyear Racing is available at www.racegoodyear.com. More information about the King of the West Series presented by Goodyear is available at www.kingofthewestsprintcarseries.com.
Goodyear employs about 73,000 people at manufacturing plants and facilities in 22 nations. Based in Akron, Ohio, Goodyear is among the largest tiremakers in the world and is the world-wide leader in race tire innovation.