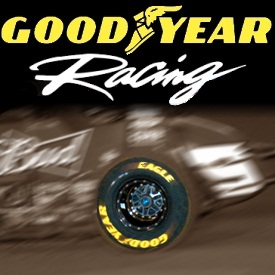 By Lee Elder
ROSSBURG, Ohio (May 7, 2012) – Sammy Swindell grabbed the lead in the World of Outlaws Sprint Car Series by winning the second of two weekend races at Eldora Speedway.
Swindell, like all the other World of Outlaws competitors, races on Goodyear tires. The tires Goodyear supplies the Outlaws are manufactured at Goodyear's Innovation Center in Akron, Ohio. That's the same facility that produces the tires Goodyear builds for the top national series in both NASCAR and NHRA racing.
The same line of tires Goodyear generates for the Outlaws also serve other touring series and weekly racing programs around the country. That includes the weekly program at Knoxville Raceway, home of the 2012 Goodyear Knoxville Nationals.
Swindell leads Donny Schatz 2,094-2,083 in the WoO standings. The two drivers have been near or at the top of the championship race for weeks.
Swindell raced on Goodyear's G200 tread compound, a slightly more robust offering than the G100 compound most of the field elected to use. Goodyear offers four tread compounds at every WoO event.
Dale Blaney finished second to Swindell in the Saturday feature. Craig Dollansky was third, followed by David Gravel and Daryn Pittman.
One night earlier, Chad Kemenah won the feature. Schatz finished second, followed by Steve Kinser, Cody Darrah and Pittman.
More information about Goodyear Racing is available at www.racegoodyear.com. More information about the WoO is available at www.worldofoutlaws.com.
Goodyear employs about 73,000 people at manufacturing plants and facilities in 22 nations. Based in Akron, Ohio, Goodyear is among the largest tiremakers in the world and is the world-wide leader in race tire innovation.