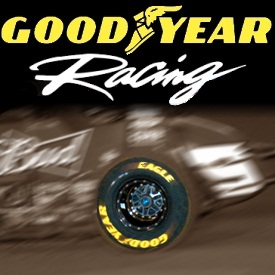 By Lee Elder
MECHANICSBURG, Pa. (May 13, 2012) – A race car is made up of adjustable pieces and the secret to winning is knowing which adjustments to make for a given racing application.
Even the tires can be adjustable. Take Goodyear's line of bias-ply Eagles that the company manufactures for the World of Outlaws and other winged sprint car racing programs as an example. Goodyear provides four tread compound choices for the rear tires in a variety of sizes at every Outlaws event. Matching the right tire selection to the chassis setup is an arduous procedure.
"We work on the tires a lot," admitted Lance Dewease, a top racer at Williams Grove Raceway. "(The selection) depends on the speed of the race track and the abrasiveness of the racetrack. That dictates what we do with (tire) stagger and it determines what size left rear tire we put on."
Dewease's car and others like it generate about 900 horsepower and are probably harder to control than an angry bull in a glassware store. Anything the crews can do to make the driver's job a little easier is important, making tire selection crucial.
"It depends on the weather and (other conditions)," said Fred Rahmer. Rahmer is a veteran racer who does most of his racing at Williams Grove Speedway. "The wind dictates how dry (the racing surface) is going to get and that determines the stagger."
Stagger is the difference in size between the left side tires and the right side tires.
The length of the race is a consideration in tire selection. The tread compound is another key ingredient to the car's performance.
"Most all of us use the softest compound of the Goodyears," Dewease said.
Familiarity is important when competitors try to match proper tire selection to chassis set up, Dewease said.
"It's a lot easier when you run the same tires that everyone else uses," Dewease said. "You know you are not going to be at an advantage or disadvantage with the tires."
So when the traveling stars of the World of Outlaws Sprint Car Series roll into Pennsylvania for a series of races against the local drivers here, both groups know the playing field is level, thanks to Goodyear.
More information about Goodyear Racing is available at www.racegoodyear.com.
Goodyear employs about 73,000 people at manufacturing plants and facilities in 22 nations. Based in Akron, Ohio, Goodyear is among the largest tiremakers in the world and is the world-wide leader in race tire innovation.