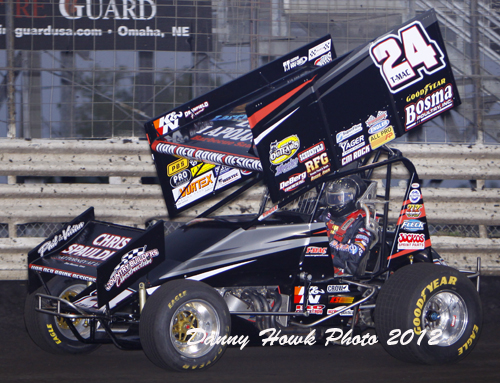 Bill W
May 22, 2012 – A streak of solid finishes finally paid off for Terry McCarl, who recorded the first win of his season at the Huset's Speedway near Brandon, South Dakota Sunday night. A "Rocky" night at Rock Rapids on Friday saw a charge from 14th to 3rd, and he continued his streak of top fives at Knoxville Raceway Saturday night as well.
TMAC has been knocking on the door lately. "Ken Jenkins told me a long time ago, you aim for the top ten every night," he says. "When you are doing that, you aim for the top five. When you are finishing in the top five every night, the wins start coming. That's what happened at Huset's."
For once, the luck of the invert worked out at Huset's. "We qualified third, and they drew a four, which put us on the front row," says TMAC. "Believe it or not, my record at Huset's starting on the front row is not good at all. It was a tricky racetrack in that they got a lot of rain the night before. It was rough, and Austin (McCarl) actually got on my rear bumper at one point. I got to screwing around with a lapped car, and I guess he had trouble with it too and Ian Madsen got around him."
The all-time leading feature winner at Huset's was able to pull away to another victory. "I think it was a good show for the fans," says TMAC. "We had a pretty good car, though it was loose. It was just good to get the win."
Friday saw unreal windy conditions at Rapid Speedway in Rock Rapids. "One hundred degrees and sunny, is not near as bad as 75 with 50 mile per hour winds," says TMAC. "We really like going to that track. It's great to have no tire rules, and just have some fun. Josh Holt, who does our websites, promotes it, so we like going there."
TMAC finished fifth in the heat. "The track started laying a little rubber in our heat," he says. "We finished right behind Austin. I only had one hard tire with me, and I let Austin run it. I ran a softer one (for the feature)."
The Altoona, Iowa driver used much of his tread charging from his 14th starting spot to third. "I figured I could make the tire last," he says. "I didn't think it would lay rubber too hard. It definitely did, but we were able to get up to third. We had two or three restarts late to try and win it, but I just had no tire left. (Winner) Tony Bruce and (Jody) Rosenboom both had some tire left and they did a good job. Hopefully, it was a good show for the fans. When we go back, I hope Mother Nature cooperates with the track a lot more."
A slight mechanical issue cost TMAC at Knoxville on Saturday night. Despite registering the eighth quick time of the night, he was penalized for not qualifying with his group. As luck would have it, the invert was eight for the feature, but he could start no better than 13th. "I think group qualifying is a joke to begin with," he says. "It doesn't save time. I think the fans saw that on Saturday. We had a dzus button fall out that holds our mag box in, so we missed our group. I don't want to say it's not fair, but if we were doing single lap qualifying, we would have had two spots to repair it. We had to start 13th instead of on the pole."
To TMAC, there are other problems with the process. "I can't complain, because it was our fault," he says. "But another bad part of group qualifying is what happened to me as well. I caught a car and passed a car. When the track has moisture like it does early in the night, you have the bad air from the car in front of you, six car lengths back. So you are not even close to your best lap. And you are wearing out the track. With three classes, that would have been a disaster by the feature."
After running fourth in his heat, TMAC lined up 13th and started his way forward. "The track was a little weird," he says. "It really went away quicker than I've seen at Knoxville for a long, long time. The guys were getting into the berm and kicking up dust. There were a couple times when I couldn't see anything."
Despite some of the frustrations, TMAC is still the only weekly competitor to register a top five each week in the main event, and he currently leads the point standings. "It's something different every week," he says. "We have a good car. We've been the one car in the top five every week there, and we finished top ten with the Outlaws. Those things are good."
To check out opportunities to partner with TMAC Motorsports on a nightly basis, visit www.TerryMcCarl.com or call 515 957-0020!
Websites for the McCarl Gang!
Driverwebsites.com develops the websites for the McCarl boys. Check out www.TerryMcCarl.com, as well as www.AustinMcCarl.com and www.CarsonMcCarl.com!
In"Terry"gation
Jeff Shorter asks: I saw where your Don Ott motor had something like fifteen races on it. Do you have a spare that you can go to, while your other motor is being freshened up? Or is it sit and wait until that motor is freshened up?
TMAC Answers: We actually ran it sixteen nights. People that think you can't run these motors are sadly mistaken. It makes it more difficult when you run a track like Knoxville weekly, but if you run a short track in Ohio or Huset's, you can go 20 nights easily. You just need to keep the dirt out of it. We do have a second motor now.
Got a question for TMAC? Send it to us at sprntcar@iowatelecom.net , and we may answer it in this section! Put "? for TMAC" in your subject line.
This Month in TMAC History!
TMAC won May 27, 2001 at the Huset's Speedway. He topped Dennis Moore Jr., Don Droud Jr., Mark Toews and Skip Jackson. The field was a solid one assembled over the Memorial Day Weekend. He won his fifth of a record six Huset's track championships that season.
"Tuesdays with TMAC"!
"Tuesdays with TMAC" is an up close and personal look at colorful sprint car veteran Terry McCarl. To receive "Tuesdays with TMAC", send an e-mail to sprntcar@iowatelecom.net with "TMAC" in the subject line.
TMAC Motorsports would like to thank sponsors "Lord I Apologize BBQ Sauce", Deanfield Farms, Bosma Poultry, Eagle Chassis, DeBerg Concrete, AmeriCashAdvance.com, RFG, Phil and Vivian, Ryan Yager Trucking, 212 The Boiling Point Bar & Grill, Vortex Racing, Hoosier Tire, Chris Spaulding – Attorney at Law, Schoenfeld Headers, K&N Filters, Don Ott Engines, HRP, All Pro Cylinder Heads, Bob and Beulah Elder, Country Builders Construction, Engler Injection, Superflow Technologies, T&P Brothers, Larry Fleck Trucking, Winters, DriverWebsites.com, CM Rock, Jocko's Sprint Parts, Sander, Brown and Miller, Chase Graphics, Pro Shocks, Ben Cook, Bell Helmets, Burnett's Rock and Landscaping, Fatheadz Eyewear, Van Der Brink Designs, Morgan Strawberry Farms, Bulldog Pest Control, Aurora Rod Ends, Crow Safety, Justice Brothers, KSE Steering, Strange Performance, Saldana Racing Products, Scribner Plastics, Waterman Fuel Pumps, Weiland Racing, Butlerbuilt, PBS Bushings.