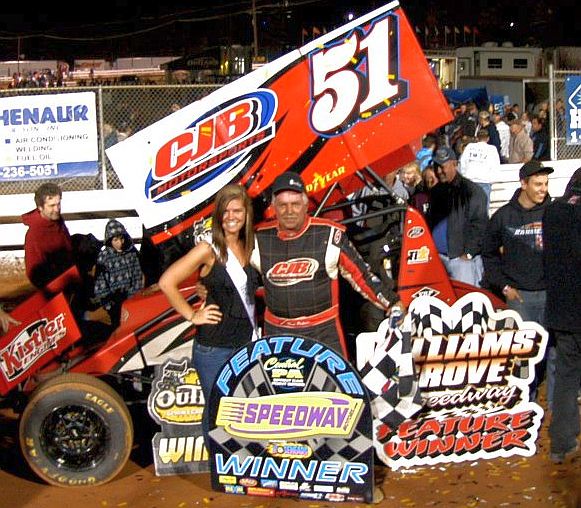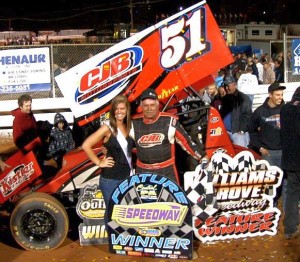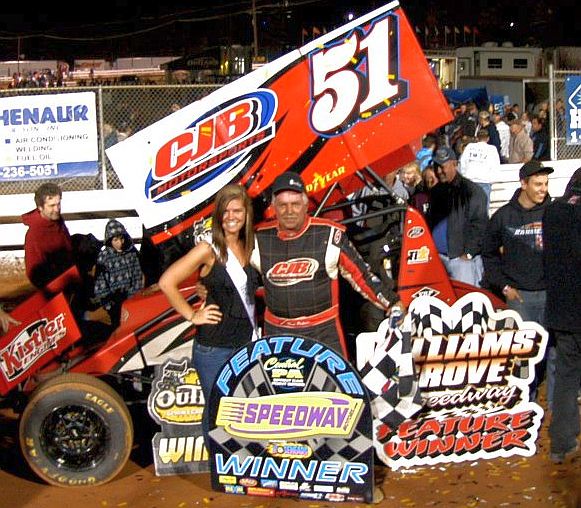 From Williams Grove Speedway
Mechanicsburg, PA — (May 26, 2012) — Fred Rahmer of Salfordville was the third and final leader in Friday night's Keystone Cup sprint car race at Williams Grove Speedway, worth $5,000.
Rahmer took the lead on a lap 25 restart of 30 laps from Danny Dietrich who had the field covered up until that point.
Dietrich had taken the lead rather handily on the fourth lap from second starter Daryn Pittman and streaked away with control.
His pace was halted with 12 laps down for a stopped Davey Sammons.
Rahmer was still back in fifth for the restart with Adam Wilt, Brian Montieth and Pittman between himself and the leader.
In fact, when the next caution flag unfurled with 10 laps to go, Rahmer was only up to fourth for the restart, which was caused by a blown motor on Montieth?s mount.
But shortly after action resumed, Rahmer began flexing muscle aboard his No. 51 sprinter when he got around Pittman just as Wilt did for second with eight laps to go.
And after he started to move forward, he didn?t hold back, instead going after Wilt for second a lap later before beginning to attempt to run down leader Dietrich.
But Dietrich still had the race well in hand when Steve Buckwalter stopped with five to go, forcing a red flag for refueling.
And on the restart Rahmer pounced with a dive to the inside of the first corner that netted him the 87th checkers of his career at Williams Grove Speedway.
"I still have some left," the legendary driver said in victory lane.
It was his second win of the season at the track and third in the six-year history of the Keystone Cup Series.
Dietrich settled for second with Wilt third, Pittman in fourth and 15th starter Sam Hafertepe Jr. in fifth.
Sixth through 10th went to Lance Dewease, Don Kreitz Jr., Greg Hodnett, Brent Marks and TJ Stutts.
Rahmer set fast time over the 29-car field with a lap of 17.019 seconds.
Heats went to Hodnett, Wilt and Montieth with Gerard McIntyre Jr. taking the B Main.
Matt Mountz wired the field for the victory in the 20-lap 305 sprint feature to close out the night.
Mountz won by a straightaway over Cody Lehman.
Twin 305 heats went to Logan Wagner and Tyler Bear.
May 25, 2012 Feature Finishes:
410 sprint cars, 30 laps: 1. Fred Rahmer, 2. Danny Dietrich, 3. Adam Wilt, 4. Daryn Pittman, 5. Sam Hafertepe Jr., 6. Lance Dewease, 7. Don Kreitz Jr., 8. Greg Hodnett, 9. Brent Marks, 10. TJ Stutts, 11. Stevie Smith, 12. Aaron Ott, 13. Alan Krimes, 14. Chad Layton, 15. Sheldon Haudenschild, 16. Curt Michael, 17. Gerard McIntyre Jr., 18. Steve Buckwalter, 19. Brian Montieth, 20. Davey Sammons, 21. Cory Haas, 22. Justin Henderson, 23. Logan Schuchart, 24. Nicol Bower.
Lap leaders: Pittman, 1 – 3; Dietrich, 4 – 25; Rahmer, 26 – 30.
DNQ: Michael Ruttkamp, Troy Fraker, Frank Cozze, Jac Haudenschild, Ryan Smith.