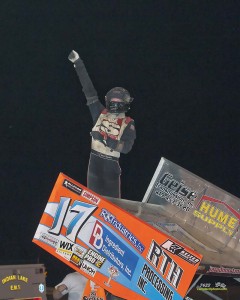 By Bob Buffenbarger, Mike Campbell Photo
Waynesfield, Oh. – 5/26/2012- Jared Horstman charged from his 4th place starting position to claim the 2nd night of the three day Memorial Day weekend Ohio swing for the Engine Pro ASCS Sprints on Dirt presented by ARP/NRA at Waynesfield Raceway Park Saturday.
Randy Hannagan started on the pole and looked to be the favorite after winning his heat race tonight and the feature the previous night at Limaland. Early on, Hannagan had his hands full with Horstman, Tim Allison and Ron Blair all swarming around Hannagan. Lap 7 saw Horstman blast around Hannagan but Hannagan would re-take the top spot and held it until the 12th circuit when Horstman once again went to the front.
By then 10th starting Shane Stewart had taken over third place and on the 16th lap Stewart got around Hannagan and was closing fast on Horstman. However the slick track seemed to suit Horstman's style tonight as he was able to hold off Stewart, Tim Allison, Ron Blair and Hannagan and went on to take the checkers in the 25 lap non stop affair.
Post race inspection resulted in Tim Allison being DQ'ed due to fuel issues.
Additional information regarding the American Sprint Car Series is available at www.ascsracing.com.
Engine Pro ASCS Sprints on Dirt presented by ARP Results
Saturday May 26, 2012
Waynesfield Motorsports Park – Wanynesfield, Oh
39 cars
Heat race winners: Ron Blair, Randy Hannagan, Dustin Daggett, Jared Horstman
B-Main Winners: Ed Neumeister, Gregg Dalman
Feature (30 Laps): 1. 17J – Jared Horstman, 2. 3G – Shane Stewart,
3. 35 – Ron Blair, 4. 22H – Randy Hannagan, 5. 7K – Kyle Sauder, 6. 16
– Ryan Ruhl, 7. 2MD– Dustin Daggett, 8. 49T – Gregg Dalman, 9. B20 –
Butch Schroeder, 10. 2M – Dallas Hewitt, 11. 3W – Brett Mann, 12. 18 –
Todd Heuerman, 13. 49 – Shawn Dancer, 14. 11N – Ed Neumeister, 15. 27
– Beau Steweart, 16. 23 – Devon Dobie, 17. 5M – Max Stambaugh, 18.
16C – Greg Wheeler, 19. 7L – Darren Long. DQ: Tim Allison