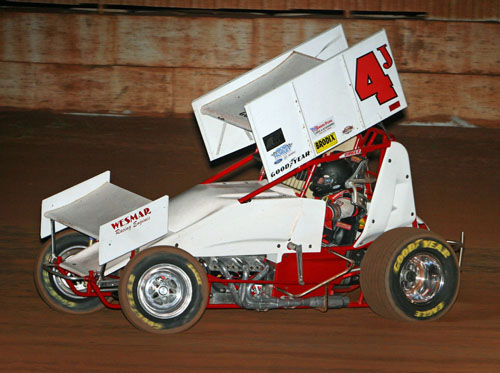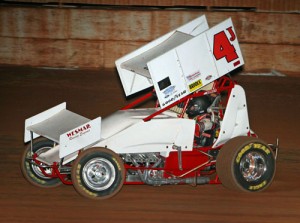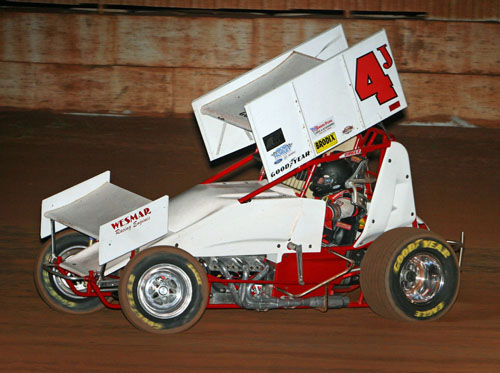 From OCRS
Muskogee, OK — (MAY 25, 2012) — Former Oil Capital Racing Series sprint car champion Jamie Passmore cruised to victory in the second annual running of "Callie's Night" on Thunderbird's massive half mile dirt track thus spoiling a potential sweep by Sapulpa's Danny Smith. The pilot of the G.A.P. Roofing / Eagle / Wesmar Racing Engines sprinter started outside front row along side Smith who earlier had won the Pole Dash. Smith, who had also won the M&W Aluminum Heat race earlier in the program, had the option to take the Oil Medics "Back Row Challenge" and win an extra $1,000 as offered up by the Oil Medics. Said Smith after the Pole Dash win, "I'd like to win an extra $1,000 but I have never won here and I want a win on this track." He had but one problem, Passmore wouldn't cooperate with his desire.
When official starter JD Etter dropped the green for the 25-lap affair, Smith darted into turn one in his Same Day Auto Repair / BMS Engines / XXX chassis only to have Passmore storm around him coming out of turn two and down the back straight. From that point onward, Passmore was on cruise control. In but a few short laps, The Rose Oklahoma speedster opened up a seven car length advantage and at times it would swell to 12-15 lengths. Only occasional lapped traffic and a couple of yellows would allow Smith to get a better view of Passmore's rear bumper. At the end of the first lap it was Passmore, Smith, Kenneth Walker in the Icon Pistons /Headman Headers / Evans Cooling Systems / POPS Custom Engines / J&J followed by Tim Kent in his Kent Construction / Pump Motor Works / Goodyear Tire / Maddox Engine / Maxim and micro sprint sensation Harli White in her own Charlie's Trucking and Forklift / Jerry Tucker Roustabout &Rentals / Brand Racing Engines / Maxim.
White, who had competed in one race with OCRS last year, looked terrific in her first time back to sprint car action since. She was second in the Drive Shaft Inc. heat race behind Kyle Clark and ran a solid third in the Pole Dash. A yellow would fall quickly when a multi car pile up took place in turn two. Cars involved were Jeremy Allen, Michael Bookout, Rafe Essary and last weeks feature winner Shayla Waddell. Essary went pitside and would not return while Waddell was towed back with damage that kept her return from being possible.
Jamie Passmore in victory lane for the third time in 2012 Phil Pace Photo
Passmore would pick up where he left off and sped off from Smith when the field went back to green. Defending OCRS Champion Sean McClelland was driving the David Stephenson owned / Dyno Services of Oklahoma / D&E Supply / Green Country Drywall / ART chassis for this evening. McClelland had started dead last after flipping the #22 mount in the M&W Aluminum heat and was slicing his way through the back half of the field but all the while, Passmore was sailing. Walker, Kent and White were locked together for a period of time and put on a great display of wheel – wheel action as they battled for position. When the men would pull up alongside Miss White, she made it known she is not one to go down without a fight as her fierce battle for position against more experienced sprint pilots was impressive. However, spark plug wires would derail the young lady from Lindsay and the 17w had to return to its nest and would be credited with a thirteenth place scorecard.
Johnny "Hotrod" Kent would flex some muscle in the Kent Construction / Kent Fireworks car and begin to pick his way towards the front. Passmore encountered a couple of lapped cars and for a moment it looked as he might get into a tangle with them but he would carefully pick his way through. Casey Wills continued his early season success as he was in the mix with the top six cars in the Oil Express Trucking / Oklahoma Dyno Engine / ART chassis.
A late yellow for an Alex Sewell stoppage on lap 19 due to a flat tire would not be a problem for Passmore as he went on to take the win by 12 car lengths. Smith was next in class with his runner-up run followed by Hotrod Kent, Walker and Tim Kent. Wills, Beau Gastineau, Jeremy Allen, David Dutton and Michael Bookout would round out the top ten. The victory by Passmore propelled him back into the top spot for the chase for the "Goodyear Tire & Rubber Championship" by a single point over Smith (397-396). Walker moves up to third just 3 points in front of Wills while Waddell slips to fifth from third after her DNF.
Next up for the OCRS warriors is a trip north to the ¼ mile bullring of the Caney Valley Speedway in Caney Kansas on Saturday night where the sprinters will compete in the "Thunder In The Valley" event. McClelland was victorious in the CVS stop last year.
Sean McClelland Flips the #22 Sprinter In Turn 4 Mike Spivey Photo
Thunderbird Speedway / Muskogee Oklahoma
Race date: May 25, 2012 – Event 5
22-Cars
( ) = Starting Position
M&W Aluminum Heat:
1, Danny Smith (5). 2, Johnny Kent (2). 3, Casey Wills (6). 4, Alex Sewell (8). 5, Rob Hooper (7). 6, Whit Gastineau (4). 7, Sean McClelland (3) 8, Glen Passmore (1) DQ- did not report to scales.
Bob Hurley Auto Family Heat:
1, Jamie Passmore (3). 2, Kenneth Walker (1). 3, Beau Gastineau (2). 4, Fred Mattox (4). 5, Rafe Essary (6). 6, Jeremy Allen (5). 7, Shayla Waddell (7)
Drive Shafts, Inc. Heat:
1, Kyle Clark (2). 2, Harli White (4). 3, Tim Kent (5). 4, David Dutton (3). 5, Colton Brewer (6). 6, Michael Bookout (1) 7, Joe Wood Jr (7)
Pole Dash:
1, Danny Smith (2). 2, Jamie Passmore (4). 3, Harli White (3). 4, Kyle Clark (5) 5, Tim Kent (6). 6, Kenneth Walker (6)
OCRS A Feature:
1, Jamie Passmore (2). 2, Danny Smith (1). 3, Johnny Kent (9). 4, Kenneth Walker (6). 5, Tim Kent (5). 6, Casey Wills (8). 7, Beau Gastineau (10). 8, Jeremy Allen (16). 9, David Dutton (12). 10, Michael Bookout (17). 11, Sean McClelland (20). 12, Rob Hooper (15).13, Harli White (3). 14, Colton Brewer (14). 15, Fred Mattox (11). 16, Alex Sewell (7). 17, Kyle Clark (4). 18, Rafe Essary (13). 19, Shayla Waddell (18) 20, Joe Wood Jr (19). DNS: Whit Gastineau / Glen Passmore
AmeriFlex Hose & Accessories Hard Charger: Sean McClelland
www.ocrsracing.com