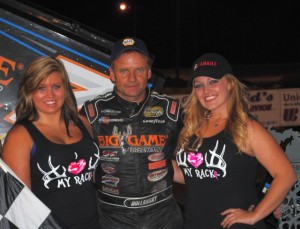 By T.J. Buffenbarger
Lake Odessa, MI – (June 2, 2012) – Craig Dollansky won the Napa Auto Parts Rumble at I-96 Speedway World of Outlaws sprint car feature on Saturday night. Dollansky took the lead from David Gravel on lap 10 and held off Chad Kemenah over the last five laps through lapped traffic to pick up his fourth win of the season.
"He got a little out of shape coming off four and allowed us to get a run on him. On a track like tonight you have to be patent, the adjustments we made after the dash for the feature were good," said Dollansky after the feature. "I enjoy running the top of the race track, but this one was on the wild side for sure. I found a way to get through the lapped cars better, but at the end there they got stacked up heavy and it was hard to clear. It was a great win thought for our Big Game Tree Stands, Aggressive Hydraulics sponsored team."
Gravel and Kerry Madsen started on the front row for the 35-lap feature event. Gravel took the lead at the start as Dollansky immediate slide into second sport around Madsen. Chad Kemenah followed Dollansky through and took over third by the end of lap one. Maden dropped another spot one lap later as Jason Sides moved into the fourth spot.
By laps six, Gravel approached lapped traffic and allowed Dollansky and Kemenah to close in on his back bumper. On lap 10 Dollansky slid up in front of Gravel in turn two and took the lead going down the back stretch. Dollansky continued to lead through the slower the slower traffic, but came upon Austin Wheatley and Bill Rose racing side by side. This held up Dollansky and allowed Gravel and Kemenah to close.
While racing through traffic trying to catch the lead Gravel stumbled on the cushion in turn four on lap 16 and allowed Kemenah to take over second. One lap later Gravel spun in turn four and collected Geoff Dodge, who flipped end over end to bring out the red flag. Dodge emerged from his car uninjured while Gravel restarted at the tail of the field.
During the restart Dollansky, Kemenah, and Sides pulled away from the rest of the field. Dollansky had a sizeable lead until Kemenah began to close in during the later stages of the feature. With five laps there were no lapped cars between Dollansky and Kemenah as Dollansky closed in on slower traffic racing side by side. The traffic did not hold up Dollansky though as he motored to the victory over Kemenah, Sides, Steve Kinser, and Cody Darrah.
FEATURE: 1, Craig Dollansky. 2, Chad Kemenah. 3, Jason Sides. 4, Steve Kinser. 5, Cody Darrah. 6, Donny Schatz. 7, Tim Shaffer. 8, Dale Blaney. 9, Kerry Madsen. 10, Kraig Kinser. 11, Sammy Swindell. 12, Shane Stewart. 13, Greg Wilson. 14, Lucas Wolfe. 15, Chad Blonde. 16, Dustin Daggett. 17, Joey Saldana. 18, David Gravel. 19, Brian Paulus. 20, Bryan Sebbetto. 21, Austen Wheatley. 22, Bill Rose. 23, Geoff Dodge. 24, Chad Wilson.