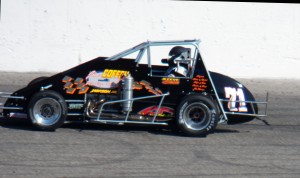 From MudclodBob
After a tough crash at Spartan Speedway a couple of weeks ago, Steve Smith came back strong Saturday night with a re-built car setting quick time and won the 25 lap feature at Springport Speedway. The wingless sprint cars made their first appearance of the season on a warm day with 12 quality cars in the pits.
Mike Astrauskas and Ryan Litt picked up the heat race victories and after an on track autograph session the sprint cars were first up for their main event tonight. Astrauskas and Gary Sherman led the pack to the green flag and on the first lap going into turn two, the 42 of Ryan Litt got low and spun creating a complete re-start.
At the drop of the green this time Sherman took the point, leading the early stages over Doug Dietsch, a charging Steve Smith (up from starting 6th), Dustin Daggett and Ryan Litt. Sherman led the pack that was waging some intense racing for 2nd through 5th until lap 12 when Smith slipped past Sherman and then Smith set sail. As the leader encountered lapped traffic, Litt closed a bit, but after clearing the lapped cars Smith showed strength and widened the gap.
By the 20th circuit it was Smith, Litt, Hayden Reeves (from 8th), Sherman, Doug Dietsch and Daggett. By now cars were strung out some and Smith was not to be denied as he went on to takes the checkers. Official results coming shortly.