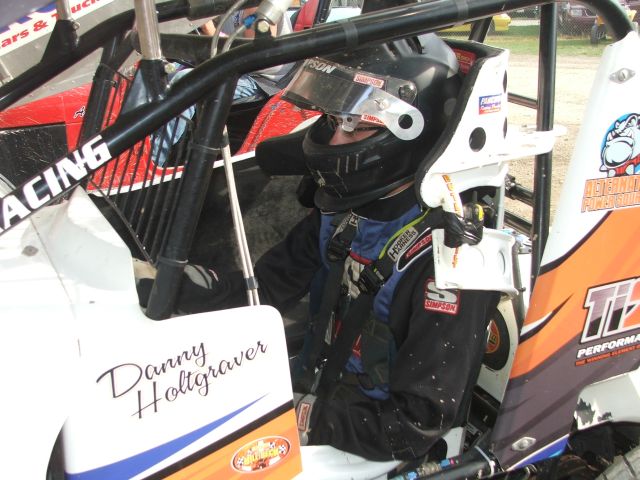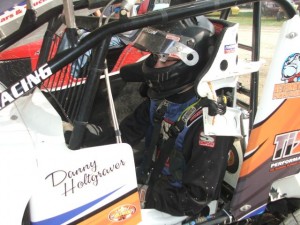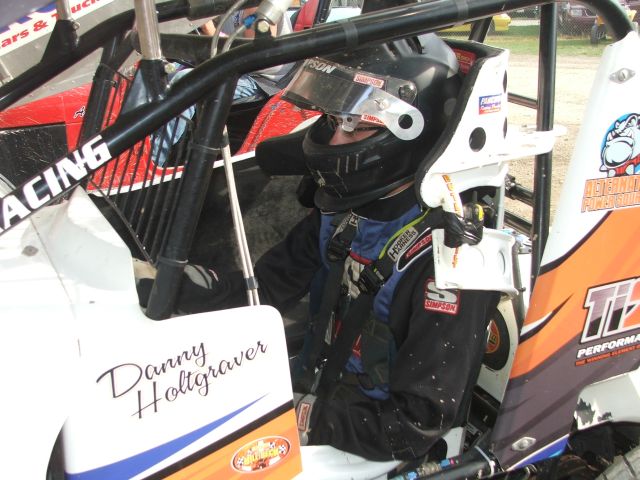 From MRP
Mercer, PA — (June 9, 2012) — There were celebrations galore in the Holtgraver household, as Danny Holtgraver chalked up his second Sprint Car win of the weekend and his sister graduated from high school. Rob Curtis swept his heat and feature, padding his points lead in the Approved Toilet Rentals 358 Modifieds.
It appeared as though Jason Scoville would score his first win at Mercer Raceway Park in the Ti22 Performance Outlaw Sprint Warriors. However, his dominant performance went for naught, as he was 33 pounds light at the scale. The win was conferred on Joe McEwen instead.
Mark Marcucci raced from last on the grid to claim yet another win in the Modified Lites presented by Dig Daddy's Speed Center and Rock Concrete. Jerry Batcher used a restart to regain the lead and earn the win in the Mini Stocks. The finale for the Precise Racing Products Stock Cars went to Rusty Moore, who claimed sole possession of the points lead with the victory.
There was chaos on the start of the Luxaire Heating & Cooling Sprint Car race. Cowboy Brian Steinman looped his car in front of the pack, but he was able to keep moving. His spin collected several other cars, though. Chris Best made it through the melee, but he sustained a flat right rear in the process. He was unable to restart the race.
"I didn't see what happened down there," said the happy winner, Danny Holtgraver. He followed Jack Sodeman, Jr. through the infield to avoid impacting another car. "Luckily, I made it through," he added.
On the restart, Steinman retained his starting position and he grabbed the lead away from Russ Sansosti. The young pilots led the way , but Jack Sodeman, Jr. and Danny Holtgraver began to close in. Holtgraver took third away on lap seven and Sodeman moved by Sansosti moments later.
With the laps clicking away, Steinman was able to hold his lead over Sodeman and a fast closing Holtgraver. On lap 14, however, Steinman drifted high coming through turn four. That opened the door for Holtgraver, who shot from third to first in one bold move on the inside of turn four. Sodeman followed suit one lap later.
"The bottom was the place to be tonight, if you could stick it down there," Holtgraver explained. "I could and it worked!"
Holtgraver paced the field the rest of the way. Sodeman finished second. Bob Felmlee climbed to third at the finish. Jimmy Light, the last winner in the class, chalked up a fourth place finish. Steinman held on for fifth.
Dan Kuriger was sixth, just a notch ahead of Sansosti. Recent graduate Brandon Matus was eighth. Rod George and Adam Kekich rounded out the top ten.
The heat winners for the 18 cars were Kuriger and Sansosti.
Goodyear tire certificates were awarded to Holtgraver (winner), Light (hard charger), Scott Priester (last car lead lap), and Sodeman and Steinman (random).
In the Approved Toilet Rentals 358 Modifieds, Rob Curtis led the entire distance, but his journey to victory lane was interrupted by numerous cautions. Most of the carnage was inflicted in turn four, but the final caution came for a spin in turn two that collected several cars.
That gave Jeff Shaffer and Jimmy Holden their best chances to overhaul the leader. Although Shaffer pressed Curtis on the restart, he could not maintain the position. Curtis had his Troyer chassis working to perfection in the low groove. Holden charged by Shaffer and it was the defending champ giving chase to the current points leader in the last few laps.
Curtis held off his challenger to collect his first win of the season. Holden, Shaffer, Lonny Riggs and Kyle Fink trailed the leaders.
Positions six through ten belonged to Matt Reeher, J.R. McGinley, Dustin Martin, Kevin Green and Eric Gabany.
Twenty Modifieds were pit-side on this night and their heat winners were Curtis and Gabany.
The first feature of the night was for the Ti22 Performance Outlaw Sprint Warriors. Jason Scoville burst out to the early lead, followed by Smokin' Joe McEwen. Scoville stretched the lead in the early going, but when he reached lapped traffic, McEwen began to reel him in. Coming along with McEwen was C.J. Jones. The rookie passed the veteran for second, but Jones never got his chance to take on Scoville. Jones' machine stopped on the frontstretch with a broken rear end on lap 11.
Scoville retained the lead on the restart, over McEwen. Rob Felix raced into third, with last week's winner, Justin Whitesell, now running fourth. Jacob Lagastee and Mike Miller were locked in a heated battle for fifth.
Another yellow one lap later slowed the pace again and it gave McEwen a chance to challenge Scoville for the lead. Scoville was up to the task and he used lapped traffic to gain an advantage over McEwen in the next several laps.
However, a lapped car added to the drama on the closing lap. McEwen was ready to make a move on Scoville coming through the final turns, but the lapped machine spun in the middle of the last corner. Fortunately, Scoville and McEwen were able to slide by on the inside, but McEwen slowed just enough to miss the lapper, so he came up short at the checkers.
However, as noted above, Scoville's mistake was a costly one, and the win was taken away from him. That moved Rob Felix up to second in the final standings. Justin Whitesell, Mike Miler and Jacob Lagastee completed the top five.
Michael Bauer, making his first start of 2012, was credited with sixth. Seventh belonged to Andy Feil. Chris Matthews, Bob McMillin and Bill Braden, Jr. closed out the top ten.
There were two heats for the 18 cars. The winners were Jones and Matthews.
Mark Marcucci was victorious for the fourth straight time in the Modified Lites. He came from last on the grid and methodically worked his way to the front. He passed early leader Daniel Demyan just past the halfway mark. Demyan's good run came to an end a few laps later when he spun in turn four.
Rick Ament finished one spot ahead of his niece, Kotie Kirkbride. Cody Bova and Bill Stivason were fourth and fifth.
Taylor Smith was sixth. Demyan came back to claim seventh. Jacob Bova, Richard Lawson and Andrew Bruce made up the balance of the field.
There were eleven Modified Lites at the speedway. Their heat race winner was Cody Bova.
The start of the Mini Stock feature was marred by a massive pile-up in turn one. Although no drivers were injured, several cars were unable to resume the action.
When the racing got started again, it was points leader Jerry Batcher at the helm. Steve Longwell, Jr. stayed close over the first four laps. A caution wiped out Batcher's small lead. On the restart, Longwell showed some power and he raced Batcher evenly for three quarters of a lap. Longwell nosed under him as they came through the fourth corner, and assumed command.
Longwell led the next four circuits, but he lost the lead to Tyler Fulton, another new graduate, on the restart. Longwell got shuffled back several spots.
However, it was yet another restart that gave Batcher the opportunity to take the lead again. He outpaced Fulton the rest of the way. Third was Longwell Jr., ahead of newcomer Troy Lehnortt. Adam Bulfone was fifth.
Occupying positions six through ten were Rudy Troples, Rob McElhaney, Chase Anthony, Maria Nevin and Caleb Hickok.
Two heats were required for the 21 Mini Stocks. The winners in the preliminaries were Batcher and Ed Haylett.
It did not take long for the cream to rise to the top of the Precise Racing Products Stock Cars. Russ Byler, Rusty Moore and Bob McCann raced ahead of Brent Coleman, Matt Wagner, Joe Kelley and Curtis J. Bish in the early going
Moore pressed Byler for the lead, but each time that the defending champ made his move, a caution would come out, giving the lead back to Byler.
Moore finally moved ahead after a restart and he raced to the win. Joe Kelley made a bold move to try to take the lead away with a few laps remaining, but he could not pull off the pass.
Finishing third was Bish. McCann rallied for fourth after surrendering several positions in the mid-stages of the race. Byler crossed in fifth.
Bobby Hein led the next contingent to the finish line. Michael Hudzik, Brandon Johnston, Brent Coleman and Travis Walsh made up the rest of the top ten.
Heat winners for the seventeen Stockers were McCann and Moore.
Next week, Mercer Raceway Park will welcome the Auto Racers for Kids Charity. The special event will pay $3,000 to the winner! Although it will be an open tire event for the Sprint Cars, Goodyear tire certificates will be available as usual for those running that brand on all four corners. The other Saturday Night Live! classes will also be in action, with additional purse money on the line. Remember that all proceeds of this program will benefit area children and youth.
The Mid-season Championships, offering double points in all divisions, will come up on June 23.
Luxaire Heating & Cooling Sprint Cars: Dan Holtgraver, Jack Sodeman, Jr., Bob Felmlee, Jimmy Light, Brian Steinman, Dan Kuriger, Russ Sansosti, Brandon Matus, Rod George, Adam Kekich, Scott Priester, Eric Williams, Brent Matus, Gale Ruth, Sr., Carl Bowser, Francis Sesco, Christ Best, Craig Folmar.
Approved Toilet Rentals 358 Modifieds: Rob Curtis, Jimmy Holden, Jeff Shaffer, Lonny Riggs, Kyle Fink, Matt Reeher, J.R. MCGinley, Dustin Martin, Kevin Green, Eric Gabany, Jerry Shaffer, David Cogswell, Clyde Gumpp, Shayne Izzo, Rick Kress, Richard Whitney, Max Smoker, Tom Glenn, Ron Eperthener, Joprdan Ehrenberg.
Ti22 Performance Outlaw Sprint Warriors: Joe McEwen, Rob Felix, Justin Whitesell, Mike Miller, Jacob Lagastee, Michael Bauer, Andy Feil, Chris Matthews, Bob McMillin, Bill Braden, Jr., Tom Sanders, Joe Siembida, Jeff Goodman, Jeffrey Goodman, Jr., Dalton Daniels, C.J. Jones, Jim Morris. Jason Scoville (DQ).
Big Daddy's Speed Center/Rock Concrete Modified Lites: Mark Marcucci, Rick Ament,Kotie Kirkbride, Cody Bova, Bill Stivason, Taylor Smith, Daniel Demyan, Jacob Bova, Richard Lawson, Andrew Bruce. Kyle Eckstrom (DNS).
Mini Stocks: Jewrry Batcher, Tyler Fulton, Steve Longwell Jr., Troy Lehnortt, Adam Bulfone, Rudy Troples, Rob McElhaney, Chase Anthony, Maria Nevin, Caleb Hickok, Matt Cwynar, Josh Eakman, Patricia Riffe, Ed Haylett, Wally Stearns, Pete Blazak, Todd Hanlon, Alex Paden, Brandon Cornelius, Steve Longwell, Sr., Joel Wisser.
Precise Racing Products Stock Cars: Rusty Moore, Joe Kelley, Curtis J. Bish, Bob McCann, Russ Byler, Bobby Hein, Michael Hudzik, Brandon Johnston, Brent Coleman, Travis Walsh, Dillon Kinneton, Matt Wagner, Matt Keith, Darrin Hyde, Brad Schaffer, Charlie McMillen, Andy Thompson. Buck Buchanan (DNS).