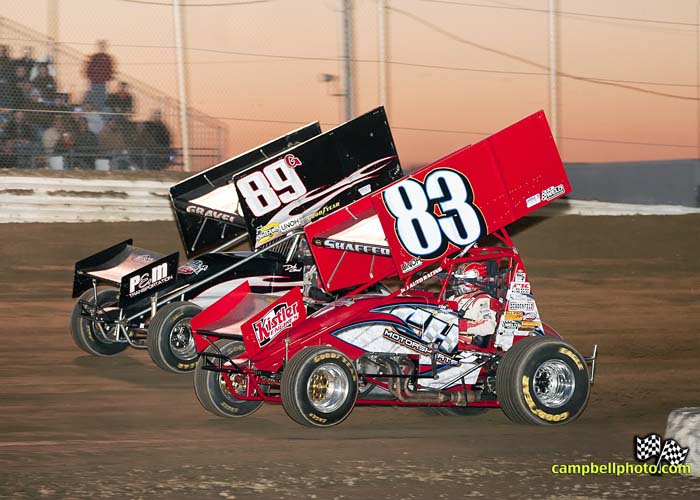 By Brian Liskai
VERNON, N.Y. (6-10-12) – Just like the summer temperatures,
three time and defending champion of the University of Northwestern Ohio
All Star Circuit of Champions Tim Shaffer is getting hot. "The Steel City
Outlaw" wrapped up a very successful weekend with the UNOH All Stars with
his second series win of 2012 at Utica Rome Speedway Sunday.
The victory – Shaffer's 47th with the UNOH All Stars – moves him to within
striking distance of Dale Blaney for the series' national points lead and
Daryn Pittman for the $20,000 championship of the Eastern Region. While
Shaffer posted a fifth place finish at Williams Grove and a seventh place
finish at Lincoln to go with his win at Utica Rome over the weekend,
Blaney, a three time series champion, struggled, not making the feature at
Williams Grove, scoring an eighth place at Lincoln and dropping out of
Sunday's event while leading.
Once Blaney dropped out, Shaffer would drive into the lead and survived
several late race cautions for the victory.
"It's been awhile…we've got one win so far this year…they keep getting
harder and harder to get. Everyone just keeps getting faster and faster and
making us work harder. What a great job by my crew, Dave Lawrence, James
Chambers and Craig Stephens…they're all new on this team but one guy. We're
trying to gel together with new people and it's starting to click," said
Shaffer beside his Aaron Call/Janet Holbrook owned machine.
"Dale was pretty good tonight. I don't know if we had anything for him
later in the feature. He was gone. I thought I was still chasing him and
the yellow came out and I looked on the board and thought 'hey, we're
leading it.' On those late cautions, you're always concerned if someone is
coming or not and you're trying to pay attention to lapped cars where they
are running in case rubber gets down. But, we were really good. Hats off to
my guys, they gave me a great car. Aaron Call is doing a great job back at
home. He's getting this thing ready during the week for us to come out and
play. Janet Holbrook giving us everything we need. I can't thank everyone
enough who has helped us through this…it's been a tough season," added
Shaffer of his Kistler Engines/VRP Shocks backed machine.
Blaney and Shaffer would bring the field to the green Sunday, with Blaney
seizing the top spot while third place starter Jessica Zemken drove into
second, bringing fourth place starter Shawn Donath into third. Donath would
grab second on the second circuit and would move past Blaney a lap later
for the lead.
Shaffer would drive by Zemken into third on lap eight and a circuit later
Blaney would do the same to Donath to take the lead. But, Blaney would
coast to a stop on lap 11 with mechanical issues. On the restart, Shaffer
would drive by Donath for the lead. Donath would bobble on lap 13, with
Zemken, Stevie Smith and David Gravel getting by. The car on the move was
10th place starter Greg Hodnett as he would move into the top five by the
half-way point.
Shaffer would continue to lead Zemken, who, before her sprint car days was
a winner and champion at Utica-Rome Speedway in the dirt sportsman ranks.
Smith ran third with Hodnett getting around Gravel for fourth on lap 16.
The battle for fourth through 10th was a good one throughout the race as
Cap Henry, Tony Stewart (who posted a third place finish with NASCAR's
Sprint Cup Series earlier in the day at Pocono, Pa.), Paul McMahan, Fred
Rahmer and Daryn Pittman joined the fun.
With 10 laps to go, the running order was Shaffer, Zemken, Smith, Hodnett,
Gravel, Henry, Stewart, Rahmer, McMahan and Donath. The top nine would stay
in that order until lap 25 when Gravel was able to get around Hodnett for
fourth. Hodnett would return the favor with three to go.
Shaffer would drive away to the win over Zemken, Smith, Hodnett and Stewart
who made a last lap pass to take fifth and the feature's hard-charger honor
after starting 19th.
Zemken, who has three 360 sprint wins at Utica-Rome Speedway, was thrilled
with her runner-up finish.
"I'll take second to Tim Shaffer any day. He's a hell of a race car driver
and I've learned a lot from him. And, he's a really nice guy…kind of like a
big brother to me. He's the first guy I'd go to to ask for help when we're
struggling…he's always one of the first guys to help out," said Zemken. "I
have to thank Corr-Pak Merchandising for sticking with me and the crew…the
guys worked so hard tonight on tires…it was so hot. We had a really good
car. We definitely didn't have anything for Tim, that's for sure. This is
like a home track to me with my family and friends here so it's great to
run good here with the 410…my best finish with a 410."
For Smith, the good weekend with the UNOH All Stars continued with his
podium finish.
"We're happy with third after starting 11th. Jessica did a good job…she
never made a mistake and Tim took off and left us all," said Smith beside
his CL Motorsports/CJB Motorsports/DDNi backed machine. "I'm just happy
with the way everything is going. We're making progress and we're going to
keep working. I have to thank my car owners Chad and Jen and my crew. We
started the season off pretty good and then went into a little bit of a
slump. We made some changes with the personnel…it's just been a kind of up
and down so far. But I'm really proud of the guys working on the car. We've
got Shane and Sparky who's actually from New York and of course Brian
Bloomfield and probably one of the best video guys in Kyle (Luetters). I
really appreciate what everyone has done for me…they have assembled a great
team here."
For more information go to www.allstarsprint.com
Utica Rome Speedway – 6/10/2012
All Star Circuit of Champions (24 Cars)
[#]-Starting Position
Qualifying – Kistler Engines
1. 83-Tim Shaffer, 17.561; 2. 33-Shawn Donath, 17.800; 3. 1Z-Jessica
Zemken, 17.990; 4. 87-George Suprick, 18.033; 5. 2-Dale Blaney, 18.140; 6.
5-Justin Barger, 18.160; 7. 3-Pete Miller III, 18.260; 8. 89G-David Gravel,
18.486; 9. 54-Cap Henry, 18.534; 10. 39-Greg Hodnett, 18.667; 11. 19-Stevie
Smith, 18.878; 12. 747-Davey Sammons, 18.970; 13. 51-Fred Rahmer, 19.013;
14. 44-Frank Cozze, 19.199; 15. Os-Glenn Styres, 19.232; 16. 45H-Chuck
Hebing, 19.245; 17. 27-Daryn Pittman, 19.278; 18. 13-Kevin Ward Jr.,
19.405; 19. 14-Tony Stewart, 19.411; 20. 3I-Clinton Ide, 19.428; 21.
19K-Paul Kinney, 19.542; 22. Oc-Cruz Pedregon, 19.644; 23. 45-Paul McMahan,
19.782; 24. 29-Dick Spadaro, 20.383
Heat 1 – Kears Speed Shop (8 Laps – Top 8 finishers transfer to the
A-feature)
1. 39-Greg Hodnett[3] ; 2. 83-Tim Shaffer[6] ; 3. 51-Fred Rahmer[2] ; 4.
45H-Chuck Hebing[1] ; 5. 14-Tony Stewart[7] ; 6. 3-Pete Miller III[4] ; 7.
87-George Suprick[5] ; 8. Oc-Cruz Pedregon[8]
Heat 2 – All Pro Aluminum Heads (8 Laps – Top 8 finishers transfer to the
A-feature)
1. 2-Dale Blaney[5] ; 2. 19-Stevie Smith[3] ; 3. 27-Daryn Pittman[1] ; 4.
89G-David Gravel[4] ; 5. 44-Frank Cozze[2] ; 6. 33-Shawn Donath[6] ; 7.
45-Paul McMahan[8] ; 8. 3I-Clinton Ide[7]
Heat 3 – Dragon Race Fuel (8 Laps – Top 8 finishers transfer to the
A-feature)
1. 1Z-Jessica Zemken[6] ; 2. 19K-Paul Kinney[7] ; 3. 54-Cap Henry[4] ; 4.
13-Kevin Ward Jr.[1] ; 5. 5-Justin Barger[5] ; 6. 747-Davey Sammons[3] ; 7.
Os-Glenn Styres[2] ; 8. 29-Dick Spadaro[8]
Dash – Outerwears Performance Products (6 Laps, finishing order determined
first 6 starting positions of A-feature
1. 2-Dale Blaney[6] ; 2. 83-Tim Shaffer[2] ; 3. 1Z-Jessica Zemken[5] ; 4.
33-Shawn Donath[4] ; 5. 87-George Suprick[1] ; 6. 5-Justin Barger[3]
A-Main – University of Northwestern Ohio (30 Laps)
1. 83-Tim Shaffer[2]; 2. 1Z-Jessica Zemken[3]; 3. 19-Stevie Smith[11]; 4.
39-Greg Hodnett[10]; 5. 14-Tony Stewart[19]; 6. 89G-David Gravel[8]; 7.
54-Cap Henry[9]; 8. 27-Daryn Pittman[17]; 9. 45-Paul McMahan[23]; 10.
19K-Paul Kinney[21]; 11. 51-Fred Rahmer[13]; 12. 33-Shawn Donath[4]; 13.
3-Pete Miller III[7]; 14. 45H-Chuck Hebing[16]; 15. 44-Frank Cozze[14]; 16.
747-Davey Sammons[12]; 17. Os-Glenn Styres[15]; 18. 87-George Suprick[5];
19. 13-Kevin Ward Jr.[18]; 20. Oc-Cruz Pedrdegon[22]; 21. 29-Dick
Spadaro[24]; 22. 3I-Clinton Ide[20]; 23. 2-Dale Blaney[1]; 24. 5-Justin
Barger[6]
Hard Charger: 14-Tony Stewart[+14]