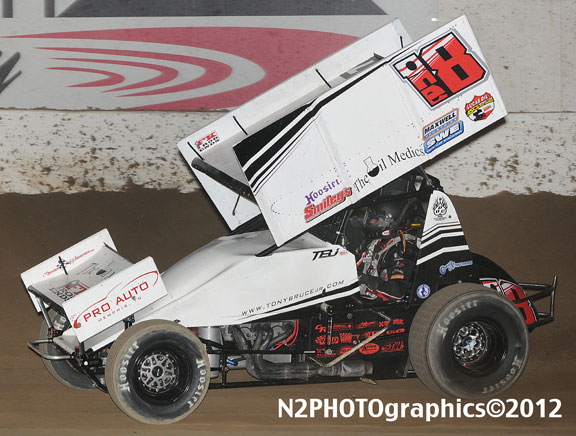 PETERSEN MEDIA
– Tony Bruce, Jr overcame a pair of mechanical gremlins over the weekend at the Hinchman Indy Eagle Nationals and charged from the back of the pack on Saturday to score a 12th place finish one night after being sidelined with rear-end issues.
"We've been plenty fast all year, but unfortunately we have little things happen and we can't post the results that we are capable of, " said Bruce.
Pulling double duty over the weekend as driver and promoter, TBJ had a busy week of radio interviews as well as getting things in place at the track leading up to the two-day event.
"From a business stand point, the show was awesome," he continued. "Eagle has a great following, and is a very racy joint, and I think the jam-packed crowd was entertained all weekend long," he said.
During the opening night on Friday, Bruce lined up his Hinchman Racewear/Pro Auto/Oil Medics No. 18 machine up in the very strong second heat race.
Scoring a fifth place finish, Bruce was relegated to run the B main, which he won and transferred to the feature- in which he would start in the 17th spot.
Battling an uncomfortable racecar that was on the tight side of things, TBJ searched high and low on the high-banked Eagle Raceway as he worked his way up to the sixth spot.
With four laps remaining, Bruce experienced rear-end issues and was forced into the infield with a DNF.
Saturday night saw TBJ again line his Smiley's/Maxwell Industries/FK Rod Ends backed entry in the second heat where a fourth place finish put him in the show and starting in the 13th spot.
During an opening lap red, TBJ pulled into the work area as he had lost brakes on his one8 Motorsports entry.
Making quick repairs, TBJ would restart at the tail end of the field, where he would proceed to put his mount on the ragged edge as he carved his way forward to a 12th place finish.
"We just had some bad luck that put us behind the eight-ball," commented Tony. "On Friday we weren't going to get anything more than a sixth or seventh place finish, and I'm not sure how we would have been on Saturday, but that's the nature of the beast. Wayne and out new guy, Fes, did a great job all weekend,".
Bruce would like to thank all of his sponsors, Hinchman Racewear, Pro Auto, The Oil Medics, Smileys, SWE, Maxwell Industries, FK Rod Ends, Butlerbuilt, Factory Kahne Shocks, Randy's Racing Filters, DriversWebsites.com, Racinboys.com, Wilwood, Zemco Headers, Hoosier Tires, Gaerte Engines, Pro Powder Coating, Fuel Safe, Bell, Weld Wheels, and ISC Racer's Tape for their support through the 2012 season.
ON TAP: The one8 Motorsports team will return to action on June 15th at the Devils Bowl Speedway as they kick of the 2012 Sizzlin' Summer Speedweek.
STAY CONNECTED: Stay updated with TBJ by visiting his website at
www.tonybrucejr.com, or by following him on twitter @tonybrucejr
SPONSOR SHOUT OUT: Racinboys.com
Traveling the country and providing a wide variety of motorsports coverage on the internet, racinboys.com is the official broadcast station of the Lucas Oil ASCS National Tour as well as a destination website for the motorsports guru. If you can't make it to the track to catch TBJ in action, catch it at www.racinboys.com.
"When I look for breaking news in the racing world I check racinboys.com first. They also do every Lucas Oil ASCS National tour event live audio through the internet," said Bruce. "Its a great way to follow our team and all things ASCS so make sure you log on and listen."