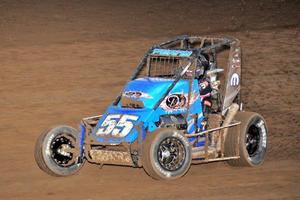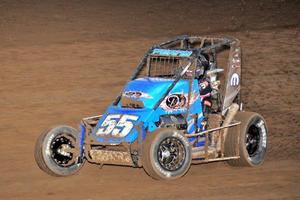 From Ferns Racing PR
Shelby Township, Mich.—June 13, 2012 — For drivers, crews, and teams involved in midget racing, there is no week quite like Indiana Midget Week, as five straight nights of racing at five distinct ovals in the Hoosier State await. Taylor Ferns, the 2011 USAC Mopar D1 Midget Series champion, will get the full Indiana Midget Week experience for the first time this week, aboard her family-owned No. 55.
Indiana Midget Week, which is sanctioned by the USAC Mopar National Midget Series, opens on Wednesday, June 13, at Gas City I-69 Speedway, followed by a stop at Lincoln Park Speedway in Putnamville on Thursday, June 14. Bloomington Speedway will host the midgets on Friday, June 15, with a visit to Lawrenceburg Speedway set for Saturday, June 16. The five race mini-series wraps up at Kokomo Speedway on Sunday, June 16.
"Racing five straight nights, I think it's a little easier, because you are not getting in and out of the car," said Ferns. "You are in the car constantly and always ready to go. I've been studying the tracks and watching videos and learning as much as I can off the track. Working out and exercising are important as well, because five straight nights of racing will take a toll on you."
Ferns will be making her debut at four tracks over the course of Indiana Midget Week, as she'll take to the quarter-mile Bloomington Speedway, the quarter-mile Gas City I-69 Speedway, the three-eighths-mile Lawrenceburg Speedway and the 5/16-mile Lincoln Park Speedway all for the first time. The 16-year old has competed at nine different tracks in her career in the Hoosier state, on both dirt and asphalt, as well as indoors.
"A lot of the tracks, I have gone and watched the sprint cars race at," Ferns shared. "I've wanted to race at Gas City for a long time. I saw the sprint cars at Lincoln Park and that looks like a really fun track. It will be a good experience to getting to race on all of those different tracks, and I am very excited."
Last season, the native of Shelby Township, Mich., competed twice at Kokomo Speedway with the USAC Mopar D1 Midget Series, finishing fourth and eighth. Ferns led a total of 17 laps on July 31, at the track, battling wheel-to-wheel with multi-time USAC Champion Dave Darland, before finishing fourth.
"Kokomo is one my favorite tracks," shared Ferns. "Having raced there before and done well there, certainly helps going back. We have a good idea of how the track will change throughout the night, and that's a big help. I feel like I haven't had the best of luck there, but we have had some good finishes."
Ferns took to the track twice last weekend in Missouri with the POWRi Lucas Oil National Midgets Series at Valley Speedway in Grain Valley, just outside of Kansas City and Springfield Raceway. At Springfield in the weekend finale, she won the third heat race in convincing fashion, which lined her up on the inside of the second row in the main event in her first-ever start at the quarter-mile bullring.
"Last weekend was the first time I had been in my dirt midget since the Chili Bowl, so it was good to get back in the car and get the feel of it again," said the winningest female driver in USAC history. "My crew chief Marc (DeBeaumont) tried a few different things to see if they would work maybe work for this week. We found a few things that will work and a few that will not, so we were able to tune the car in for Indiana Midget Week."
Ferns opened 2012 by competing in a midget on the dirt at the famed Chili Bowl Midget Nationals in Tulsa, Okla., aboard her Dea Eyewear Spike with a Stanton Mopar engine under the hood. She also competed with the USAC Mopar National Midget Series on the pavement in the season-opening event at Ace Speedway in North Carolina at the end of March.
"Going into the Chili Bowl, that was my first time racing in an event that big and against a lot of those driver," noted Ferns. "My confidence grew as that week went on and I think having experience in an event like that will help this week running five straight nights against the tough competition we'll see racing against."
Taylor Ferns and Ferns Racing would like to thank their valued partners: Dea Eyewear, eBay Motors, FK Rod Ends, Frameworks Marketing Group, Lucas Oil, K&N Filters, Lansing Sanitary Supply (LSS), Simpson Race Products, Indy Race Parts, ButlerBuilt, Allstar Performance, Stanton Mopar, Lyn St. James Women in the Winner's Circle Foundation, Race4Girls and Racing2Cure.
###
Keep up to date
For the latest news, results and information on Taylor Ferns and Ferns Racing and to view a full 2012 schedule, visit www.TaylorFerns.com. Follow Taylor on Twitter at www.Twitter.com/TaylorFerns or @TaylorFerns and on Facebook at http://www.facebook.com/pages/Taylor-Ferns/116543998373.