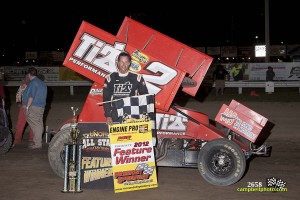 By Brian Liskai
Fremont, OH — (June 28, 2012) — Despite some mechanical woes over the past few races and some bad racing luck, Dale Blaney has remained confident. That was evident Wednesday at Fremont Speedway for night #6 of the University of Northwestern Ohio All Star Circuit of Champions' 30th Annual Ohio Sprint Speedweek.
Prior to the night's racing on JLH General Contractor's Night, Blaney was calm and confident in the pit area, joking with fellow competitors, and letting them know he was taking ALL the money at "The Track That Action Built."
"It was a great night…got a good qualifying lap and that just set the tone for it," said Blaney beside his Ti22 Performance #2. "I'll tell you what…to beat those two guys (Tim Shaffer and Kyle Larson) here…especially Larson. He's unbelievable and we're going to be watching him race on Sundays for a lot of years. It's pretty neat to race with him right now. And to beat Shaffer…I saw that #83 on the board and I knew he was good. He gets up on the wheel for these races. We have a good time racing. Boy he shoved it in there in four. I thought I was okay…I was kind of getting held up there just a little bit…the 45 car kind of took my line a little bit. I don't know if I was playing a little too cautious, but I got in there a little easier than I should of and he (Shaffer) got a run and boy I had to get between him and the curb and the curb was tall and I just caught it good. He could have just used me up but he raced me clean."
Blaney, a three time UNOH All Star champion and four time Ohio Sprint Speedweek titlist, passed race-long leader Kyle Larson in heavy lapped traffic with just seven laps to go and then held off a valiant last lap effort from defending speedweek champion Tim Shaffer to score his fifth UNOH All Star win of the year. It was Blaney's 10th career All Star win at Fremont, tying him with Jack Hewitt for the most all time series' win at "The Track That Action Built."
"It's pretty cool to tie Jack. There's no other place I really like to come to. This is one of my favorite places to come race. It's a racing town and the fans are always great here. To win here is special and the fans have always treated me right," said Blaney
Blaney's 15th career win at Fremont Speedway, tightens the UNOH All Stars point standings for the national title as Shaffer came into the event with a narrow 12 point lead. The Ohio Sprint Speedweek points battle is also close as Stevie Shaffer and Blaney narrow the gap to leader Stevie Smith.
For Shaffer, the second place run just continues to show how his Aaron Call/Janet Holbrook Motorsports team continues to grow and gel.
"I was trying my damnest…that was a hell of a race. You get Larson out front…that kid is awesome; he's got a lot of talent. To stay up front at this track…it's tough, the track changes and you have to move around a lot. When I got to third I thought I might have a shot at this. I kind of slid Larson down there earlier and it worked so I tried it just to see how close I could get to Dale and I tried it and got next to him and thought I needed to save that for later. I just came up a little short. What a heck of a race…that was a lot of fun," said Shaffer beside his Kistler Engines, VRP Shocks backed #83.
"I can't wait to race tomorrow… I just love racing every night. We have a great team with Janet and Aaron giving us great tools to work with. The J&J chassis and VRP shocks and Kistler Engines…it's just starting to come together and it's a lot of fun," added Shaffer.
For Larson, who has won two Ohio Speedweek features in his first ever appearance in the event, third place was a bit disappointing.
"The cushion got tougher and tougher to run. I figured the Low Rider (Blaney) would be down on the bottom in one and two…it really got slick down there and you had to make sure you hit your marks. I didn't want to take a chance of missing the bottom like I did when he got by me. I don't know what happened there after that yellow…I just kept messing up and let him get close to me. I felt like I was getting through traffic good so I really didn't want to see that yellow (only caution was on lap 25) I wanted it to go 40 laps nonstop. We will take two wins and almost a third last night and a third tonight…it's not bad," said Larson of his Abreu Vineyards/Stadelhoffer Construction/Butlerbuilt Seats backed #1k.
Bradner, Ohio's Nate Dussel would lead all 25 laps of the non-stop Fremont Federal Credit Union 305 Sprint feature to easily earn his first win of the season at Fremont Speedway. It was his 7th career win.
"It's about damn time. These guys hit it on the nose tonight. It's been so frustrating this last month and a half. This racing deal is supposed to be for fun and we just haven't had too much fun lately. This makes all those days in the shop worth it," said Dussel beside his Berrier Fabrication/, Gressman Powersports/Kylynn Manufacturing/Dussel Welding backed #1. "Thank God I have a great motor that Scott Gressman puts under me. I could go up there and smack the cushion and just put my foot in it and it would save it. I can't thank my crew enough…they do this for nothing and they are working their tails off."
Woodville, Ohio's Daniel Roepke Jr. powered into the lead on lap five and only a few cautions would slow his march to his second straight victory at Fremont in the Fremont Fence Dirt Trucks.
"We could really stick this thing on the bottom. When that last caution came out (on lap 18 of the 20 lap feature) I was kind of getting a little worried…I could hear some guys creeping up behind me. We really have something figured out here. I'm not really sure what we changed but it's really working," said Roepke in the Engine Pro Victory Lane. "I want to thank JLH General Contractor for the extra $100 bucks tonight, the Village Inn, Perkins Tree Service, Johnny's Electric…they gave us some funds this year to help keep us going.
Larson and Blaney would lead the field to the green of the 40-lap feature with Larson blasting into the lead with Blaney, Shane Stewart, Sam Hafertepe, Shaffer, Stevie Smith, Lee Jacobs and Greg Wilson in pursuit. Larson set a blistering pace on the fast track, catching the rear of the field by lap seven. Looking like a seasoned veteran, Larson patiently worked his way through the heavy traffic and by lap 12 had some clear track and opened up a sizeable lead over Blaney, Stewart, Shaffer, Hafertepe, Smith and Craig Mintz.
But, just three laps later, Larson encountered traffic again, this time they were racing side by side in front of him. However, Blaney could not close as Stewart, Shaffer and Smith waged a terrific battle for third. Cap Henry and Jared Ridge would stop exiting turn four on lap 25 for the only caution. On the restart Larson had a lapped car separating him from Blaney who had two lapped machines between himself and Shaffer. On the restart Chris Andrews got upside down to bring out the red.
On the restart Larson used the clean air and the lapped cars to open up a lead again, but not for long as Blaney quickly disposed of the traffic. Larson handed Blaney the break he needed on lap 28 when the leader slid off the top of turn two. Meanwhile Shaffer got around Stewart and was closing on the top two cars.
Larson and Blaney raced into heavy lapped traffic on lap 31 with Shaffer closing, and after completing the 32nd lap, Blaney would dive under Larson in turns one and two and drive off the bottom into the lead. Larson would stay to Blaney's outside and Shaffer joined the fun a lap later. With five to go, Blaney, Larson and Shaffer were within a car length of each other for the lead while Stewart, Smith and Wilson gave chase.
Shaffer would take second on lap 36 and quickly raced to Blaney's inside. Blaney and Shaffer would battle side by the side to the white flag with Larson falling back slightly. As they raced into three and four toward the checkered, Shaffer blasted to Blaney's inside and slid up, the two nearly banging wheels as they had a drag race to the finish with Blaney winning by half a car. Blaney, Larson, Stewart, Smith and Wilson would round out the top five.
"I hate to lead races early, especially with him (Larson) behind you. He watched me the other night at Wayne County…well he really didn't watch me long, he just drove by me, but I watched him a little bit. He was really good on the bottom early in one and two and then he kind of stayed up top and after he run off the cliff there in two, I thought he'd move down a little bit but he didn't. We just took advantage of him…we were running second and traffic just went our way," said Blaney of his winning strategy.
Dussel and Dustin Dinan would bring the field to the green in the 25 lap 305 sprint feature, but before a lap could be recorded, third starting D.J.Foos would spin in turn four. On the second attempt, Dussel would grab the lead over John Ivy, Dinan, Jamie Miller, Alvin Roepke, Caleb Griffith, Steve Rando and Jimmy Colvin. Dinan would bobble on lap three, allowing Roepke, Griffith, Miller and Colvin to get by.
Dussel would catch the rear of the field on lap eight, but Ivy could not close as Roepke had his hands full with Griffith and Miller. The top five would continue to stay that way as they sliced and diced through lapped traffic. Griffith would finally steal third from Roepke on lap 16.
With five laps to go, Dussel held a commanding lead, with his only problem an occasional slip up against the cushion in turn four. But, Dussel would drive away for the win, with Ivy, Griffith, Roepke and Miller rounding out the top five.
Curt Kinks and Dustin Keegan would bring the dirt truck field to the green for the 20 lap affair, but Inks would spin before a lap could be completed. On the second start, Kent Brewer would grab the lead over Keegan, Art Ball, John Ivy and Roepke. Keegan would soon fade with mechanical issues as Ball, Ivy and a rapidly closing Roepke pursued Brewer. Ball and Roepke would drive under Brewer on lap three with Ivy grabbing third a lap later. Roepke would drive under Ball for the lead on lap five and pulled away as Ball had his hands full with Ivy and Jimmy McGrath Jr.
As Roepke continued to pull away, Ivy would steal second from Ball on lap eight with McGrath trying to hold off Cory Ward and Brian Sorg. The caution would fly on lap 12 for a Brewer spin with the running order Roepke, Ivy, Ball, McGrath and Ward. On the restart, Ball would take second back from Ivy as Roepke again pulled away.
The caution flew again on lap 17 when Bob Dible's machine briefly caught fire under the hood. A lap and another caution, this time for Keith Sorg. On the restart, Roepke could not pull away from Ball and Ivy as Ward and McGrath in pursuit. As they raced to the white flag, Roepke now had to deal with Ivy and Ball as the three waged a terrific battle. But, Roepke would hold steady for the win over Ivy, Ball, McGrath Jr. and Ward.
Fremont Speedway will host the 30th Annual Ohio Sprint Speedweek finale on Saturday, June 30, paying the winner of the 50-lap feature $10,000. The dirt trucks and 305 sprints will be in action as well.
For more information go to www.fremontohspeedway.com
Fremont Speedway – 6/27/2012
JLH Construction Night
Fort Ball Pizza Palace 410 Sprints (40 Cars)
[#]-Starting Position
Qualifying – Callie's Performance
1. 2-Dale Blaney , 13.095; 2. 1K-Kyle Larson, 13.253; 3. 55X-Dave Blaney, 13.273; 4. 45-Paul McMahan, 13.317; 5. 29-Shane Stewart, 13.363; 6. 89G-David Gravel, 13.364; 7. O-Lee Jacobs, 13.391; 8. 40-Caleb Helms, 13.402; 9. 12-Jared Ridge, 13.431; 10. 15H-Sam Hafertepe Jr. , 13.450; 11. 19-Stevie Smith, 13.453; 12. 83-Tim Shaffer, 13.463; 13. O9-Craig Mintz, 13.518; 14. W20-Greg Wilson, 13.523; 15. 14H-Todd Heller, 13.523; 16. 16-Chris Andrews, 13.537; 17. 55-Brad Bowman, 13.579; 18. 14-Tony Stewart, 13.595; 19. 5R-Byron Reed, 13.643; 20. 97-Dean Jacobs, 13.692; 21. 54-Cap Henry, 13.732; 22. 45L-Brian Lay, 13.733; 23. 3L-Mike Linder, 13.735; 24. 24H-Bryan Sebetto, 13.764; 25. 35-Stuart Brubaker, 13.797; 26. 4K-Kody Kinser, 13.815; 27. 1S-Logan Schuchart, 13.873; 28. 3-Pete Miller III , 13.876; 29. 53-Phil Gressman, 13.890; 30. 9Z-Duane Zablocki, 13.909; 31. 60-Jody Keegan, 13.936; 32. 22-Cole Duncan, 13.960; 33. 71AU-Ryan Davis, 13.971; 34. D4-Danny Holtgraver, 13.998; 35. 2+-Brian Smith, 14.066; 36. 46AU-Stuart Williams, 14.071; 37. 5T-Travis Philo, 14.161; 38. 4-Danny Smith, 14.240; 39. 2M-Dallas Hewitt, 14.258; 40. 14W-Chad Wilson, 14.328
Heat 1 – (10 Laps – Top 5 finishers transfer to the A-feature)
1. 54-Cap Henry[1] ; 2. O9-Craig Mintz[3] ; 3. 29-Shane Stewart[5] ; 4. 2-Dale Blaney [6] ; 5. 55-Brad Bowman[2] ; 6. 53-Phil Gressman[8] ; 7. 12-Jared Ridge[4] ; 8. 5T-Travis Philo[10] ; 9. 35-Stuart Brubaker[7] ; 10. 71AU-Ryan Davis[9]
Heat 2 – (10 Laps – Top 5 finishers transfer to the A-feature)
1. 14-Tony Stewart[2] ; 2. W20-Greg Wilson[3] ; 3. 1K-Kyle Larson[6] ; 4. 15H-Sam Hafertepe Jr. [4] ; 5. 4K-Kody Kinser[7] ; 6. D4-Danny Holtgraver[9] ; 7. 4-Danny Smith[10] ; 8. 9Z-Duane Zablocki[8] ; 9. 89G-David Gravel[5] ; 10. 45L-Brian Lay[1]
Heat 3 – (10 Laps – Top 5 finishers transfer to the A-feature)
1. 5R-Byron Reed[2] ; 2. 3L-Mike Linder[1] ; 3. 19-Stevie Smith[4] ; 4. 14H-Todd Heller[3] ; 5. O-Lee Jacobs[5] ; 6. 55X-Dave Blaney[6] ; 7. 1S-Logan Schuchart[7] ; 8. 60-Jody Keegan[8] ; 9. 2M-Dallas Hewitt[10] ; 10. 2+-Brian Smith[9]
Heat 4 – (10 Laps – Top 5 finishers transfer to the A-feature)
1. 24H-Bryan Sebetto[1] ; 2. 83-Tim Shaffer[4] ; 3. 97-Dean Jacobs[2] ; 4. 16-Chris Andrews[3] ; 5. 22-Cole Duncan[8] ; 6. 40-Caleb Helms[5] ; 7. 3-Pete Miller III [7] ; 8. 46AU-Stuart Williams[9] ; 9. 14W-Chad Wilson[10] ; 10. 45-Paul McMahan[6]
Dash – R & R (6 Laps, finishing order determined first 6 starting positions of A-feature
1. 1K-Kyle Larson[2] ; 2. 2-Dale Blaney [3] ; 3. 29-Shane Stewart[1] ; 4. 15H-Sam Hafertepe Jr. [5] ; 5. 19-Stevie Smith[4] ; 6. O-Lee Jacobs[6]
B-Main – Computer Man Inc. (12 Laps – Top 4 finishers transfer to the A-feature)
1. 55X-Dave Blaney[1] ; 2. 45-Paul McMahan[2] ; 3. 89G-David Gravel[3] ; 4. 12-Jared Ridge[5] ; 5. 40-Caleb Helms[4] ; 6. 53-Phil Gressman[10] ; 7. 45L-Brian Lay[6] ; 8. 35-Stuart Brubaker[7] ; 9. 1S-Logan Schuchart[8] ; 10. D4-Danny Holtgraver[14] ; 11. 60-Jody Keegan[12] ; 12. 9Z-Duane Zablocki[11] ; 13. 5T-Travis Philo[17] ; 14. 3-Pete Miller III [9] ; 15. 46AU-Stuart Williams[16] ; 16. 2M-Dallas Hewitt[19] ; 17. 14W-Chad Wilson[20] ; 18. 71AU-Ryan Davis[13] ; 19. 4-Danny Smith[18] ; 20. 2+-Brian Smith[15]
A-Main – (40 Laps)
1. 2-Dale Blaney [2]; 2. 83-Tim Shaffer[7]; 3. 1K-Kyle Larson[1]; 4. 29-Shane Stewart[3]; 5. 19-Stevie Smith[5]; 6. W20-Greg Wilson[9]; 7. 15H-Sam Hafertepe Jr. [4]; 8. O9-Craig Mintz[8]; 9. 55X-Dave Blaney[11]; 10. 5R-Byron Reed[18]; 11. 45-Paul McMahan[12]; 12. O-Lee Jacobs[6]; 13. 24H-Bryan Sebetto[22]; 14. 89G-David Gravel[13]; 15. 97-Dean Jacobs[19]; 16. 14-Tony Stewart[17]; 17. 22-Cole Duncan[24]; 18. 3L-Mike Linder[21]; 19. 55-Brad Bowman[16]; 20. 54-Cap Henry[20]; 21. 14H-Todd Heller[10]; 22. 16-Chris Andrews[15]; 23. 12-Jared Ridge[14]; 24. 4K-Kody Kinser[23]
Hard Charger: 24H-Bryan Sebetto[+9]
Fremont Federal Credit Union 305 Sprints (21 Cars)
[#]-Starting Position
Heat 1 – (8 Laps – Top 7 finishers transfer to the A-feature)
1. 5-Dustin Dinan[3] ; 2. 19R-Steve Rando[2] ; 3. 9-Jimmy Colvin[4] ; 4. 25-Jason Keckler[1] ; 5. 10-Josh Harrison[7] ; 6. 10S-Roger Shammo[6] ; 7. 36X-Dustin Keegan[5]
Heat 2 – (8 Laps – Top 7 finishers transfer to the A-feature)
1. 40-Caleb Griffith[1] ; 2. 1-Nate Dussel[4] ; 3. OO-Alvin Roepke[6] ; 4. 10X-Dustin Stroup[3] ; 5. 67M-Matt Ferrell[5] ; 6. 68G-Tyler Gunn[7] ; 7. 27-Paige Polyak[2]
Heat 3 – (8 Laps – Top 7 finishers transfer to the A-feature)
1. 4M-Jamie Miller[3] ; 2. 4X-John Ivy[1] ; 3. 11F-D.J. Foos[7] ; 4. 5R-Jordan Ryan[4] ; 5. 36-Seth Schneider[2] ; 6. 22D-Dan Hammond[6] ; 7. 8J-Jess Stiger[5]
A-Main – (25 Laps)
1. 1-Nate Dussel[1]; 2. 4X-John Ivy[5]; 3. 40-Caleb Griffith[6]; 4. OO-Alvin Roepke[7]; 5. 4M-Jamie Miller[4]; 6. 25-Jason Keckler[10]; 7. 27-Paige Polyak[20]; 8. 9-Jimmy Colvin[8]; 9. 19R-Steve Rando[9]; 10. 11F-D.J. Foos[3]; 11. 5-Dustin Dinan[2]; 12. 5R-Jordan Ryan[12]; 13. 10X-Dustin Stroup[11]; 14. 36-Seth Schneider[15]; 15. 22D-Dan Hammond[18]; 16. 8J-Jess Stiger[21]; 17. 10S-Roger Shammo[16]; 18. 10-Josh Harrison[13]; 19. 68G-Tyler Gunn[17]; 20. 67M-Matt Ferrell[14]; 21. 36X-Dustin Keegan[19]
Hard Charger: 27-Paige Polyak[+13]
Fremont Fence Dirt Trucks (18 Trucks)
[#]-Starting Position
Heat 1 – (8 Laps – Top 8 finishers transfer to the A-feature)
1. 88-Dan Roepke Jr.[5] ; 2. 4X-Brian Sorg[6] ; 3. 5JR-Jimmy McGrath Jr.[9] ; 4. 9-Curt Inks[1] ; 5. D1-Dustin Keegan[7] ; 6. 23M-Brad Mitten[2] ; 7. 8-Steve Endicott[8] ; 8. 95-Keith Sorg[3]
Heat 2 – (8 Laps – Top 8 finishers transfer to the A-feature)
1. 17-Bob Dible[1] ; 2. 94-John Ivy[3] ; 3. O1-Art Ball[2] ; 4. 18W-Cory Ward[7] ; 5. 8KB-Kent Brewer[9] ; 6. 16-Steve Sabo[8] ; 7. 5-Jim McGrath Sr.[4] ; 8. 115-Ben Good[6] ; 9. 14-Scott Beard[5]
A-Main – (20 Laps)
1. 88-Dan Roepke Jr.[7]; 2. 94-John Ivy[6]; 3. O1-Art Ball[5]; 4. 5JR-Jimmy McGrath Jr.[4]; 5. 18W-Cory Ward[8]; 6. 5-Jim McGrath Sr.[14]; 7. 4X-Brian Sorg[9]; 8. 23M-Brad Mitten[11]; 9. 16-Steve Sabo[12]; 10. 8-Steve Endicott[13]; 11. 17-Bob Dible[10]; 12. 9-Curt Inks[1]; 13. 115-Ben Good[16]; 14. 95-Keith Sorg[15]; 15. 8KB-Kent Brewer[3]; 16. D1-Dustin Keegan[2]
Hard Charger: 5-Jim McGrath Sr.[+8]
Photo Gallery